Need a mid-summer reset? Join Wild Sage Wellbeing and Guests for a seasonal fire-taming Yin-Qi practice and Home to your Heart Sound Bath.
About this Event
Come home to your heart this summer
Find respite from stress, time for true recovery and leave feeling thoroughly rejuvenated after this soothing self-care Sunday afternoon mini-retreat!
Come and join us for yoga and sound healing to open your heart in the prettiest little eco-dome you ever did see!
Hidden in the stunning Sunshine Coast Hinterland, nestled amongst native bush and beautiful landscaping, the Wonderdome is the perfect home for this intimate, heart-based, healing retreat.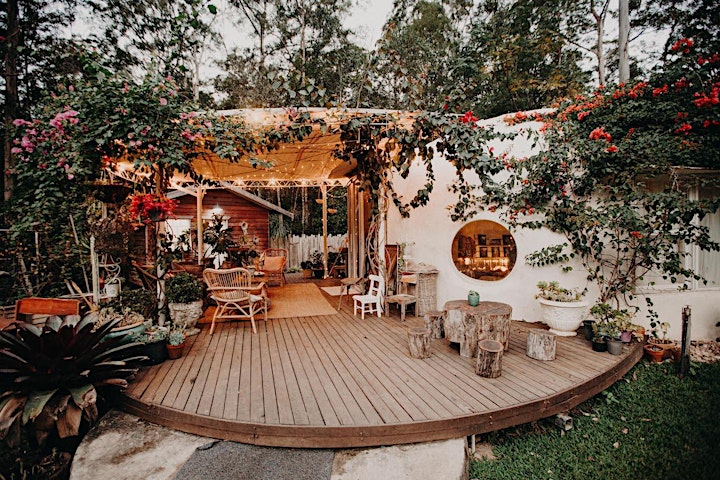 Soothe the heat of Summer with some Chi-cooling Yin Yoga based on the meridian theory of Chinese Medicine...
Summer is the season of fire and after our opening meditation and welcome to country, our opening practice will be a gentle fire-taming Yin-Chi flow that taps and tends the power and magic of this alchemical force within your body.
Expect gentle to moderate movement and some long, slow holds to cultivate myofascial mobility and inner peace.
Afternoon Tea!
Cool your jets after class and connect with chats over chilled chai and healthy snacks for afternoon tea.
Restorative, Meditation, Pranayama and Sound Healing
Our second session is all about going in and going deep - toward heart-centred connectedness. Using breathing, focussed awareness and the mystical sounds of the a range of healing instruments, you'll be gently guided home to your heart, ending the day in a state of connected peace.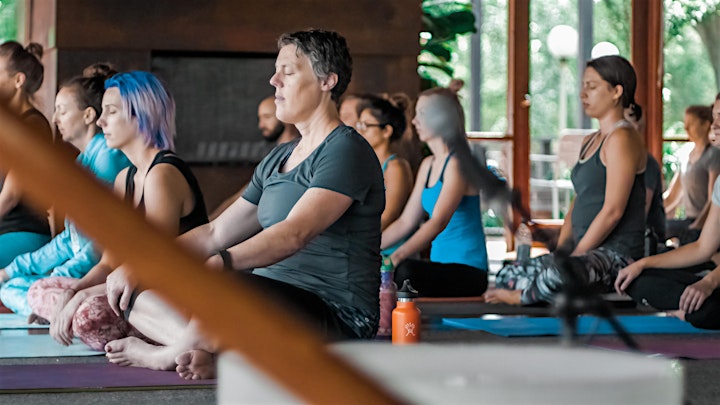 Schedule
1.00pm - Arrival and registration. Relax and enjoy some time earthing and reconnecting with nature
1.30pm - Acknowledgement of traditional owners and opening circle
1.45pm - Fire-taming Yin-Qi Practice with Shane and Ramone: Flow gently into stillness and learn to harness the healing potential of your inner fire guided by Yoga Australia Senior Teacher Ramone Bisset from Wild Sage Wellbeing and Doctor of Chinese Medicine Qi Gong Teacher Shane Gregory
3.15pm - Afternoon tea: time to chill, chat and connect over a chai
3.45pm - Home to your Heart sound bath combining restorative yoga, gentle pranayama and guided meditation supported by Marco Debie, Integrative Sound Therapist.
5.15pm - Closing gratitude circle
5.30pm - Grab your goodie bag and return home rested, reconnected and rejuvenated!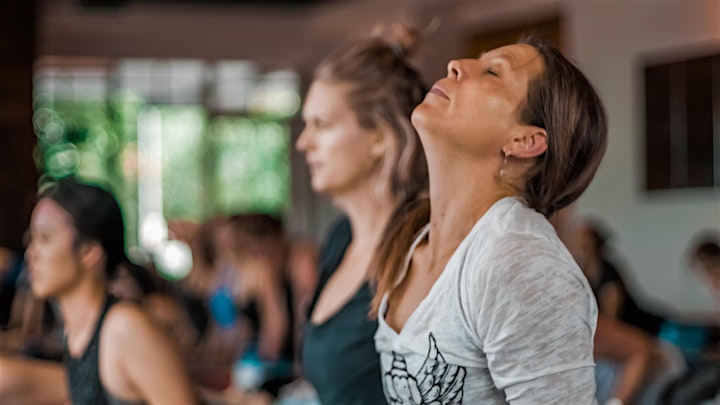 Your Host
Ramone Bisset, E-RYT500, Senior Yoga Teacher, Wild Sage Wellbeing
Guest Teachers
Marco Debie, Integrative Sound Therapist, Mago Menla
Shane Gregory, Doctor of Chinese Medicine & Qi Gong Teacher, SunMed
The Venue
The Wonderdome, North Arm, Sunshine Coast, Qld
Please note there is limited mobile phone reception at the venue - a great opportunity for a digital detox for the afternoon!
Scholarships
To support accessibility a number of fully funded scholarship spaces are available. If you are experiencing hardship and would like to attend, please send a short application email outlining your circumstances and how attendance at this event will contribute to your life to ramonebisset@hotmail.com.
Important COVID-safe protocols
- For your safety and hygiene, no yoga mats are provided at the venue
- Please bring your own yoga mat, supportive equipment (two pillows or a yoga bolster, a blanket or shawl and anything else you'd like to help you feel relaxed, comfortable and at home!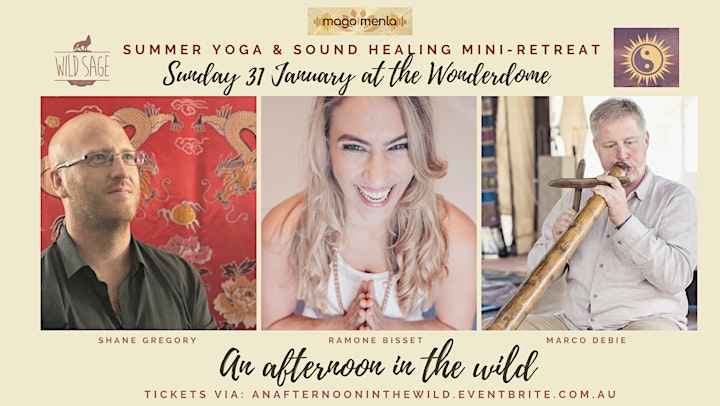 FAQs
Q: What's included in the ticket price?
A: Tickets include attendance at two 90 minute fully guided yoga and sound healing sessions on January 31st at the Wonderdome and afternoon tea.
Q: What time is the event?
A: The event begins at 1.00pm and concludes at 5.30pm AEST.
Q: I'm a beginner, can I attend?
A: The event caters to all levels and beginners are always welcome!
Q: I don't have a Yoga mat, is equipment provided?
A: For your safety and hygiene, no yoga mats are provided at the venue. You will need to provide your own mat and supporting equipment such as towels, cushions and blankets.
Q: Are concession tickets available?
A: No. However, if you are experiencing financial hardship fully-funded Scholarship spaces are availible. Ally via email to ramonebisset@hotmail.com
Q: What's 'A Mat for a Mate'?
A: By donating (any amount) via the 'Mate for a Mate' ticket link you can contribute to support attendance at the event for participants whose current circumstances prevent them from purchasing a full priced ticket. 2-5 'Mat for a Mate' spaces will be made available depening on sponsorship and demand.
Q: How do I apply for a fully-funded Scholarship space?
A: Send an short email to ramonebisset@hotmail.com explaining your current circumstances and how attendance at the event will benefit your wellbeing.
Q: Who can apply for a fully-funded Scholarship space?
A: Anyone over the age of 18 years who is experiencing financial hardship.