Brooke McAlary, author and podcast host, is our guest in The Back Room on Sunday July 11. Join Brooke and Cherie as they talk books & life.
About this event
I am so excited to have Brooke here for her second visit to The Back Room - the first was such an intimate, invigorating and memorable gathering as she discussed her bestselling book 'Slow'. I just know this is going to be another special experience for all of us.
A lot has changed since that first gathering in 2019 and Brooke has a wealth of new experiences and insights that she shares in her latest book Care: The Radical Art of Taking Time. I just love Brooke's ability to reflect on her life discoveries and knowledge in such an uncomplicated and accessible way.
Care: The Radical Art of Taking Time explores what it means to care in smaller ways - for ourselves, our loved ones and our communities - and discovers that caring doesn't need to cost us our wellbeing, happiness or relationships. That making simple changes to how we live, spending more time in nature, putting down our devices and connecting with each other face-to-face, finding awe and wonder in the world around us and remembering how to play, will have ripple effects that reach far beyond our own corner of the planet.
Please note:
Tickets include a simple afternoon tea.
After you buy your ticket, please let me know if you have dietary requirements: email cherie@thebackroomforbes.com
Brooke will be signing purchased copies of 'Care.'
If you are unable to attend this event but would like a signed copy of Brook's book Care: The Radical Art of Taking Time, please call The Book Dispensary, Forbes on 1300 00 2871 or email debbie@thebookdispensary.com.au to place your order.
Please Note: COVID-19 safety measures will be in place and if you don't feel well then please look after yourself and others by staying home. Participants will be signing in using the Service NSW Mobile app.
I hope you can make it,
Love Cherie
The Back Room Forbes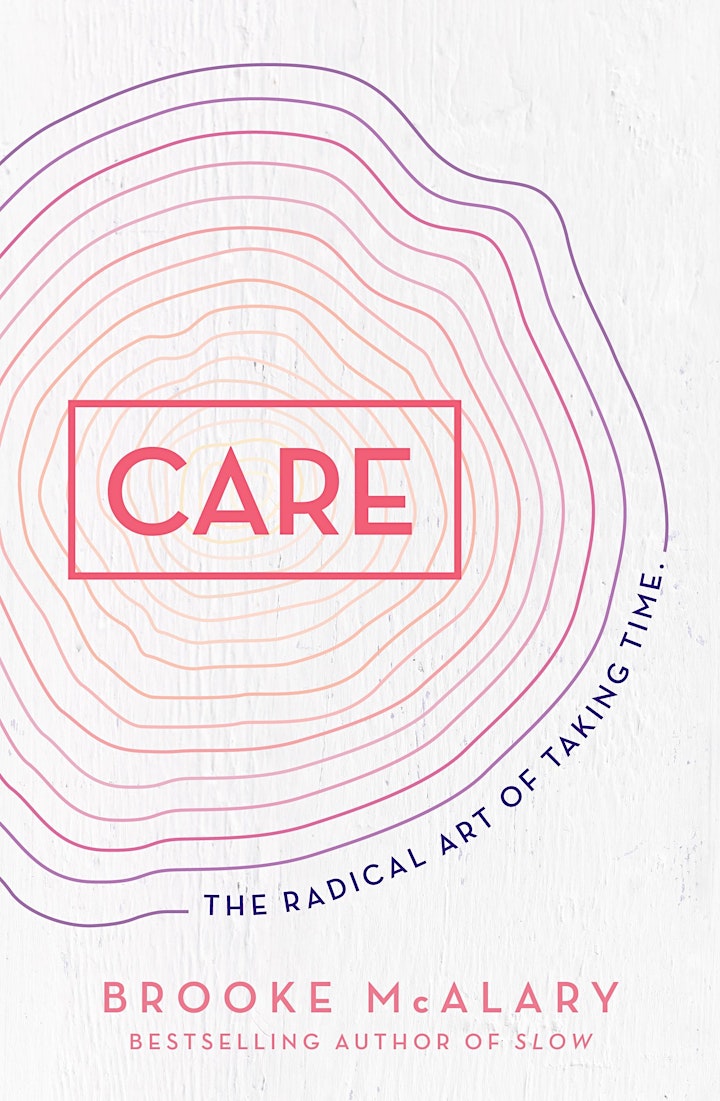 Organiser of An Afternoon in The Back Room with Brooke McAlary, Author of 'Care'
A Bit about The Back Room
Let's fill The Back Room with our vibrant community of rural men and women, gathering together to take time to share, talk, learn and laugh together.
What is this? Located on the outskirts of Forbes, this light-filled and calm space has been lovingly put together by Cherie, Bill & Lenny Stitt (actually Lenny hasn't done all that much, but I felt he needed to be included.)
Who is behind this? Cherie is taking the reins with this venture - I am a former Science teacher, organiser of events (mostly in a voluntary capacity) workshop junkie, current boarding school supervisor of teen girls, yoga teacher and lover of any excuse to gather together and share stories.
What's the point? Heartfelt gatherings, classes and workshops are held in the back room of our home - hence the very original name - and are open to all comers. Apart from regular Pilates and Yoga classes, we aim to host a unique event each month or so. Food is part of the service, as are endless cups of tea (because who doesn't love connecting over a hot cuppa?!)
What else? Currently we are having a real 'women's moment' so many of our events and get togethers are focussing on filling the cup of women. But as we all know, when a woman is happy, strong and fulfilled, then that spreads out into the whole community of family, friends and acquaintances.
And here's what some kind folks have said about events in The Back Room
"Hot quiches were better than cold ones :)"
- Possibly my Mum
"Keep doing this. It is a magical formula Cherie xxx"
- Anonymous (but I have a feeling I know who it was)
"It was a beautiful morning of women celebrating in their achievements and wisdom, of community and support, of personal stories, of triumphs and sorrows. It was simply wonderful."
- Anonymous (and I don't' think we're related)
Love
Cherie
PS, The best way to find out what's happening in The Back Room is to sign up to my weekly newsletter, but hopefully I'll catch you in real life somewhere in the Central West.