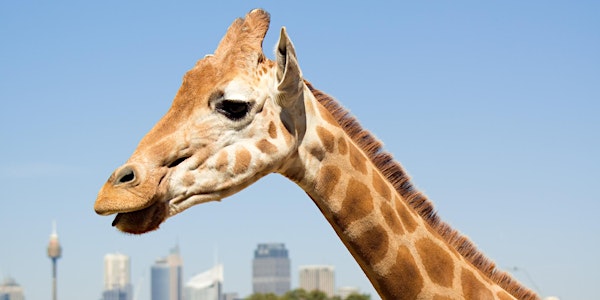 An ADF families event: DMFS Richmond Family Day 2022
Location
Taronga Zoo Sydney
Bradleys Head Road
Mosman, NSW 2088
Australia
Richmond ADF families, see the whole wild world at our 2022 family day (formerly our welcome event) at Taronga Zoo Sydney.
About this event
THIS IS OUR RE-SCHEDULED WELCOME EVENT. ALL RICHMOND WELCOME EVENT TICKET HOLDERS, YOUR TICKETS ARE STILL VALID FOR THIS EVENT AND YOU DO NOT NEED TO REGISTER AGAIN.
NOTE: This event is only for Australian Defence Force families residing in the Richmond, Glenbrook, Defence Estate Orchard Hills or Danallam House posted locality.
ADF families in the Richmond region of NSW are invited to join us for our DMFS Richmond family day event. A range of community groups and organisations will be in attendance to provide information about the various support and activities available in the Richmond area. It is also the perfect opportunity to meet our team and connect with other ADF families while enjoying the day out in a relaxed, family friendly environment. Entry to the zoo is on us.
Taronga Zoo Sydney is located on Bradleys Head Road in Mosman, right on Sydney Harbour and is easily accessible from the Sydney CBD and cares for over 5,000 animals from over 350 species, many of which are threatened. Spread over 28 hectares you can see lions, tigers, sun bears and more!
The Zoo features cafés and a food market as well as plenty of lawn and picnic table spots to enjoy a meal with a view.
Entry will only be provided to ADF members and their dependants residing in the Richmond, Glenbrook, Defence Estate Orchard Hills or Danallam House posted locality. You will be required to show your Eventbrite tickets and Defence ID to gain entry to the venue.
Families must collect their entry tickets from the DMFS stand near the main entrance between 0930 and 1100 on 7 May 2022. Families will be provided a wristband which will allow them entry into the Zoo and may remain at the Zoo until closing time at 1700.
*** Important note: to ensure your day at Taronga Zoo Sydney is safe and enjoyable, cash will not be accepted on site with only contactless payments permitted. To keep up-to-date with Taronga Zoo's COVID-19 safety measures please visit Taronga Conservation Society Australia https://taronga.org.au/sydney-zoo/important-update ***
Zoo shows and talks
Taronga Zoo offers a variety talks and shows a day starting from 11am. To keep up-to-date with everything that's on Download the App | Taronga Conservation Society Australia https://taronga.org.au/sydney-zoo/app.
Children must be under parental supervision at all times.
Registrations close on 29 April 2022, unless the event is fully booked earlier. When you arrive at the event you will be asked to show your ticket (either printed or electronic) and Defence ID. If you do not have a Defence ID card, please contact us at DMFS.Richmond@defence.gov.au to make alternate arrangements.
In the event of unfavourable weather conditions or a change in government COVID-19 restrictions, this event may be cancelled or rescheduled. Please ensure your email address is accurate as you will receive a booking confirmation and any receive additional information or changes to the event by email.
You should carefully read the following information to ensure you are aware of all requirements relating to this event. This information is regularly updated and may not be the same as information on previous DMFS events you may have registered for.
• In line with government regulations and our COVID Safe Plan, tickets for this event are limited to ensure we practice safe social distancing.
• When registering for the event, you must register for a ticket for yourself and each person attending (including every baby, toddler and child).
• When registering you will be required to provide your best contact number. In the event of a COVID-19 outbreak or the positive COVID-19 test result of an attendee, your contact details will be provided for contact tracing if directed by the Department of Health.
• If you or someone in your family are feeling unwell with flu-like symptoms on the day of the event, please stay at home. If you attend the event with flu-like symptoms, staff will advise you to return home and to seek medical advice.
• Antibacterial wipes and hand sanitiser will be available at the event. Attendees are asked to make use of the hygiene measures available on arrival at the event and again when departing.
• A photographer will be in attendance at this event. If you don't want to be photographed, or have your family photographed, please let the photographer know. Please note: any photos taken may be used in DMFS publications, online or on social media.
• Parents are required to remain onsite to supervise their children.
• If you have any mobility requirements, please email us at DMFS.Richmond@defence.gov.au.
• If you become unable to attend the event, please cancel your booking by clicking on the link in your confirmation email 'View and manage your order online'. This takes you to your 'Tickets' page where you can choose the 'Cancel my Order' option to release the tickets back to the event listing.
• Due to contact tracing requirements, it's important that you do not transfer your tickets to another family.
· The waitlist will show automatically on the registration page once the event is fully booked. If you'd like to register on the waitlist, complete the 'Contact Information' form for every individual person who requires a ticket. For example, if three family members require a ticket you should complete the 'Contact Information' form three times.