Description
Note: This event has been created for individuals living with type 1 diabetes (T1D) between the ages of 8 and 18 years. Each child needs to be accompanied by an adult.
In 2020, AMSL Diabetes is proud to announce it's first ever Sports & Exercise - Junior's Day (Ages 8 - 18 years)!
AMSL Diabetes is committed to providing education and support for all individuals living with diabetes. For several years now, we've hosted our annual Sports and Exercise Weekend for adults - but we didn't want it to stop there!
Introducing the...

This one-of-a-kind event has been specifically designed for those living with type 1 diabetes, from the ages of 8 to 18 years!
We will have motivational and expert speakers on-site to talk about how factors such as sport, exercise and diet can influence your diabetes management.
Introducing your Guest Speakers:
Sam Reid - AFL Legend
Renee Kennedy - Paediatric Diabetes Dietician
Lucy Walczak - Ex-International Rower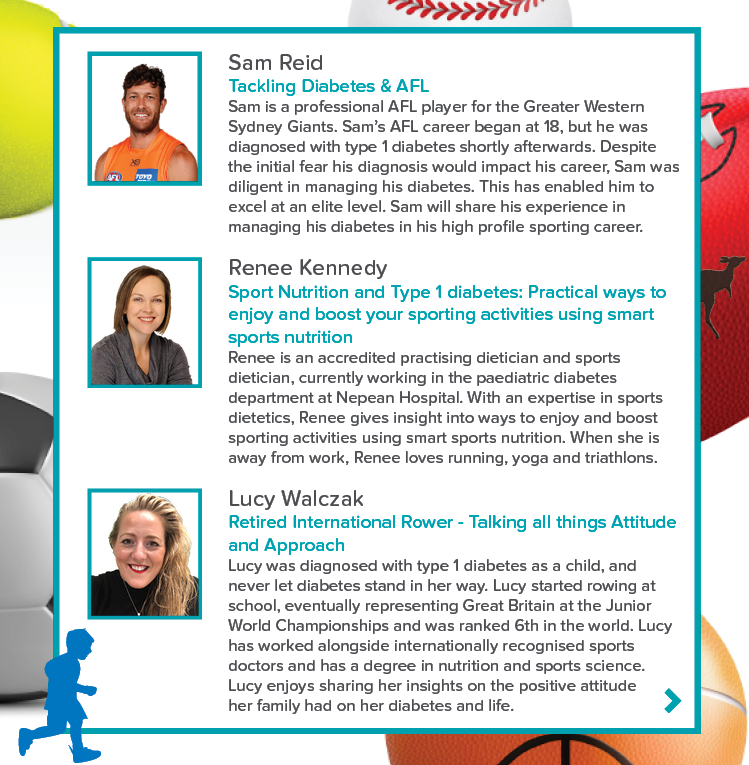 So join us and be part of a supportive community with inspiring stars sharing their stories and information on T1D, sport and exercise.
What you can expect:
Hear presentations from expert and motivational speakers on the topics of diabetes, sport and exercise as well as nutrition
Meet and mingle with others in the T1D community
Enjoy a nutritionally balanced lunch
Our 'Junior' squad will have the option to stretch their legs and have a kick around with AFL legend, Sam Reid
Registration:
Each child must be accompanied by an adult.
Strictly limited numbers - buy your ticket early to avoid missing out!
All proceeds will be donated to JDRF Australia.
FAQ:
Q: Where is the event being held?
A: This event is being held at the GWS Giants Football Club at WestConnex (Sydney Olympic Park). Click here for more information!

Q: How do I get there?
A: If driving, we would recommend parking in P3 Car Park at Sydney Olympic Park. They have ample spots of metered parking (this cost is at your own discretion). Alternatively, Olympic Park Train Station is approximately a 10-15 minute walk away from the WestConnex centre.
Q: Who do I contact for more information?
A: For more information, contact Sarah Hough (AMSL Diabetes representative) on 0417 765 561.
Q: Why do I need to provide my dietary requirements?
A: Lunch will be provided. Please advise, when registering, if you/your child have any dietary requirements so we can assure these will be catered for.
Q: Can a person under 18 go by themselves?
A: Unfortunately not. It is a requirement that all children (that is, anyone under the age of 18) be accompanied by a parent/guardian.
Q: I'm over 18, can I attend this event?
A: This event is specifically for individuals who are 18 or older, living with type 1 diabetes. For individuals over 18 years, you may be interested in our Sports & Exercise Weekend, please see here.
Q: Where does my money go?
A: All proceeds will be donated to JDRF Australia.
Q: I don't play AFL, does that matter?
A: No, that's absolutely fine! Any sport/exercise (and all grade levels) are welcomed at this event. Whether you play a team sport, or compete individually - the information presented will be worthwhile!

Please note: photography and/or videos will be taken at this event by an official representative of the event organiser. By registering and attending this event, you agree that such photographs, electronic images and videos taken at this event, the organiser (AMSL Diabetes) may use the image for promotional use, within Australia only. For more information on our Privacy Policy, visit our website at amsldiabetes.com.au.
If you have any questions about this event, please contact AMSL Diabetes at marketing@amsl.com.au.