About this Event
Please join us at this event where your local AMSL Diabetes representative, Philippa Garland, will be introducing Dexcom G6 - the latest generation in Dexcom CGM technology! The Dexcom G6 features:
ZERO fingerpricks for treatment decisions and calibration*
CGM system with a slimmer design and longer life sensor†
More customisable alarms and alerts schedules and the new 'Urgent Low Soon'
No paracetamol interference
Up to 5 followers per user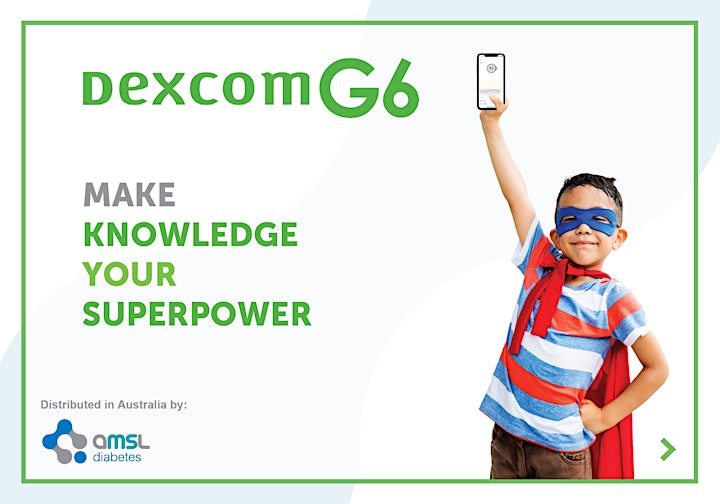 At this event, we'll also be presenting on the t:slim X2 insulin pump! And just in, the Basal-IQ technology update for the t:slim X2™ insulin pump is here! This update helps to reduce the frequency and duration of low-glucose events by predicting glucose levels 30 minutes ahead and suspending insulin if it is expected to drop below 4.4mmol/L, or if a CGM reading falls below 3.9mmol/L.
Whether you're asleep, hard at work, exercising, or just going about your day, the t:slim X2 insulin pump with Basal-IQ technology can help you spend less time worrying about lows and more time living your life.
Light refreshments will be provided. Free parking is available on-site. This event is being hosted in the Main Function Room.
For more information on this event, please contact Philippa Garland at philippa.garland@amsl.com.au or on 0499 499 414.
For assistance registering, please contact AMSL Events at events@amsl.com.au or on 02 9882 3666.
Ask us about our Dexcom G6 subscription program!
Always read the label and use only as directed. Read the warnings available on amsldiabetes.com.au/resources before purchasing. Consult your healthcare professional to see which product is right for you.* If your glucose alerts and reading from the Dexcom G6 do not match symptoms or expectations, use a blood glucose meter to make diabetes treatment decisions.† Compared to the Dexcom G5 Mobile CGM system.Dexcom, Dexcom G6 and Dexcom G5 Mobile are registered trademarks of Dexcom, Inc. in the United States and/or other countries.