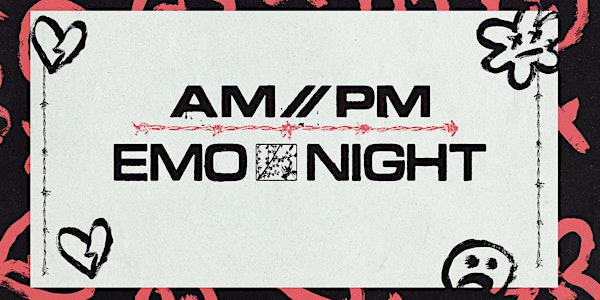 Performers
Waxflower
Headstrong, LLC, Nervous Light
Location
Burdekin Hotel
2 Oxford St
Darlinghurst, NSW 2010
Australia
About this event
AM//PM Presents:
Emo Night Sydney
────────
Emo / Pop-Punk / Bands / Party All Night
Burdekin Hotel // 2 Oxford St, Sydney
Saturday August 27 // Tickets on sale now
────────
Sydney, AM//PM is coming in hot with Emo Night on August 27. We've got a huge night of bands, partying and emo hits coming your way and a 100% 'lose your voice to thnks fr th mmrs' guarantee.
Waxflower headline a stacked lineup downstairs and we're taking over the whole venue for another month of Sydney's biggest Emo Night.
────────
Bands: Waxflower, Headstrong, LLC, Nervous Light
────────
3 Floors of Emo / Pop-Punk / Party DJ's 'til 4:00AM
────────
EMO NIGHT SOUNDS LIKE:
My Chemical Romance ⋆ Panic! At The Disco⋆ Bring Me The Horizon ⋆ Fall Out Boy ⋆ The Used ⋆ Blink 182 ⋆ A Day To Remember ⋆ Yellowcard ⋆ All Time Low ⋆ 3OH!3 ⋆ Metro Station ⋆ Paramore⋆ Taking Back Sunday ⋆ AFI ⋆ Linkin Park ⋆ Alexisonfire ⋆ Escape The Fate ⋆ Underoath ⋆ Falling In Reverse ⋆ Hawthorne Heights ⋆ Neck Deep ⋆ Cobra Starship ⋆ Sum 41 ⋆ Machine Gun Kelly ⋆ The Wonder Years ⋆ Dashboard Confessional ⋆ The All-American Rejects ⋆ Good Charlotte ⋆ Simple Plan ⋆ 30 Seconds To Mars ⋆ Jimmy Eat World ⋆ Pierce The Veil ⋆ Sleeping With Sirens
+ every other anthem ever, hit us with your requests ♥
ᴘʜᴏᴛᴏs / sᴏᴄɪᴀʟs / sᴘᴏᴛɪꜰʏ ᴘʟᴀʏʟɪsᴛ: https://linktr.ee/ampmemonight
Celebrating your birthday with us? DM us for entry + drinks