About this event
𝐀𝐌//𝐏𝐌: 𝐄𝐦𝐨 𝐍𝐢𝐠𝐡𝐭 𝐒𝐲𝐝𝐧𝐞𝐲
——————————————————
Welcome home, Sydney. Our return event sold out so fast we fast-tracked our December event for those who missed out!
We are taking over the entire Burdekin for a massive night of emo anthems, losing voices and catching up on our nearly 2 years of missed celebrations
We've picked out a stacked lineup of bands, headlined by hometown heroes Bloom. Mosh pits are back, and so is the mayhem of the ground floor band room.
ʙᴀɴᴅ ʟɪɴᴇᴜᴘ: Bloom, Bellwether, Spectre, Broken Earth
——————————————————
ᴇᴍᴏ ɴɪɢʜᴛ sᴏᴜɴᴅs ʟɪᴋᴇ
My Chemical Romance ⋆ Panic! At The Disco⋆ Bring Me The Horizon ⋆ Fall Out Boy ⋆ The Used ⋆ Blink 182 ⋆ A Day To Remember ⋆ Yellowcard ⋆ All Time Low ⋆ 3OH!3 ⋆ Metro Station ⋆ Paramore⋆ Taking Back Sunday ⋆ AFI ⋆ Parkway Drive ⋆ Alexisonfire ⋆ From First To Last ⋆ Machine Gun Kelly ⋆ Escape The Fate ⋆ Underoath ⋆ Falling In Reverse ⋆ Hawthorne Heights ⋆ Neck Deep ⋆ Cute Is What We Aim For ⋆ Sum 41 ⋆ The Wonder Years ⋆ Dashboard Confessional ⋆ The All-American Rejects ⋆ Good Charlotte ⋆ Simple Plan ⋆ 30 Seconds To Mars ⋆ Jimmy Eat World ⋆ Pierce The Veil ⋆ Sleeping With Sirens
+ ᴇᴠᴇʀʏ ᴏᴛʜᴇʀ ʙᴀɴɢᴇʀ ᴇᴠᴇʀ - ʜɪᴛ ᴜs ᴡɪᴛʜ ʏᴏᴜʀ ʀᴇqᴜᴇsᴛs
- ғᴏʟʟᴏᴡ ᴏᴜʀ sᴘᴏᴛɪғʏ ᴘʟᴀʏʟɪsᴛ: http://bit.ly/ampmemo
——————————————————
♥ ɢʀᴏᴜɴᴅ: ʙᴀɴᴅs ᴇᴀʀʟʏ / ᴏxꜰᴏʀᴅ sᴏᴄɪᴀʟ ʟᴀᴛᴇ
♥ ʟᴇᴠᴇʟ 1: ᴇᴍᴏ / ᴘᴏᴘ-ᴘᴜɴᴋ ᴀʟʟ ɴɪɢʜᴛ
♥ ʟᴇᴠᴇʟ 2: ᴇᴍᴏ / ᴘᴏᴘ-ᴘᴜɴᴋ ᴀʟʟ ɴɪɢʜᴛ
——————————————————
ᴄᴇʟᴇʙʀᴀᴛɪɴɢ ʏᴏᴜʀ ʙɪʀᴛʜᴅᴀʏ ᴡɪᴛʜ ᴜs? ᴅᴍ ᴛʜᴇ ᴘᴀɢᴇ
——————————————————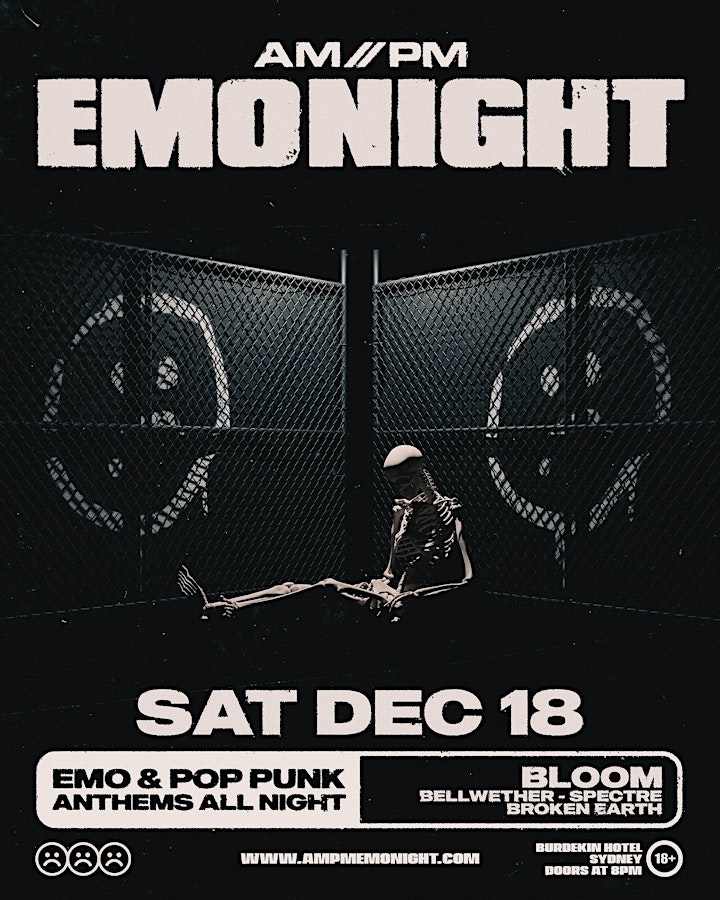 Organiser of AM//PM Emo Night: Sydney
The Neighbourhood is an event management company based in Sydney and operating all over Australia. We've been throwing parties and putting on live shows for over 10 years. Home of: AM//PM: Emo Night, Awful Things, Oxford Social and bookings for The Burdekin Hotel in Sydney + many more.