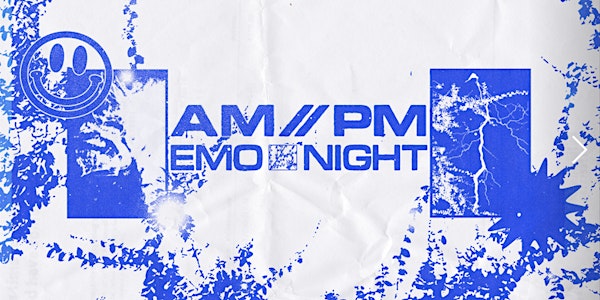 AM//PM Emo Night: Melbourne
Performers
Diamond Construct
Elision, Observist
Location
Inflation Nightclub
60 King St
Melbourne, VIC 3000
Australia
AM//PM Emo Night: Melbourne // Sat August 6th
About this event
AM//PM Emo Night: Melbourne
────────
Emo / Pop-Punk / Bands / Party All Night
Inflation // 60 King St, Melbourne
Sat August 6th // Tickets on sale now
────────
Melbourne, AM//PM brings Emo Night to you on August 6th! We're partying across Inflation's main room + rooftop 'til late singing all your favourite Emo & Pop-Punk hits.
Between You & Me are headlining a monster sold out Corner Hotel show, and they're heading down to party + DJ after. Come celebrate the boys biggest show yet.
Diamond Construct headline a huge lineup early and our DJ's will have you screaming Panic, Paramore & Pierce The Veil 'til closing time.
────────
Bands: Diamond Construct, Elision, Observist
Between You & Me Afterparty + DJ Set
────────
Emo & Pop-Punk Anthems across Inflation + Rooftop all night
────────
EMO NIGHT SOUNDS LIKE:
My Chemical Romance ⋆ Panic! At The Disco⋆ Bring Me The Horizon ⋆ Fall Out Boy ⋆ The Used ⋆ Blink 182 ⋆ A Day To Remember ⋆ Yellowcard ⋆ All Time Low ⋆ 3OH!3 ⋆ Metro Station ⋆ Paramore⋆ Taking Back Sunday ⋆ AFI ⋆ Linkin Park ⋆ Alexisonfire ⋆ Escape The Fate ⋆ Underoath ⋆ Falling In Reverse ⋆ Hawthorne Heights ⋆ Neck Deep ⋆ Cobra Starship ⋆ Sum 41 ⋆ Machine Gun Kelly ⋆ The Wonder Years ⋆ Dashboard Confessional ⋆ The All-American Rejects ⋆ Good Charlotte ⋆ Simple Plan ⋆ 30 Seconds To Mars ⋆ Jimmy Eat World ⋆ Pierce The Veil ⋆ Sleeping With Sirens
+ Every Emo banger ever // hit us with your requests
- ғᴏʟʟᴏᴡ ᴏᴜʀ sᴘᴏᴛɪғʏ ᴘʟᴀʏʟɪsᴛ: https://linktr.ee/ampmemonight
- Celebrating your birthday with us? DM us for entry