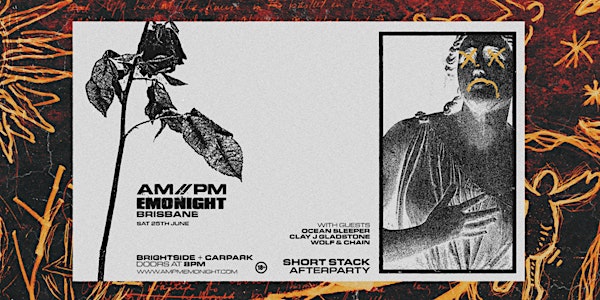 AM//PM Emo Night: Brisbane
Performers
Ocean Sleeper
Clay J Gladstone, Wolf & Chain
Location
The Brightside
27 Warner St
Fortitude Valley, QLD 4006
Australia
AM//PM Presents: Emo Night Brisbane
About this event
AM//PM Presents:
Emo Night Brisbane XL
────────
Emo / Pop-Punk / Bands / Party All Night
────────
Brisbane, AM//PM returns June 25 with a huge one. We're taking over the entire Brightside + Car Park for our biggest night yet.
Ocean Sleeper headline a massive band lineup inside, and DJ's take over the car park + after bands for a huge one.
Short Stack + Northlane play in The Valley so we're throwing a monster afterparty, you do the math, it's gonna be BIG.
Our last event sold our in advance so don't sleep on tickets.
────────
Bands: Ocean Sleeper, Clay J Gladstone, Wolf & Chain
DJ's: AM//PM DJ's playing Emo & Pop-Punk Anthems all night + Guest DJ's TBA
────────
Afterparties:
Short Stack play Fortitude Music Hall + Northlane play a sold out Tivoli, head down after and keep it going 'til late.
────────
EMO NIGHT SOUNDS LIKE:
My Chemical Romance ⋆ Panic! At The Disco⋆ Bring Me The Horizon ⋆ Fall Out Boy ⋆ The Used ⋆ Blink 182 ⋆ A Day To Remember ⋆ Yellowcard ⋆ All Time Low ⋆ 3OH!3 ⋆ Metro Station ⋆ Paramore⋆ Taking Back Sunday ⋆ AFI ⋆ Parkway Drive ⋆ Alexisonfire ⋆ Escape The Fate ⋆ Underoath ⋆ Falling In Reverse ⋆ Hawthorne Heights ⋆ Neck Deep ⋆ Cobra Starship ⋆ Sum 41 ⋆ Machine Gun Kelly ⋆ The Wonder Years ⋆ Dashboard Confessional ⋆ The All-American Rejects ⋆ Good Charlotte ⋆ Simple Plan ⋆ 30 Seconds To Mars ⋆ Jimmy Eat World ⋆ Pierce The Veil ⋆ Sleeping With Sirens
+ Every Emo banger ever // hit us with your requests
- ғᴏʟʟᴏᴡ ᴏᴜʀ sᴘᴏᴛɪғʏ ᴘʟᴀʏʟɪsᴛ: https://linktr.ee/ampmemonight
- Celebrating your birthday with us? DM us for entry + drinks