Are you ready to amplify your brand on LinkedIn with this game changing event?
About this event
With a combined LinkedIn network of over a million people, come join Dino Pacella and Sohaib Hasan as we share strategies, tips, hints, plans and our experiences so you too can amplify your brand on LinkedIn.
Our objective is for you to take away your own personal branding strategy where you can then plug your new strategy into your life and start shining the light on your brand.
To achieve this we will be sharing proven strategies which have worked, not only for us but for many clients we have mentored to get the most out of their investment on LinkedIn.
Audience participation will be high, so come prepared to share your thoughts, questions and experiences. Have your video turned on and let's connect whilst we grow.
WHAT YOU CAN EXPECT
Identifying your unique branding goal?
Understanding the right mix of content
Creating the right brand plan for you
Different ways to generate attraction
How to maximise LinkedIn stories
The importance of doing engagement the right way
How to invite people to your network and get accepted
Generating new meetings through LinkedIn messages
Understanding the hook
7 different ways to create that hook
Hashtags, do they work? and how to use them
Tagging people and the impact
Why upload images compared to plain text posts
Learning the demographics
What topics should you post about
Feature sections and groups
When does LinkedIn punish a post and how to avoid it
How often should you post? Scheduling Apps
ABOUT OUR PRESENTERS
Sohaib Hasan is a multi-award winner social media influencer and Career Advisor. He has an internationally recognized career in Human Resources working in various sectors including; Education, Environment, Management Consulting, Healthcare, Automobile & Telecommunication across the UK, China, Germany, Pakistan and UAE.
𝗪𝗶𝘁𝗵 𝗰𝗹𝗼𝘀𝗲 𝘁𝗼 𝗺𝗶𝗹𝗹𝗶𝗼𝗻 𝗮𝗰𝘁𝗶𝘃𝗲 𝗳𝗼𝗹𝗹𝗼𝘄𝗲𝗿𝘀𝗵𝗶𝗽 𝗼𝗻 𝗟𝗶𝗻𝗸𝗲𝗱𝗜𝗻, he is on a mission to help empower not only the job seekers community but to show people and organizations how they can take advantage of social media platforms to facilitate their brand awareness. Sohaib likes to connect with people, technology & the future of work-space within the HR and leadership sector.
𝗛𝗲 𝗶𝘀 𝗰𝗼𝗻𝘀𝗶𝘀𝘁𝗲𝗻𝘁𝗹𝘆 𝗹𝗶𝘀𝘁𝗲𝗱 𝗶𝗻 𝘁𝗵𝗲 𝘁𝗼𝗽 𝗹𝗶𝘀𝘁 𝗼𝗳 𝗼𝗻𝗹𝗶𝗻𝗲 𝗶𝗻𝗳𝗹𝘂𝗲𝗻𝗰𝗲𝗿𝘀 𝗮𝗻𝗱 𝗖𝗮𝗿𝗲𝗲𝗿 𝗔𝗱𝘃𝗶𝘀𝗼𝗿𝘀. His work and efforts in career counseling and personal branding never go unnoticed which keeps him super engaged in multiple live broadcasts, online collaborations, workshops and meetups where he shares strategies & action plans to succeed and grow.
Check out Sohaib's LinkedIn Profile here
Dino Pacella is the National Partnership Manager for the Simplicity Loans and Advisory Group, he is responsible for raising the profile, the awareness and the expansion of Marketplace Finance (part of the Simplicity Loans and Advisory Group) throughout the Australian market by engaging with new and existing partners on how our full service commercial finance solution can assist them and their clients achieve their goals.
With a deep passion for finance brokers, he founded National Finance Brokers Day, back in 2015 which was established to build awareness of the broker industry throughout Australia and help educate consumers on the advantages received by dealing with a broker along with the full service proposition that these professionals bring to the market place.
Dino strongly believes that people want to build relationships with people they can get to know, like and ultimately trust which is why he is passionate about Personal Branding.Putting a strong personal brand on show provides people with the opportunity to understand your values, your operating rhythm, your way of thinking and how you can positively impact others. This allows them to emotionally connect with you dramatically improving turning any potential followers into a real, engaging and valued community.
Check out Dino's LinkedIn Profile here
All registered attendees will receive a calendar invite which will include the zoom link and passcode.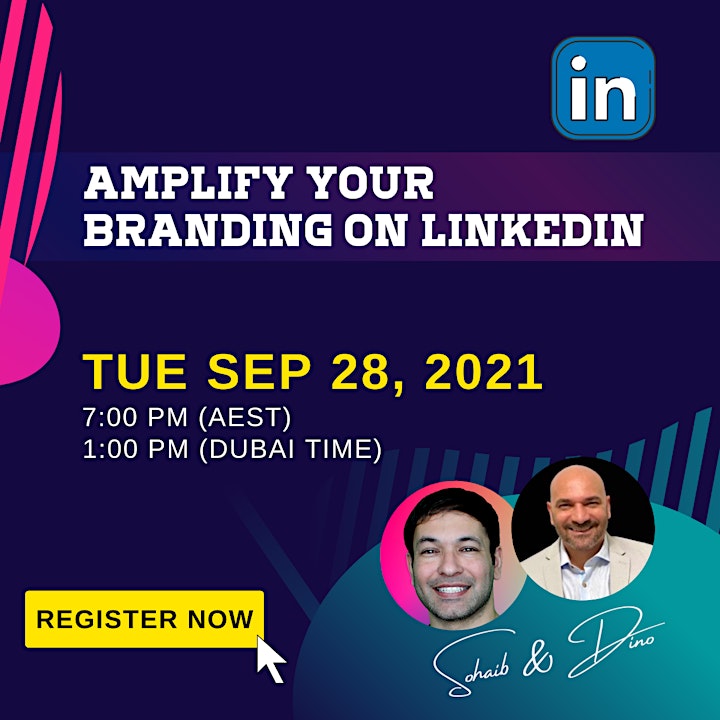 Date and time
Location
Refund policy