Description
Jennifer Higdon (b 1962): Smash (2006) for flute, clarinet, violin, viola, cello and piano
Aaron Copland (1900-1990): Duo (1970-71) for flute and piano
Antonín Dvořák (1841-1904): String Quartet no.12 in F major, Op.96 'American' (1893)
John Adams (b 1947): Gnarly Buttons (1996)
While it may seem odd to include Romantic Czech composer Antonín Dvořák in a program of music from the New World, the Bohemian composer wrote two of his most famous works during his time in the United States. Dvořák's 'American' F major string quartet is inescapably influenced by the landscape of the plains of New England so memorably captured a generation later by Aaron Copland, a concept unmistakably heard in his Duo for flute and piano. Two exciting contemporary voices round out this program: Jennifer Higdon's bright and exciting opener Smash, and a major work by John Adams, whose clarinet concerto for chamber forces Gnarly Buttons takes the listener through a journey of surprising depth as well as humorous and quirky moments.
---

Music has the power to propel us to unimagined places and transport us to many states through myriad emotions. To this end our 2017 season, Voyages, ventures through a diverse array of such musical excursions, establishing a strong sense of place while enjoying the local colours and flavours of music from particular national schools. Our season of voyages moves through Russian folklore,sweeping us on to the New World and delights of America, and delving into the sounds of the cinema screen. We are immersed in Fantasy and Variation with quintets of Vine, Nielsen and Mozart, and the titanic Schubert Octet, concluding our year's travels with a sequence of postcards from exotic destinations, ending back in Europe with Tchaikovsky's Souvenir de Florence.
Join us in setting sail on our exciting musical Voyages in 2017.
---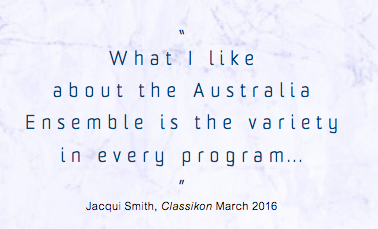 ---




---