Altered States combines ceremonial cacao and breathwork with a powerful audio-sensory experience for you to journey inwards.
About this Event
ARE YOU READY TO IMMERSE YOURSELF?
Join us for our first event for 2021 - RESURGENCE!
Cacao Collective™and Altered States Events presents an immersive, one-of-a-kind experience.
Altered States combines movement, ceremonial cacao, breathwork and a powerful soundscape, to guide you on an inward journey, supported by your own individual headset.
This setting allows you to be uninterrupted by those around you so that you can go deep inside, without distraction.
Think "silent disco" of breathwork, sound healing & personal development.
RESURGENCE is our first themed event, curated specifically for entering 2021. All segments of this special event will be geared towards helping you create a higher state of consciousness, elation and elevation.
The entire event runs for 4 hours.
Within this time you will:
- Learn about ceremonial cacao, it's origins and why it is so powerful for mind, body & spirit.
- Learn about breathwork, how to harness the power of your breath & why it is such a safe, medicinal & healing tool for each and every one of us.
- Experience an opening ceremony & intention-setting with cacao as a collective.
- Experience breathwork first hand, accompanied by a soundscape using your own individual headsets.
We each have what we are searching for within us; let Altered States be the vehicle that can allow you to find it.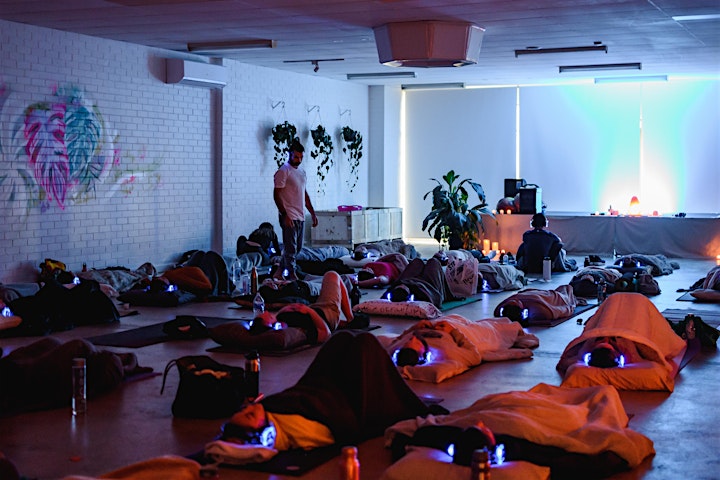 WHO IS THIS FOR?
- Anyone who is curious about ceremonial cacao, breathwork, personal growth & immersive experiences.
- Anyone who is on a self-growth, development or personal healing journey.
- Anyone who wants to experience the profound potency & power of their own breath.
- Anyone who struggles to express, process or release emotion.
- Anyone searching for an opportunity to relax, go inward and experience the possibility of altered states of consciousness.
- Anyone who is feeling like they need to be supported & held instead of holding and supporting others.
- Anyone who is seeking to deepen their connection with themselves.
WHAT'S INCLUDED?
- Learn about how the synergy of cacao & breathwork can assist you in altering your state, consciousness and can help bring about a new life perspective.
- Your own set of individual headphones for the experience (not to take home... we wish!).
- Ceremonial cacao & opening ceremony. Set a powerful intention supported by cacao so that you can be open to transformation and/or release.
- Be guided through a potent rebirthing breathwork experience, whilst immersed in an audio-sensory journey.
- Closing ceremony & Intgegration.
WHAT DO I NEED TO BRING?
Yourself, an open mind and the following:
- Yoga mat for sitting/lying.
- Water bottle.
- Journal & pen.
- Pillow & blanket.
**The main chunk of the event (breathwork journey) will be done lying down on a yoga mat, so we highly recommend bringing whatever you need to ensure you are comfortable and warm so you can get the most out of this experience.
*FOR YOUR SAFETY:
We care about all of our participants. Please consult your healthcare professional if you have any of the following conditions:
Hypertension (high blood pressure), chronic cardiovascular conditions, epilepsy, schizophrenia, pregnancy or recent surgery under general anaesthetic (under two weeks prior).
Cacao contains monoamine oxidase inhibitors (MAOIs); ceremonial doses can contraindicate with both tyramine (1st gen anti-depressants) and tryptophan (2nd gen SSRI anti-depressants).
Cacao is not a compulsory component of this event. If you have any of the above and still wish to participate, we require you to communicate with us prior and sign a waiver and release.
For any questions or more information, please contact us at hello@cacaocollective.com.au.
See more about Cacao Collective here.
REFUND POLICY:
Due to the demand for this event, there are no refunds, however, if you can find someone to replace your ticket/s, we are happy to accommodate. In any case, please email via hello@cacaocollective.com.au for support and to update us on your position. Refunds will be given at our discretion for unavoidable circumstances ie health, death, crisis.