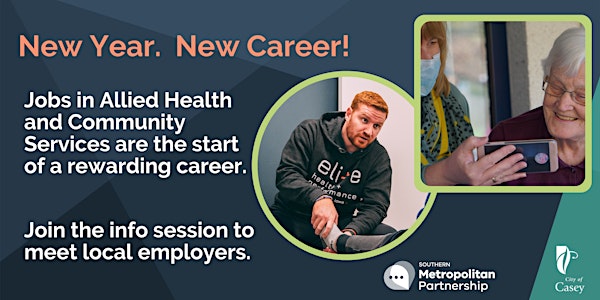 Allied Health- Community Services Jobs Information Session
About this event
The City of Casey is working with its local and surrounding communities to get the economy moving again. 
The Allied Health / Community Services industry is a great entry-point for a wide range of careers and opportunities while gaining skills and contributing to the community.  What can it offer you? 
Flexible working hours 
Great communication and people management skills 
Work with energetic and compassionate people , who want to make a difference
More transferrable skills than most other industries 
Work in community or private facilities  
Register now for this online event now. Come and hear direct from the employers about available jobs, working conditions, opportunities for advancement and benefits. It may change your perception!
This event is a feature in the Changing Perceptions in Employment program, a pilot initiative lead by the City of Casey and funded through the Metropolitan Partnership Development Fund for the Southern Region.