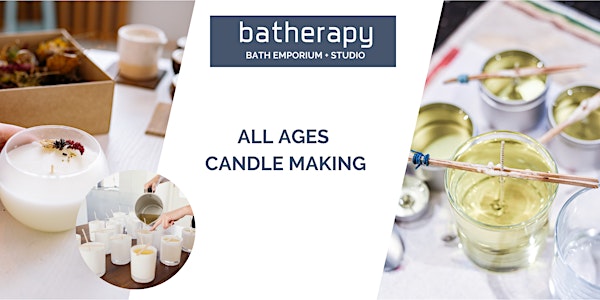 Location
1/43 Eighth Avenue
#1
Maylands, WA 6051
Australia
Create your own candle masterpiece!
About this event
ALL AGES CANDLE MAKING
Learn step by step how to make hand poured scented candles using natural soy waxes and beautiful fragrances.
Take home your candle creation (220g tin candle vessel included with approx. 40 hour burn time).
A wide range of upgrade or additional candle vessels can be purchased on the day between $10-$30.
1 hour
(allow additional time if making more than 1 candle)
$44.00
$33 for kids under 14 (must be accompanied by an adult)
Saturday 9th July,12pm – 1pm
Join us at Batherapy Studio on select dates for our candle making session.
Explore your creativity making your very own candle using essential + fragrance oils + botanicals in this 1hour session!
Please note candles need time to set! They will be available to collect from the next day or can be mailed to you for $10
The session includes:
-220g of natural soy wax
- Your choice of scents from our range of essential oils, blends + fragrant oils.
-Your choice of colour
-Choose from a wide selection of candle vessels (extra fees apply) Tin candle vessel included.
-All necessary tools and equipment will be provided.
Children under the age of 15 must be accompanied by an adult
ABOUT BATHERAPY
MAKE YOUR OWN BATH PRODUCTS + CANDLES!
Batherapy Studio provides a place where you can connect and create with friends!
Our unique soap, bath and candle making sessions create fun experiences, lasting memories and products that are unique to you for you to take home!
FOR OUR FULL RANGE OF DIY SESSIONS VISIT BATHERAPY.COM.AU
email: hello@batherapy.com.au
PRIVATE GROUPS + PARTIES AVAILABLE INCLUDING FOR KIDS!
Check out our other events!
Stuido's in Ardross/Booragoon + Maylands
@ batherapy.com.au