All about Pleasure - a Delight-full Day for women with Laura-Doe

Saturday, 17 October 2015 from 10:00 am to 5:00 pm (AEDT)
Event Details
Did you know that pleasure is genuinely good for you?
It's true! When you feel pleasure you feel happier and more alive. The increased well being gives you energy and the ability to do more with your days.
In fact your clever body is designed to be attracted to things that feel good, because, quite literally, feeling good is good for you! Current wisdom often seems to suggest that anything that tastes, smells, or feels really good can't be good for us. In fact, throughout time, authorities have attempted to control things that make us feel good. It's a simple idea: by restricting access to pleasure people become more fearful and easier to manipulate.
But pleasure is the way towards health, not a temptation away from it.
Beautiful sights, delicious food, loving connections, sensual touch and inspiring music all have a direct and very positive effect on the well-being of your entire body. Pleasurable sensations turn on the healing, regenerating pathways in your nervous system. In fact a single pleasurable touch can boost your immune system for up to six hours!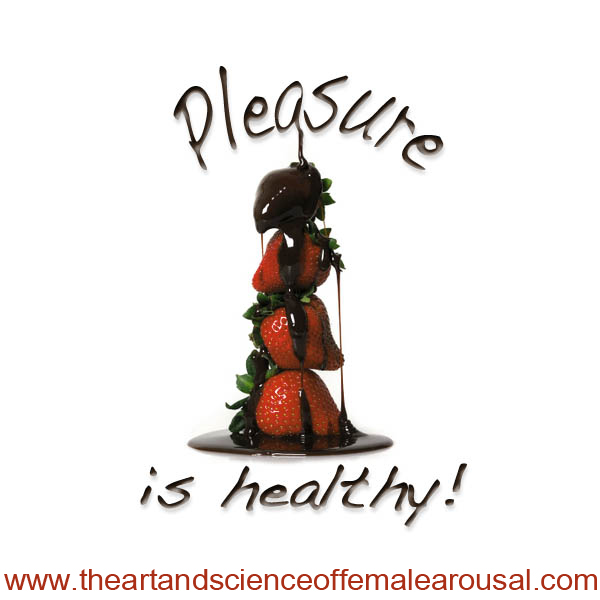 All About Pleasure offers you an entertaining overview of how and why pleasure is so important for your well being and a host of practical exercises to support you to cultivate and expand your individual experiences of delight through all your senses. We will look at how each of us differs in our capacity for pleasure and how we can practice to increase this. You will learn a range of techniques that can be used on a daily basis to increase your pleasure quotient.
The practical experiences in All About Pleasure focus on non-erotic pleasure and requires no nudity. However, getting to know the amazing structures of your pleasure anatomy is an important part of your capacity to experience sexual pleasure, alone or with a partner.
All pre-booked participants will be given a link to watch my new video resource - The Art & Science of Female Arousal. Packed with fascinating information about the elegant design for pleasure within the female pelvis, you are invited to watch this before the event. Time will be allocated on the day for you to ask questions, gain further clarity and explore these structures using The yOniversity's gorgeous anatomically accurate Vulvalicious Cushions. Find out more about The Art & Science of Female Arousal and view the trailer here.
Combining the new information about your amazing arousal orchestra with the insights and practices we explore on the day will give you a pwerful set of tools to enhance your experience of pleasure in your intimate life.
Numbers are limited so please book early. Our location will depend on the number of women booked in.
Your facilitator, Laura-Doe is the founder of The yOniversity. A pleasure & embodiment coach, somatic sex educator and comedienne singer/songwriter, she has been teaching for over 25 years and has trained and worked with many of the leaders in the field of Sacred Sexuality. She is a professional member of the Somatic Sex Educators' Assocaiation of Australasia
When & Where

Mullumbimby
Venue address provided on booking
Mullumbimby, NSW 2482
Australia

Saturday, 17 October 2015 from 10:00 am to 5:00 pm (AEDT)
Add to my calendar
Organiser
The yOniversity - Empowerment through Pleasure & Knowledge.
Offering events in Australia, Bali and the UK, The yOniversity provides practical education to support women and men to connect with their bodies, feel good in them and to use pleasure as a healing, empowering and creative tool.