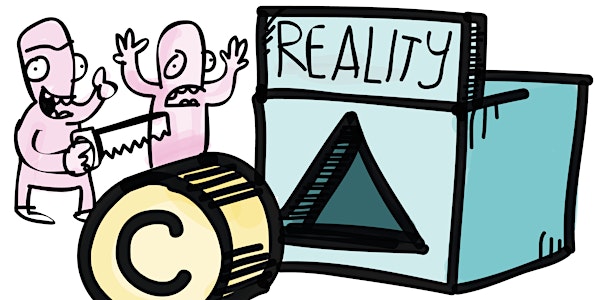 ALCC Library and Archive Copyright Training, Darwin (and Northern Territory...
Event Information
Location
Northern Territory Library
Parliament House
4 Bennett Street
Darwin City, Northern Territory 0800
Australia
Refund policy
Refunds up to 1 day before event
Description
This training will take place at the Northern Territory Library.
This training will also be livestreamed. Livestream locations will be announced closer to the training date.
Copyright – it touches on almost all areas of practice in libraries and archives, yet many do not feel confident in dealing with it on a day to day basis. Recognising the need, the Australian Libraries Copyright Committee (ALCC) continues to provide copyright training to members and non-members nationwide.
This training aims to arm librarians and archivists with the knowledge and skills to tackle copyright in their institutions. From document delivery to open access, we cover it all and take questions from the floor.
Content

Two sessions will be run between 9 am and 1 pm.
The sessions are aimed at attendees with different levels of knowledge and experience, and the two are designed to work as discrete sessions or as a single full-day copyright primer. These two sessions are:
Copyright Essentials (morning) – intended for those who want to learn or brush up on their copyright basics.

Copyright Extended (afternoon) – looks at the latest updates and copyright practices; assumes either a base knowledge of copyright or attendance at the morning session. This session will end with a drop-in session for one-on-one questions.
The day is designed so that you can attend either of the sessions individually or combine them for a fuller program. They will be held in the same location, with a break for lunch in between. Please register for all sessions you plan to attend - places fill up fast. No catering is provided however there are a number of cafes in walking distance.
Cost
Both sessions are free for ALCC member organisations and their employees – so if you or your institution* are a member of ALIA, NSLA, CAUL, AGLIN, CAARA, ASLA, ASA or other member organisations, the only cost is your time. They are also open to non-members; however a price is charged. Members of the ALCC's sister organisation, the Australian Digital Alliance, receive a discount on this price.
The livestream is also free for ALCC member organisations and their employees. The livestream is also open to non-members; however a price is charged. Members of the ALCC's sister organisation, the Australian Digital Alliance, receive a discount on this price.
*Please note: There is a limited capacity allocation for employees of institutions that are organisational members of ALIA. If you are not a member of ALIA as an individual and you wish to attend the training, please first contact the institution through which you are affilated with ALIA. Each ALIA affiliated organisation has up to 3 free tickets per session.
Full day program
Copyright Essentials – 9 am–10:30 pm
9 am – Making friends with copyright
A quick run through of the basics. What, how, why, and duration of protection.
9:30 am – What you can do
Looking at how to navigate the narrow path of legal copyright use. Fair dealing, s200AB, preservation copyright, document supply, licences, orphan works and TPMs.
10:30 am – Close
Copyright Extended – 11:00 am–1:00 pm
11:00 am – Using copyright material
What can you do with material in your collection? Can you put it on your website and social media?
11:30 am – Copyright licensing
An overview of copyright licensing including direct licensing, collective licensing and collecting societies and open content licensing such as Creative Commons.
12:00 pm – Latest developments for libraries and archives
An update on the latest in Australian copyright that affects the sector. This will include a closer look at the new duration provisions in the Copyright Amendment (Disability Access and Other Measures) Act 2017 that come into effect in January. It will also touch on Copyright Amendment (Service Providers) Act 2018 and 'safe harbour'. It will look at what safe harbour is and what it means for GLAM organisations. The session will also briefly outline current copyright law reform activities.
1:00 pm – Close
Answers to questions on notice – 2:00–3:00 pm
Concluding the day is a special session where the presenter will provide responses to questions submitted in advance. This will allow ALCC to prepare detailed answers to your questions. If you would like to submit a quesiton for consideration, please use our online form. Questions will be accepted till Monday 24 June 2019.
3:00 pm – Close
Livestreaming

The sessions will be livestreamed. We will provide more details about livestreaming closer to the training date.
Contact
For further information, contact ALCC on (02) 6262 1118 or info@digital.org.au.
Terms
When ordering a ticket you have the option to subscribe to the ALCC mailing list. We send occassional emails to the list informing them of upcoming copyright training, copyright information such as our submissions of government inquiries and details of other copyright events. Subscription is voluntary.
Please note, even if you do not subscribe the ALCC may contact you after this event for the purposes of requesting feedback on the event and providing access to materials related to the event such as presentation slides.
Credits
Image: copyright-hacking by entapir. You can reuse this image under the terms of a Creative Commons Attribution 2.0 licence.
Date and time
Location
Northern Territory Library
Parliament House
4 Bennett Street
Darwin City, Northern Territory 0800
Australia
Refund policy
Refunds up to 1 day before event