Special double workshop event! In the morning: Compost as a Catalyst. In the afternoon: Making the Transition to regenerative agriculture.
About this event
As part of the Compost for Conservation Cropping project, Bruce Maynard and Michelle Miller are hosting a special double workshop event.
Workshop 1. Compost as a Catalyst
Morning workshop with special guest speaker, John Barton: 9:00 am - 12:00 pm
This workshop is focussed on how compost works for soil health, farm productivity, and the local economy. This event is for producers and anyone in the community interested in growing the compost supply chain.
DISCUSS HOW COMPOST CAN BE A CATALYST FOR...
Increasing soil function, soil organic carbon and water holding capacity
Managing for long term productivity and sustainability
Closing the nutrients loop - returning nutrients back to farms and the soil
Connecting local economies - though recycled organics and compost supply
And - give feedback on the Compost Buddy online compost advice tool!
About John
John grew up on a rice farm near Griffith, NSW and worked in agriculture across a range of crop types. After a back injury, John retrained in horticultural science, specialising in soil function and farm ecosystems. He has worked for 13 years in commercial composting at every level from machine operator to business owner. He has been involved in the production of 1 million cubic metres of compost and has been involved in the commissioning and staff training of 7 new composting sites around Australia. John is passionate about creating farms and soils that can produce food forever without degrading. John works at Charton & Bang, find them on Facebook!
If you haven't seen John present before, this video from a Facebook Live event we held in March is a great starter:
https://fb.watch/5oQrJcJRB-/
Workshop 2. Making the Transition
Afternoon workshop: 1:00 pm - 4:00 pm
This workshop will look at how farmers transition to regenerative and resilient farming practices, including building their toolbox, management planning and sector support. This event is for producers and suppliers interested in transition to regenerative farming.
IN THIS AFTERNOON WORKSHOP, DISCUSS...
Building a tool box for regeneration that maximises use of nutrients
Incorporating new practices into farm management and planning
Identifying what is needed as a sector, a community and a local economy to support transition
Details on event location TBD.
Attend one or both events for free. If you attend both events, bring your own lunch!
Contact: admin@constructivefarmingcoop.com.au
Find us on Facebook at @compostasacatalyst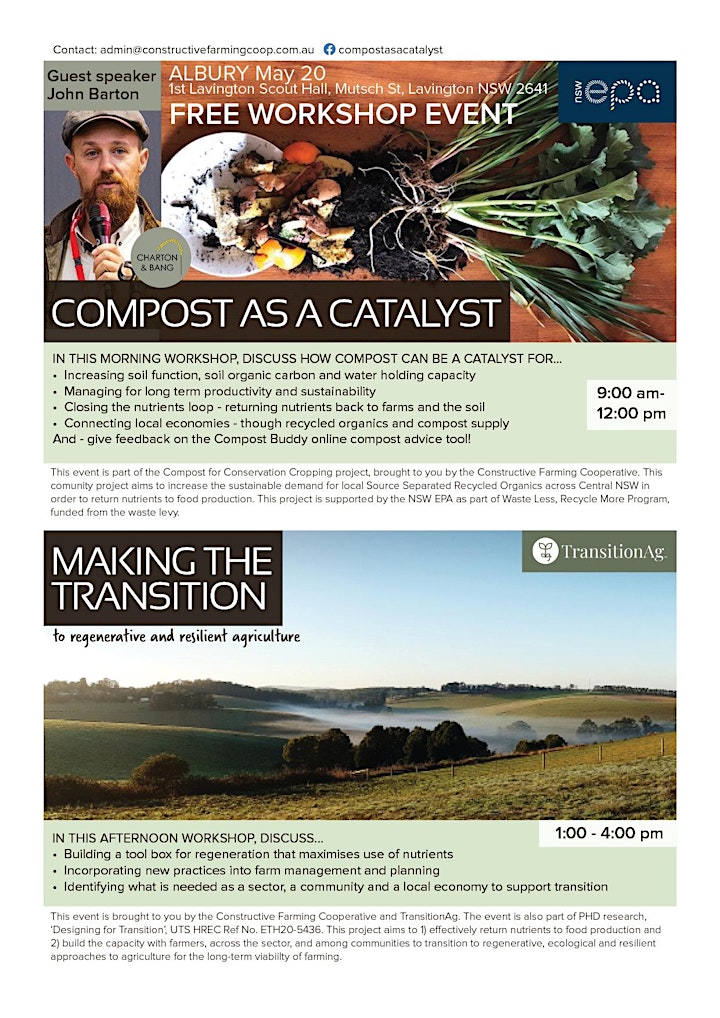 Event sponsors
The Compost as a Catalyst workshop is part of the Compost for Conservation Cropping project, brought to you by the Constructive Farming Cooperative. This community project aims to increase the sustainable demand for local Source Separated Recycled Organics across Central NSW in order to return nutrients to food production. This project is supported by the NSW EPA as part of Waste Less, Recycle More Program, funded from the waste levy.
The Making the Transition workshop is brought to you by the Constructive Farming Cooperative and TransitionAg. The event is also part of PHD research, 'Designing for Transition', UTS HREC Ref No. ETH20-5436. This project aims to 1) effectively return nutrients to food production and 2) build the capacity with farmers, across the sector, and among communities to transition to regenerative, ecological and resilient approaches to agriculture for the long-term viabiilty of farming.
Organiser of ALBURY: Compost as a Catalyst and Making the Transition