Description
Affect, Knowledge and Embodiment: A Critical Feminist Arts/Research Masterclass
Dr Laura Rodriguez Castro (University of Queensland)
Dr Ashleigh Watson (Griffith University)
Samantha Trayhurn (Western Sydney University)
Date: Friday November 16
Venue: Teaching and Learning Building 19, Faculty of Education, Monash University, Clayton Campus.
Cost: Free
*** ALL SPACES FOR THIS EVENT ARE FULL - if you would like to join the waitlist please email laurarc9105@gmail.com ***
In this masterclass, we explore ways of practically extending critical and feminist social research with art – specifically photography, sociological fiction and zine making. These arts practices are valuable for opening up how we critically explore, analyse, collaborate on, and share experiences and understandings of the social world.
The masterclass will involve talks on participatory visual methods, sociological fiction, and zine making. Following these talks is a practical workshop, where participants will collaboratively experiment with each of these methods to explore themes of affect, knowledge, and embodiment. We will produce a zine on the day, a 'curated sociology' of photography, research writing and fiction interventions, to be published with Frances St Press.
This masterclass will be suitable for Honours, Masters and PhD students, and established social researchers interested in a practical introduction to these arts/research methods. Participants do not need prior experience in these practices - just enthusiasm!
Places are limited.
Affect, Knowledge and Embodiment: A Critical Feminist Arts/Research Masterclass is hosted by Monash University Faculty of Education.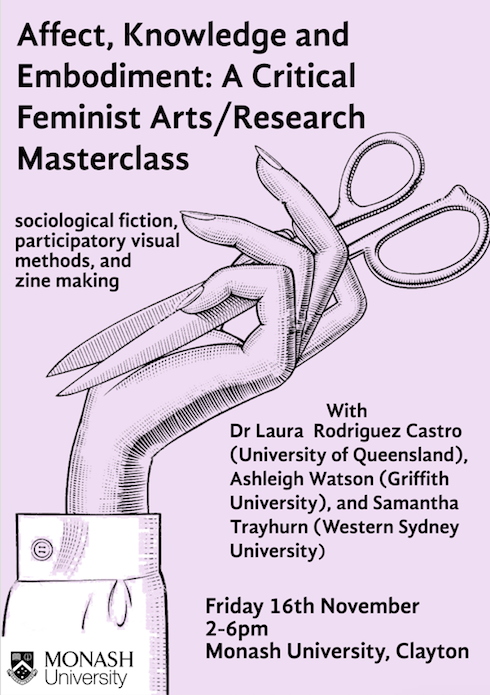 Dr Laura Rodriguez Castro is a postdoctoral research fellow at the University of Queensland. Her doctoral research was a visual participatory project with rural women in Colombia embedded in feminist and decolonial epistemologies. She combines her research practice working as a freelance writer and photographer, and is involved in community activism.
Dr Ashleigh Watson is the creator and editor of So Fi Zine, the Fiction Editor of The Sociological Review, and the Postgraduate Portfolio Leader of The Australian Sociological Association. She recently submitted her PhD on fiction and public sociology with Griffith University.
Samantha Trayhurn is undertaking a Doctor of Creative Arts at Western Sydney University as part of the ARC funded Other Worlds: Forms of World Literature project. Her work has appeared in Overland, Westerly, LiNQ Journal, eTropic, Hecate and others. She is the creator and editor of Pink Cover Zine.