Description
AIS 2005 (Update 2008) Uses and Techniques Course
---
Date: 30th Nov - 1st Dec 2017
Time: 8.15am to 5pm (both days)
Venue: Department of Epidemiology and Preventive Medicine (DEPM), Monash University, 553 St Kilda Road, Melbourne
What is the AIS?
The Abbreviated Injury Scale (AIS) provides researchers with a simple numerical method for ranking and comparing injuries by severity and to standardize the terminology used to describe injuries.
The AIS is the foundation for the Injury Severity Score (ISS) which assesses the overall injury severity of the patient.
The AIS has been universally accepted. Accurate and consistent application of the AIS is fundamental to sound injury data collection globally.
Who should apply?
Trauma clinicians; Trauma data managers; Injury researchers; Public health and policy professionals.
Program: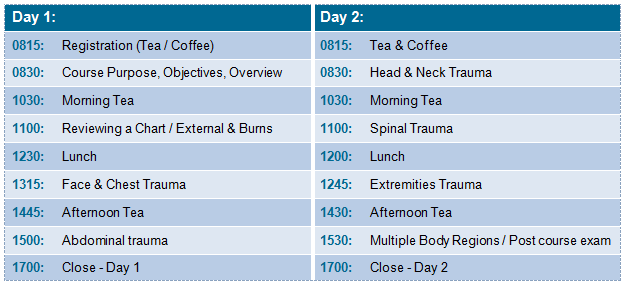 Cost:
$900 per participant (incl GST).
Cost includes:
Full 2 day course
AIS 2005 - Update 2008 Dictionary
AIS Uses and Techniques Manual
AIS Course materials
Lunch and light freshments for the course duration
AIS Course Certificate issues on completion of the course
NSW Institute of Trauma and Injury Management (ITIM), on behalf of the Association for the Advancement of Automotive Medicine (AAAM), is the Australian agent responsible for the delivery of the AIS and Injury Scaling: Uses and Techniques Course.


FAQs:
How do I get to the venue?
Information on getting to The Alfred campus. The Alfred campus map showing Monash University building (west side).
My organisation is paying the registration fee. Can they be invoiced?
Please ensure you contact mimi.morgan@monash.edu to arrange the raising of an invoice.
What is the refund policy?
No refunds are provided for this course.