AirwayFirst Australia Livestream
About this event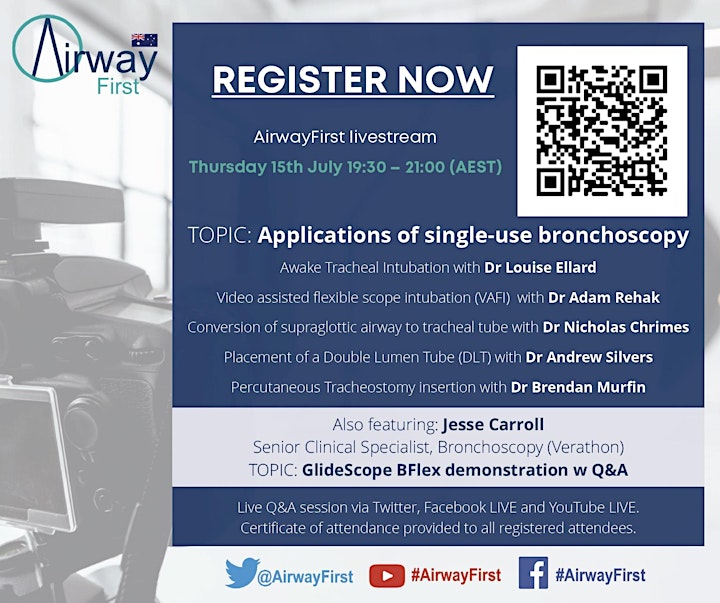 AirwayFirst Australia Special Edition Episode:
To celebrate the Australian launch of the GlideScope BFlex single-use bronchoscopes, join us for a special edition episode on 'Applications of single-use bronchoscopes', whereby we will learn from various clinicians on how they use single-use bronchoscopes within Anaesthesia and Intensive Care.
If you would like to know a little more about the GlideScope BFlex system, stay around until the end to hear from Jesse Carroll, Senior Clinical Specialist from Verathon taking us through the Core and BFlex system with an opportunity for Q&A at the end.
We look forward to seeing you online!
AirwayFirst Australia is delighted to bring you FREE, Interactive and High Quality speakers and topics related to airway management.
These sessions are held bi-monthly, on the second Thursday evening of the month at 20:00 (AEDT) for sessions with local speakers and generally Saturday mornings (AEDT/AEST) with international guest speakers. The speakers may vary in specialty from Anaesthesia, Intensive Care, Emergency and Pre-hospital/Retrieval. Please click the 'select a date' button on the registration page for the full list of 2021 session dates.
This education platform is designed for clinicians involved in airway management. Attendees will have the ability to ask questions and submit comments to guest speakers during the LIVE session.
All clinicians that provide teaching and education for these events have no financial interest in any products featured.
A certificate of attendance will be provided to all registered participants upon completion of the feedback survey.
Organiser of AirwayFirst Australia Livestream