AirwayFirst Australia Livestream
About this Event
AirwayFirst Australia Episode 3:
A virtual workshop on hyperangulated videolaryngoscopy facilitated by Professor Richard Cooper, anesthesiologist from Toronto, Canada.
Professor Cooper is a Former Director at the University of Toronto Airway Fellowship, Past President of Society for Airway Management, Co-author of the Canadian Airway Focus Group Guidelines 2013 & Working Group member for the Universal Airway Guidelines (PUMA).
Professor Cooper was an early adopter of videolaryngoscopy and globally recognised for his expertise in this area. He has performed over 6,000 video intubations. He will also be sharing his 'tips and tricks' to nasal intubation and awake tracheal intubation.
We are extremely fortunate to have Professor Cooper join us LIVE for the event, so he is able to answer any audience questions or comments during the workshop. These sessions are designed to be interactive, so make sure to submit your questions via the comments section on whichever platform you are viewing from.
We look forward to seeing you online!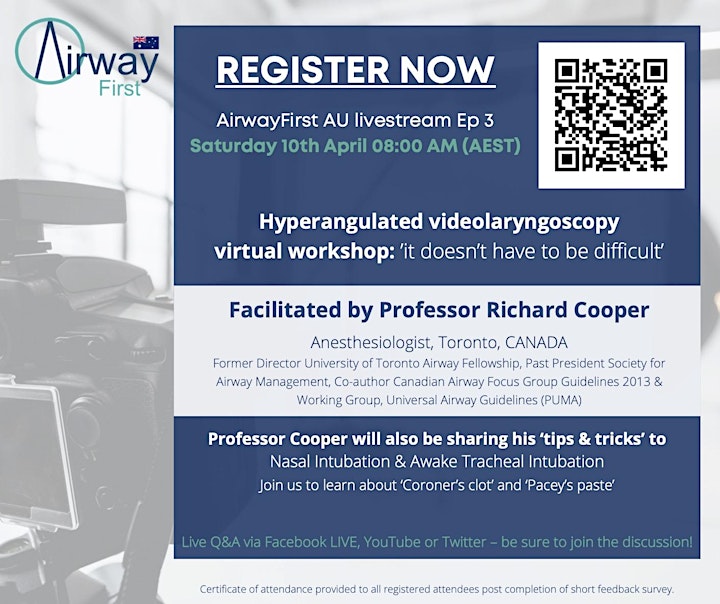 AirwayFirst Australia is delighted to bring you FREE, Interactive and High Quality speakers and topics related to airway management.
These sessions are held bi-monthly, on the second Thursday evening of the month at 20:00 (AEDT) for sessions with local speakers and generally Saturday mornings (AEDT/AEST) with international guest speakers. The speakers may vary in specialty from Anaesthesia, Intensive Care, Emergency and Pre-hospital/Retrieval. Please click the 'select a date' button on the registration page for the full list of 2021 session dates.
This education platform is designed for clinicians involved in airway management. Attendees will have the ability to ask questions and submit comments to guest speakers during the LIVE session.
All clinicians that provide teaching and education for these events have no financial interest in any products featured.
A certificate of attendance will be provided to all registered participants upon completion of the feedback survey.