About this event
90% of tickets sold! Tickets closing out on Monday 8 November 2021 unless sold out prior!
Join guests from across the Australian SME community, Defence Primes, Defence Force and industry organisations for an evening of unmissable entertainment, great food and wine!
The event will feature keynote and guest speakers from Defence and Industry:
Minister for the Defence Industry representative Mr Julian Simmonds MP - Guest speaker
Brigadier Mark Ascough, CSC, DSM - Guest Speaker
Carl Quarterman - AIDN QLD President and AIDN National Board Member
Ben James, AM, DSM - General Manager – Weapons and Munitions, NIOA
AIDN QLD Young Achiever Award (YAA) Winner Announcement proudly supported and presented by the Queensland Government, winner to be announced by Michele Bauer - Deputy Director-General, State Development Group , Queensland Government
Please note tickets are limited due to COVID and social distancing restrictions, so once tickets have sold out there will be no additional tickets available.
Date: Wednesday 10th of November 2021
Time: 1830
Location: Hilton, Brisbane (199 Elizabeth St, Brisbane City QLD 4001)
Dress: Black Tie or Mess Kit with Miniatures, Ladies – Formal Attire.
RSVP: 5pm, Friday 5 November 2021
Thank you to our sponsors: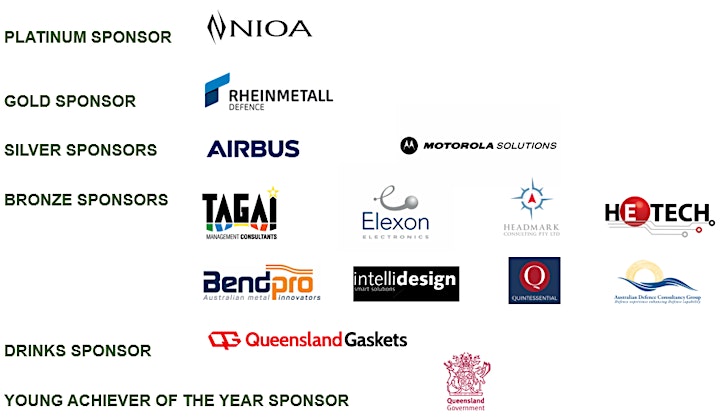 Please note that tickets are non-transferrable and non-refundable. If the event is unable to go ahead due to COVID-19, the date will be moved to 2022 and tickets will still be valid for the event.
AIDN QLD Members - Please see email for Promo Code to access hidden AIDN QLD member prices!
REGISTRATIONS ARE ESSENTIAL. IF YOU DO NOT HAVE A RESERVATION YOU WILL NOT BE PERMITTED TO ATTEND THE EVENT.
Also please note the terms and conditions below. Acceptance of these terms and conditions are implied if a ticket is purchased for this event:
All attendees must adhere to current State and Territory COVID restrictions.
All interstate attendees will be required to demonstrate that they have complied with current COVID restrictions (ie: border pass compliance).
You must adhere to social distancing at all times (1.5m away from others). AIDN QLD will have Committee Members and Staff doing random checks and if you are not social distancing you will be asked to social distance and given a warning. If we have to give you more than 2 warnings you will be asked to leave the event as AIDN QLD may be fined by the police for members not social distancing and AIDN QLD takes this very seriously.
If you are feeling unwell or have a fever, please do not attend the event and notify AIDN QLD on info@aidn.org.au so your ticket can be reallocated.
Attendees will need to complete a contact registry which will ask if you have been in contact with anyone known to have COVID-19 or travelled out of state in the last 14 days etc, and you will be required to provide your full name, organisation name and mobile phone number as well as answer questions regarding COVID-19.
After doing your contact tracing, you will be asked to use hand sanitiser before entering the event. There will also be plenty of hand sanitiser inside for your use and we encourage regular use of the hand sanitiser.
We ask members not to shake hands and to elbow bump or wave to each other instead.
These terms and conditions are subject to change and we endeavour to advise you of these changes as soon as we can.
Tickets are non-refundable and non-transferrable.