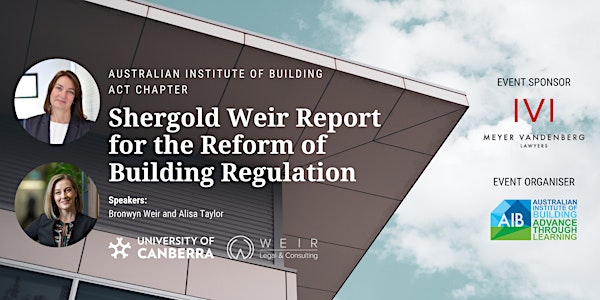 AIB ACT Chapter Shergold Weir Report Status Update on Building Regulation
Location
Ann Harding Conference Centre, University of Canberra
24 University Drive South
Bruce, ACT 2617
Australia
Report Status - Update: Shergold Weir Report For The Reform Of Building Regulation Including Product Verification
About this event
Speakers: Bronwyn Weir & Alisa Taylor
The AIB ACT Chapter is delighted to present as part of its inaugural 2020 Professional Presentation, a look at the issues affecting many industry stakeholders with, widely respected Building Sector authority, Bronwyn Weir. 
Bronwyn is the co-author of the Building Confidence Report. Her appointment with Professor Shergold to undertake this work reflects her reputation as a legal advisor on building regulations for more than 20 years. Bronwyn has been advising the NSW and WA governments on their implementation of the Building Confidence Report and she is also part of the Expert Advisory Group appointed to advise the ABCB on its work to develop a national framework for the implementation of the report.
Bronwyn is also an inaugural Board member of the recently established International Building Quality Centre at University of Canberra.
Alisa Taylor, Partner at Meyer Vandenberg will also provide her perspective on the current legal issues arising from combustible cladding, including discussing the Victorian decision about liability for the Lacrosse building fire would be followed in the ACT and the results of the audit of ACT government owned buildings, and whether cladding is likely to feature in future regulatory reforms in the ACT.
Event Sponsor: Meyer Vandenberg Lawyers