Description
AI & Ethics | Human-centric AI
Investment in Artificial Intelligence is growing exponentially and the implications for business are far reaching and significant.
However serious ethical concerns have been raised around automatic decision making and algorithm bias. For AI to deliver on its promise, it will require predictability and trust!
The human user experience is central to success in the development and use of AI applications.Rather than automating existing processes to make them faster and cheaper, true process reimagination forges new alliances between people and machines, enabling them to achieve more together and reduce risk.
As the discussion around algorithms and machines getting 'smarter' increases, it can be easy to forget the very human-centric nature of Artificial Intelligence.
AI systems that are being built for businesses are taking decisions, and it's impacting human lives.
Machine Learning, the set of techniques primarily used in AI today, requires human-labelled data and aids in human decision-making to serve human interests. It's imperative these systems are built to be transparent, responsive, align with societal values, and essentially ethically they take the right decisions.
It's no different to teaching children the difference between right and wrong from a societal perspective.
Now, as giants such as Microsoft call for the Government to regulate AI in terms of Facial Recognition technology for ethical reasons, making humans central to how we develop and make use of AI applications is the only way to mitigate problems such as algorithmic bias, it ensures all stakeholders are better placed to understand how these systems work, and ultimately leads to greater success in this exciting new space.
From algorithmic bias to explainable AI and 'humans in the loop'....
Accenture explores how AI can work for your business and address the ethical issues surrounding AI and machine learning!



Keynote Speaker: Katherine Bailey
Senior Principal - Accenture Technology, AI and Automation, Accenture Australia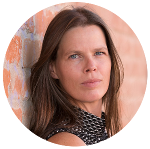 Katherine speaks and writes regularly on the topic of AI and is committed to dispelling the myths and removing the confusion around it, teasing apart the real from the imaginary implications of these technologies, both practical and ethical.
Article by Katherine Bailey: AI and the Future of Work
About Katherine Bailey
Katherine Bailey is the Natural Language Processing lead within Accenture Australia's AI and Automation Engineering group. Originally from Dublin, Ireland, Katherine's background is in software engineering and data science, with over a decade in the technology industry, primarily in Canada, the US and Australia.
Prior to joining Accenture Katherine was Principal Data Scientist at Acquia, a Boston-based Software-as-a-Service company, where she spearheaded the company's Machine Learning initiative.