Please join us as we celebrate Agora's 15th Anniversary and the accomplishments of our community of social entrepreneurs
About this event
We invite you to celebrate Agora's 15th Anniversary and the accomplishments of our inclusive community of social entrepreneurs. This is the first time entrepreneurs, supporters, institutional partners and investors from across the Agora community will come together for a live Zoom event.
Join us as we celebrate the collective impact of hundreds of entrepreneurs across the Americas creating positive change in their communities.
8 pm - 9 PM ET - Official program
Featuring reflections by Andrew Kassoy, Co-founder and CEO of B Lab and farewell remarks from Agora Founder and outgoing CEO Ben Powell and the formal introduction of incoming CEO Cecilia Foxworthy.
9 pm -10 PM ET - "After party" - small group zoom conversations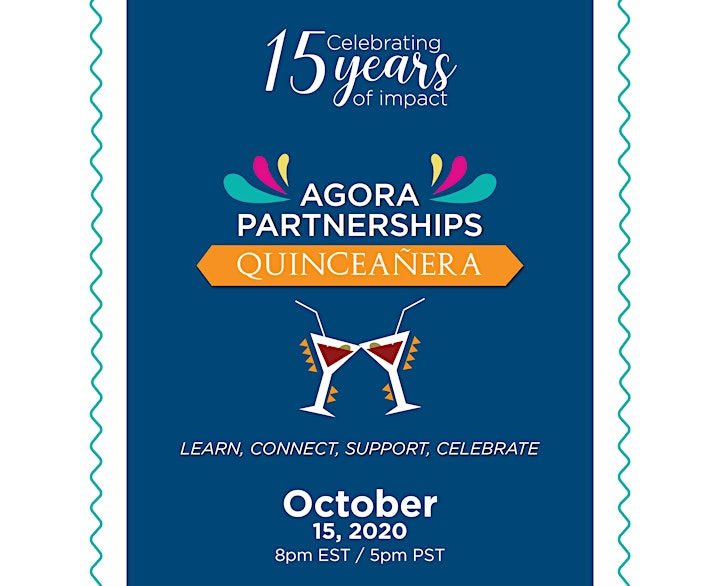 Host Committee (in formation): Ricardo Teran, Tom Mitchell, Eugenio De Hostos, Chris Jurgens, Tabitha Jordan, Ezra Friedman, Scott Leonard, Eric Sillman, Holly Huffman MacDonald, Melissa Cheong, Arturo Sarukhan, Brian Bell, Ben Powell, Luis Santiago, Claudia Esparza, Enrique Kauffman, Brendon Brewster, Tom Roberts, Barbara and Arthur Powell.
If you wish to have your name included as a Host Member, suggested donation is >$250 USD. For additional information or if you are interested in sponsoring the event, please find here the sponsorship information. For more information, please contact Chrissy at cstrasser@agora2030.org
We hope to see you on October 15th!