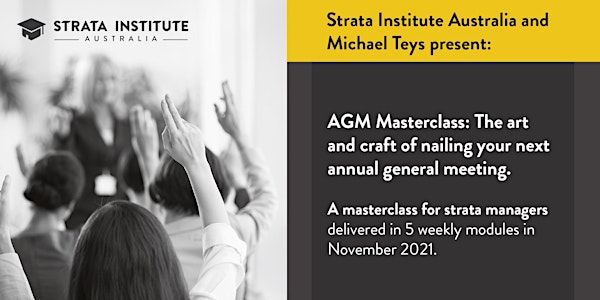 AGM Masterclass: The art and craft of nailing your next annual meeting
Refund policy
Contact the organiser to request a refund.
Eventbrite's fee is nonrefundable.
Strata Institute Australia Pty Ltd and Michael Teys present: AGM Masterclass: The art and craft of nailing your next annual general meeting
About this event
Strata Institute Australia Pty Ltd and Michael Teys present:
AGM Masterclass: The art and craft of nailing your next annual general meeting
A masterclass for strata managers delivered in 5 weekly modules in November and December 2021
You get –
5 x 45-minute interactive online workshops delivered weekly with revision exercises and model answers
An AGM cheat sheet specifically for your state or territory – for the first time ever we are covering all 8 Australian states and territories
Michael Teys' new 45-page book 'The Strata Managers Guide to Highly Effective AGMs'
Completion certificate and badge
From the masterclass presenter and author,
'I've thought long and hard about the last 30 plus years of attending and running strata meetings. In that time, I've learnt from the pioneers and legends of strata management, and I've seen the best and the worst of strata managers under pressure. I've also seen a dramatic increase in the complexity of strata laws and owners' expectations. What I haven't seen enough of is training for strata managers in meeting craft - how to conduct yourself like a true professional before, during and after these big events. I want this masterclass, and the book that comes with it, to elevate our thinking about AGMs beyond what we have to do, to why and how we can make these events a real milestone in establishing the trust and respect of strata owners that comes with being a professional.'
Topics covered over the 5-week program -
Week I - Thinking about AGMs differently, as an opportunity not a threat
Unlocking the possibilities presented by an AGM
Overcoming the 5 roadblocks to a calling an AGM that can otherwise send your portfolio into a downward spiral
Tips and traps for choosing the right time, place, and format
3 things you must do before you even start on the papers
Using visualisation techniques to achieve success
Week 2 - Issuing an AGM pack that reeks of professionalism
Understanding the 3 elements of a meeting pack and how they must fit together
Presenting papers that please rather than peeve your owners
Learn the fail proof formula for writing effective motions
Write thoughtful explanatory motions that add value and make your job easier
Understand how laws other than strata laws may impact a meeting
Week 3 - Setting yourself up to win
Things to do one month out to give you the best start possible
9 things to have in your bag and at your fingertips on the day
Using your AGM cheat sheet to correctly answer procedural questions
Lessons on how to read the room before you start the meeting
Words and phrases to use chairing or helping to chair a meeting
Week 4 - Developing your strata manager confidence by using proven psychological theories
4 bodies of knowledge that underpin strata manager confidence
Overcoming negative self-talk that holds you back at meetings
How to look, act, and sound professional online and in person
3 common types of difficult people and how to manage them at a meeting
Looking outside the strata profession to gain the edge on your colleagues and competitors
Week 5 – Understanding group decision making theory and how that can affect you
Appreciating your true role in the strata decision making process
Understanding why groups of smart people sometimes make bad decisions
Recognising the 8 symptoms of defective groupthink in strata entities
Understanding the 7 major defects of group decision making
Respecting the right of strata owners to get it wrong, and learning how to respond professionally
Time - 1. 15 pm to 2.00 pm (Eastern Australia Time) on Zoom, you will be sent a link.
Dates - Each Tuesday in November 2021 starting Tuesday, 2 November 2021 (recorded for those otherwise engaged that day!)
Cost - $495 including GST, early bird special $ 445 including GST if registered before 14 October 2021.
About Strata Institute Australia Pty Ltd
Strata Institute Australia provides training and resources for strata managers in every state and territory of Australia. We deliver strata managers practical training and the tools they need to immediately action what they learn from us.
Our range includes-
Interactive workshops with training exercises and model answers
Books and guidance notes about strata management to use as a reference as managers develop their skills
Checklists, precedent motions, template emails, and cheat sheets to help every day
Our material is prepared with legal and academic rigour while maintaining a focus on the day-to-day practice and profession of strata management. We are an independent for-profit training organisation. The only thing we sell is pure knowledge and experience.
About the presenter
Michael Teys is a strata researcher and training presenter. He is Executive Director of Strata Institute Australia Pty Ltd which delivers training programs and resources for strata managers. Michael holds an Australian Research Council scholarship and works with City Futures Research Centre, Sydney on strata renewal of mixed-use developments. He is a Master of Philosophy (Built Environment) candidate at University of New South Wales. Michael also conducts strata research and presents for Deakin University Melbourne. He has a law degree and was as a specialist strata lawyer for more than 30 years.