Description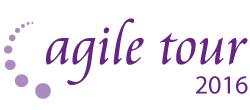 Coming back for the 6th edition !
From Agile to Lean through System Thinking complemented by UX, testing, Specification by example, and Edgy Development...
The Sydney Agile Community
is gathering
in November in order to largely share and deliver a full day experience of discovery, failure, success and learning.
We welcome anyone who passionately cares about making the workplace a better place to deliver tangible value to their customers.

During the last 6 years in Sydney we have had a great time covering many topics that were not only related to software.
Agility Beyond Technology
For this 2016 edition we want to provide the same collegiate atmosphere and adhere to our basic principles:



Agile Tour Sydney is a non-profit conference run by practitioners for practitioners who are directly involved in the trenches and who are prepared to actively participate and share experiences.

LIMITED TO 120 COMMITTED ATTENDEES
Having an attendance constraint enables an intimate event where attendees can connect and forge long term associations.
So get your tickets quick!

ENGAGED TO LEARN FROM ONE ANOTHER
This conference is NOT about self-congratulation and happy ending fairy tales but rather the sharing of warts-and-all failures, hard-fought successes, and practical activities to help you address your real-world challenges.

OPEN SPACE AND ACTIVE FORMAT
The concept is to have a very interactive gathering where hands on sessions are practical, engaging and based on real-world experiences.
More details on the website: