Description
This course has been designed to provide a deep experiential style of delivery to ensure attendees have a hands-on course that focuses on the agile approach to project management. By attending the course, you will gain a better understanding of the five phases of Agile Project Management(Envision, Speculate, Explore, Adapt and Close) via "learning by doing" concept. In addition, the course will demonstrate how to apply alternative forms of governance and project reporting vs the traditional project management methodologies, and they can be leveraged to achieve "Purposeful Agility" within any given environment.
Learning

Outcomes
The learning objectives enable attendees to
Relate the differences between traditional and Agile approaches to project management and illustrate why Agile approaches are more applicable in uncertain environments.

Appraise a project context and identify the various factors that need to be addressed to enable Agile delivery in the specific context.

Develop appropriate leading and lagging metrics for an Agile project and illustrate how these can be communicated within and beyond the team.

Explain the value of fostering an environment of collaboration, trust, learning, and self-organization. Design a team formation activity to create such an environment.

Apply value management techniques, considering multiple stakeholder perspectives and constraints. Explain how continuous feedback increases value realisation.

Identify the different stakeholders in a project environment and apply techniques to ensure they are engaged continuously throughout project delivery.
Ce

r

t

ific

a

t

ion P

r

o

c

e

s

s
Accreditation will be based on levels of participation and will be at the discretion of the trainer to assess whether the learning objectives have been exercised by each attendee. The trainer will reserve the right not to accredit an individual, in accordance to the training principles of ICAgile.


About your trainer - Martin Kearns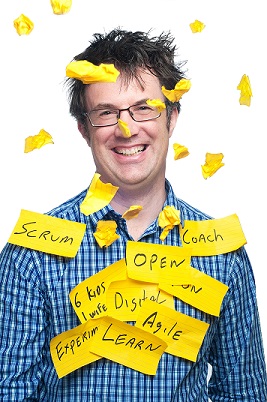 Martin is a pioneer in the field of Agile, he was one of first three certified enterprise coaches in the world by the Scrum Alliance. He was also accredited as an agile expert by Dr. Alistair Cockburn and has been a practitioner in agile methods for over 12 years. His pragmatic approach and genuine thirst for personal growth is evident in his authentic stories and examples he uses to illustrate concepts in a training setting.
Recently, Martin has been examining the significance of agile in becoming an operational mindset for the future of work. He is now the Chief Digital Officer of Innodev and is focused on the synergy between partners, people and problems to generate the need for adaption. Through his work in contracting methods, Martin has designed cooperative partnerships in response to uncertainty. He has spoken at numerous Australian conferences on this topic and his thought-leadership has been recognised through his selection to speak at the Scrum Alliance Global Gathering in Dublin this year. Martin actively contributes to the Scrum community in Australia, being a director of Scrum Australia and frequent speaker at user groups and conferences. Martin is a co-author of the e-book "Agile Transition" (available through InfoQ), in which he and his co-author share their observations and conclusions about what is required when seeking to transition to an agile approach and the future of work.