About this Event
There is a large and growing appetite for using Agile approaches to deliver digital services.
People at all levels, from senior management to ICT developers, need to understand the concepts, tools & techniques to be applied to deliver effective digital services.
There is currently no Agile framework available which effectively addresses the Agile development of digital services within a project or programme structure.
Introducing AgileDS - Agile Digital Services which now does address this gap.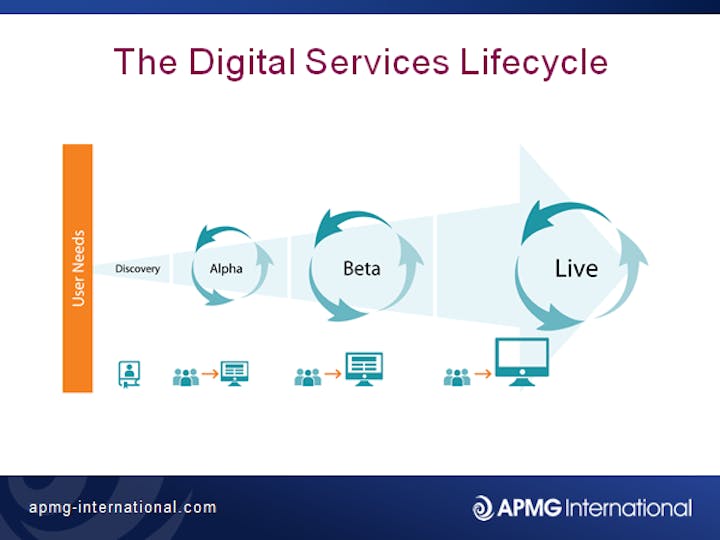 AgileDS is designed to support the Agile design and development of digital services. It enables organisations to develop a consistent approach, common language and skilled workforce for the successful design and delivery of digital services, whether through evolving improvements or step-change transformation.
AgileDS offers practitioners involved in the design and delivery of digital services with a mature Agile approach that embraces Agile product and service development in the context of Agile, business change-focused programmes and projects. The guidance has been designed carefully to use language familiar to private & public sector staff including the lifecycle (user-needs-discovery-alpha-beta-live) and roles.
AgileDS helps practitioners to understand the:
 Underpinning philosophy and principles of Agile Digital Services in a project situation.
 Lifecycle of an Agile and Digital Services project.
 Effective application of key Agile techniques.
 Roles and responsibilities within an Agile Digital Services project.
 Mechanisms for planning, control and governance of an Agile Digital Services project.
Alongside the new guidance, Foundation and Practitioner-level exams have been launched, administered by the award-winning examination institute APMG International.
Fast Agile Coaching Training are accredited by APMG International as an ATO – Accredited Training Organisation. Greg Collocott is the Lead Trainer at this organisation and works with other accredited trainers and ATO's to produce the best value training on the market.
Course Outline - 3 Day Foundation + 1 Day Practitioner
Day 1
Introductions and domestics
The Agile Manifesto; The Agile Digital Services Principles
Break
The Agile Digital Services Principles Post-It Note Question; The Service Lifecycle
Lunch
User Needs and User Experience; Requirements
Break
User Stories Post-It Note Question; Prioritisation; Exercise 1
END
Day 2
Roles and Responsibilities
Break
Exercise 2; Role Themes Post-It Note Question
Lunch
Planning and Control;
Break;
Exercise 3; Products Post-It Note Question; Agile Governance
END
Day 3
Sprints; Iterative Development
Break
Estimating; Quality Assurance
Lunch
Parked Board; Revision
Break
Revision;
Foundation Exam
END
Day 4
Exercise 4
Go through specimen practitioner exam answers
Lunch
Exam Preparation
Practitioner Exam
END
AgileDS Cerfitication Exams
Foundation
Multiple-choice format
50 Questions
50% pass mark (25/50)
40 Minutes
Closed-Book
No Pre-requisites
Practitioner
Objective-testing format
4 Questions (20 Marks each)
50% pass mark (40/80)
2.5 Hours
Open-Book (Handbook permitted only)
Foundation pass Pre-requisite
Fast Agile Coaching Training - Reserves the right to change the date or cancel this event at any time. In the unlikely event that that an event needs to be changed, attendees who have confirmed booking and paid will be contacted with next steps