Description

in collaboration with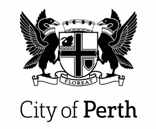 Invite you to another meeting of the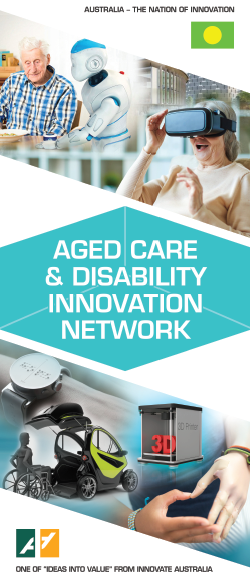 Does innovation play an important role in Aged Care and Disability? How can innovation help individuals gain, regain or retain a degree of independence? Is the Government encouraging and supporting innovation in Aged Care and Disability? How can Virtual Reality, 3D Printing, Robotics and Artificial Intelligence enhance lives? What is the vision for Aged Care and Disability and Innovation by 2030?
If you are interested in answers to those questions, come and join us at the inaugural Aged Care and Disability Innovation Network.
_____________________________________
Presentations by:
Nilesh Makwana
Chief Executive Officer at Illuminance Solutions

Tech for Social Impact - NDIS



Brett Savill, FAICD
Chief Executive Officer at Quantify Technology

Powering Innovation

_____________________________________

About the Presenters:
Nilesh Makwana
Nilesh Makwana, social innovator, ICT advocate and entrepreneur, and an expert at bringing people together to achieve common business goals. He works tirelessly to help improve both business and social causes in commercial and not for profit arenas. Perhaps his greatest strength is identifying ways business, charities and government can collaborate in mutually beneficial ways.
As CEO of illuminance solutions - Tech for Social Impact, Nilesh brings together his experience in Business Development Management, Project Management and Business Analysis where his analytical mind, strong business acumen and ability to communicate will allow him to regularly exceed professional and personal goals.
A founder of the West Tech Assemblage, Nilesh was able to realise his vision of creating an environment to celebrate innovation and collaboration in Western Australia. Supported widely by industry and government, it was the first event to bring together all the stakeholders in the state to present a showcase for technology and innovation in WA.
Due to a strong sense of community and an understanding of the importance of National Disability Insurance Scheme for our people, his organisation has built AvantCare to help disability services provider to succeed in these challenging times in our nation for NDIS sector. AvantCare won 2019 Microsoft Global award for Social Impact category.

https://www.illuminancesolutions.com.au/

Brett Savill
Brett Savill is the CEO of ASX-listed Quantify Technology. Prior to taking this role, he had a series of operational roles as well as being a PwC Partner. Brett has a twenty-five-year track record in Technology, Media and Telecoms where he has focused on growth, M&A and transformation, including completing dozens of M&A transactions. He is also an experienced Non-Executive Director.
Quantify's networked computing framework consists of secure, intelligent light control and power outlet devices that create truly intelligent buildings. The company has been working with St John of God on an NDIS pilot program that was launched this month in Brighton, Victoria. There is significant experimentation taking place in the Aged Care and Disability space. Brett will discuss how control of power represents an important and often misunderstood pathway to innovation because it is the key to greater autonomy, security, and productivity.
Quantify Technology is a pioneer of Truly Intelligent Buildings (TIB) and the Internet of Things (IoT). Quantify's patented technology is a first mover in the Internet of Things market, and has applications across energy management, real-time environmental monitoring, retirement living and ultimately paving the way towards Truly Intelligent Buildings.
https://www.quantifytechnology.com/

_____________________________________
Our Host

_____________________________________
Our Platinum Sponsors

_____________________________________
Our Sponsors and Supporters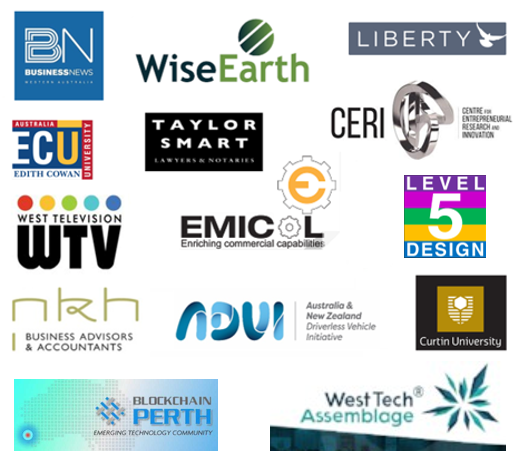 _____________________________________


Come and join us. Tell you friends and colleagues.
Like us on Facebook
https://www.facebook.com/innovateaustralia.org


Let's make WA a true STATE OF INNOVATION!

Organiser of Aged Care & Disability Innovation Network by Innovate Australia

Innovate Australia encourages, assists and promotes Australian innovation. The not-for-profit and non-partisan organisation works with industry and academia to uncover innovation, encourages new innovations, develops programs and forms innovation networks. Innovate Australia aims to be an independent conduit for viable ideas.

Innovate Australia operates independently of government, industry and universities, however works with a range of stakeholders on unique and forward thinking projects across Australia. Services provided include, but are not limited to consulting, think-tanks, connecting firms undertaking innovative projects and marketing of organisations embarking on their innovation journeys. 
To suggest an event or to propose the next presenter for one of our networking meetings, or just for more informaion please contact  Peter Kasprzak or Dr Adam Osseiran.