LESS THAN 10 TICKETS LEFT!! Come and celebrate Active Ageing Week at the Age Well Expo. A day full of learning!
About this event
Held during the internationally celebrated Active Ageing Week, the Age Well Expo is an opportunity to connect with like-minded people, hear from a range of amazing guest speakers, and learn about ways to stay active, healthy and well at all ages.
Hear from a range of guest speakers and experts on topics such as fitness and strength, healthy eating and cooking and promoting positive wellbeing and lifestyles. We are excited to announce that this years Keynote Speaker is ABC Radio Adelaide's Ali Clarke.
Age Well Expo features direct access to a number of suppliers, organisations and service providers in a variety of fields, from allied health, exercise and outdoor activities to finance and future planning. Plus there will be live entertainment and a delicious morning tea and lunch - all included in the ticket price.
So join us for a fun, engaging and entertaining event!
The Agenda
09.30am Registration open & Expo opens
10.00am Introduction to the Age Well Expo
10.10am A word from our Gold Sponsor - Aidacare
10.15am Session 1 - Stay Safe In An Online World (IT) with Richard Pascoe (the Adelaide Tech guy)
10.45am Morning Tea & Expo exploration
11.15am Keynote Speaker Ali Clarke presents: Ageing Well at Any Age
11.55am Session 2 - Riding the silver tsunami: How to successfully navigate age-related changes in cognitive performance with Prof. Lyndsey Collins-Praino
12.20pm Session 3 - Happiness is a wagging tail: Pets and Wellbeing with Dr Susan Hazel
12.40pm Q&A session with Ali Clarke, Prof. Lyndsey and Dr Susan
13.10pm Lunch with entertainment & Expo exploration
14.10pm Session 4 - Exercise is Medicine with physiotherapist Patrick Joncyzk
14.45pm Session 5 - Cooking 4 One with dietitian Bonnie Sanderson
15.15pm Closing remarks from Southern Cross Care CEO, David Moran
15.30pm Event ends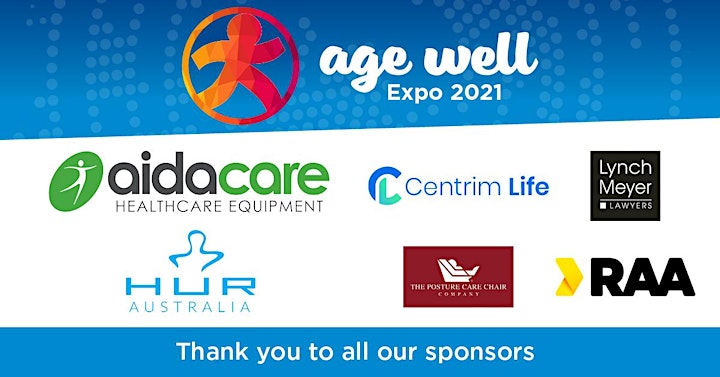 Stall holders
Aidacare
Centrim Life
Commonwealth Bank
COTA SA
HUR Australia
Lynch Meyer Lawyers
Nutricia
RAA
St Johns Ambulance
Stroke Foundation
The Posture Care Chair Company
Wellbeing SA
Frequently Asked Questions
What is included in the ticket price?
Your ticket price includes entry into the expo and speakers series, as well as catering (morning tea and lunch) and entertainment throughout the day. It also included all fees and taxes associated with the Eventbrite ticketing system.
When I purchase a ticket, do you have to sign up to Eventbrite?
No, you are not required to create an account with Eventbrite to purchase a ticket. However they do recommend that you do, to get easy access to your tickets on the day of the event.
Tickets on sale
Tickets are on sale until Thursday 30 September unless sold out prior. If tickets are still available they will be able to be purchased at the door via cash or credit card.
Do I have to attend the entire event?
Just like any conference or expo, you have the freedom to pick the sessions you attend. However, with so much exciting content attending the event in its entirety will help you to get the most out of the experience!
Who do I tell if I have any dietary requirements?
Morning tea and lunch will be served during the event, so if you have any dietary requirements, please contact zoe.bilston@southerncrosscare.com.au
Parking
There is free and ample parking at the Adelaide Sailing Club.
Cancellation, postponement and/or reschedule
If we have to cancel the event due to COVID-19 restrictions, we intend to reschedule the event to a virtual format, with exclusive content for ticket holders only.
Refunds
We do not offer refunds, however in some cases decisions can be made on a case-to-case basis. If you have any questions regarding this please contact zoe.bilston@southerncrosscare.com.au.
Where can I enquire further?
If you have any further questions or concerns please email zoe.bilston@southerncrosscare.com.au
Organiser of Age Well Expo 2021
Established in 1968, Southern Cross Care has a proud history of providing quality services to the people of South Australia and the Northern Territory. Our range of Health & Wellness and Home Support services, our vibrant Retirement Living and Residential Care communities, and our high quality Respite and Restorative Care services, all help members of our community to be Better for life.