The AYJF brings together community members, professionals & government agencies supporting justice-involved African-Australian young people.
About this Event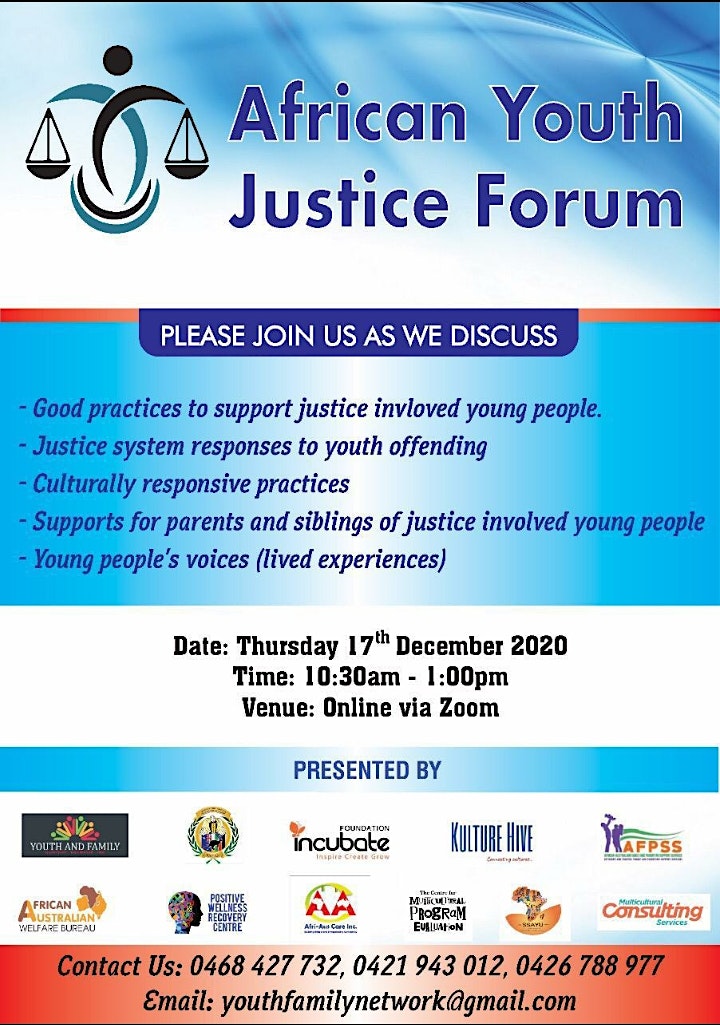 The African youth justice forum brings together community members, leaders, young people, service providers, government officials and professionals working with disadvantaged and justice-involved African-Australian young people.
The theme of the forum is about identifying coherent and long-term strategies/approaches to addressing youth offending and the overrepresentation of African young people in the justice system.
Join us at this forum as we discuss:
Causes of youth offending
Justice system responses to youth offending
Good practices to support justice involved African young people
Supports for parents and siblings of justice involved young people and
hear young people's voices (lived experiences)
Who should attend:
Members of African-Australian communities and young people
Those who work with at risk and justice involved African-Australian young people
Those interested to share information/learnings on culturally responsive practices
We will hear from:
Dannii de Krester (Deputy Secretary- Youth Justice) and Jodi Henderson (Commissioner- Youth Justice)
Tim Hansen, A/Commissioner (Vicpol),
Liana Buchanan, Principal Commissioner (CCYP)
Stephanie Kelly, Manager of Crime Data (Crime Statistics Agency)
noushka eronimus, Director - Youth Law Program (WestJustice)
Amanda Carter, Youth Crime Manager (Victoria Legal Aid)
Selba Gondoza Luka, Afri-Aus Care, Dr Diana Johns & Dr Gerald Onsando (UoM), & Mamadou Diamanka
Santino Atem Deng, Counsellor & Manager (AFPSS)
Romany Amarasingham, Head of Programs (Youth Activating Youth)
Kristie Lawson, Coordinator Young Communities Coordinator-Uturn193 (Melton City Council).
This event is presented by a coalition of African community organisations and youth organisations that work with and/or support disadvantaged young people or those already in contact with the justice system.