Sales Have Ended
Ticket sales have ended
Thank You for purchasing a ticket or tickets to our African & Samba Beats Class Please contact Rod- Ensemble Director if you would like more information. Email: info@beatfactormusic.com We look forward in seeing you in our drumming classes soon. Happy Drumming
Sales Have Ended
Ticket sales have ended
Thank You for purchasing a ticket or tickets to our African & Samba Beats Class Please contact Rod- Ensemble Director if you would like more information. Email: info@beatfactormusic.com We look forward in seeing you in our drumming classes soon. Happy Drumming
AFRICAN & SAMBA BEATS – 5 WEEK COURSE May 25-June 22 Tuesdays 7.00 pm Located in Point Cook Beginners to Intermediates All drums supplied
About this event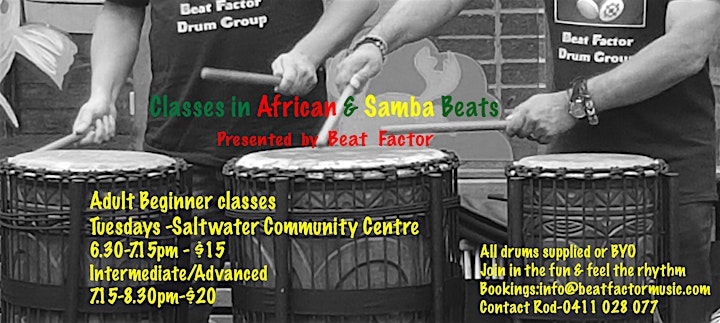 AFRICAN & SAMBA BEATS – 5 WEEK COURSE PRESENTED BY BEATFACTOR MUSIC
• Our African Beats classes resumes from Tuesday 1 June to 22 June.
LOCATION: SALTWATER COMMUNITY CENTRE: Point Cook
• The 4 week course is ideal for those new or have some experience in African and Samba Drumming and who want to try out or improve their drumming skills with like minded people
.• Discounts for 5 week payment or pay per class
COST: $25 per class or $90 (4 weeks)
ALL DRUMS & PERCUSISON SUPPLIED,HAND OUT NOTES SUPPLIED
EXPERT INSTRUCTIONS ON DJEMBE, DUN DUNS, SURDO'S, AND OTHER WORLD PERCUSSION
The drumming class is uplifting, engaging, and fun.
• Great for people of all backgrounds
• Meet new people and make friends
• Get a drum workout and feel refreshed
Course focuses on:
• Learning basic technique on the African Djembe, Dun Duns & Brazilian drums
• Developing a strong groove, feel and control
• Developing on timing and listening skills
• Developing on Ensemble skills & working as a team
• Creativity through rhythm.- Solos & improvisation skills
• Creating a sense of well-being and having fun
Please contact Rod- Ensemble Director if you would like more information or would like to register for one or 5 classes.We look forward in seeing you in our drumming classes in the future.
Email: info@beatfactormusic.com
Mobile: +61 411 028 077
www.beatfactormusic.com