Event Information
Location
Diskin Life
181 Victoria Parade
Fitzroy, VIC 3000
Australia
Description
September's theme is African Drumming

Our special guest presenter for September is Simone Lang of Drummergirl.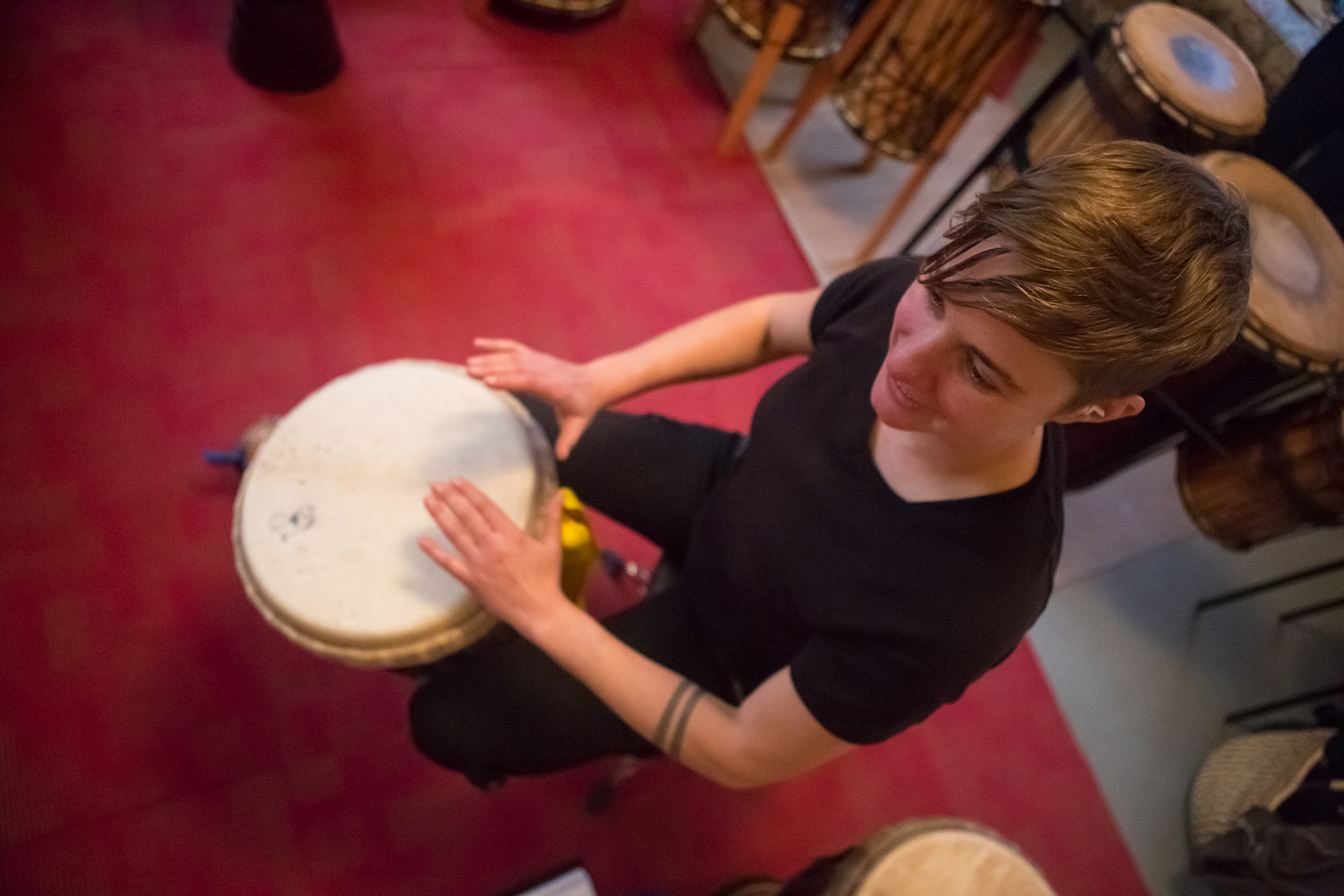 African Drumming Workshop
This will be a fun and engaging hands-on African drumming workshop.
All instruments provided.
No musical experience necessary!

In a supportive and non-confrontational group environment attendees will:
- Learn basic hand drumming technique.
- Experience playing some simple West African rhythms and songs/chants
- Explore the meditative application of drumming
- Feel connection to a group through rhythmic co-creation
- Get their JOY ON!
Simone Lang
Simone Lang is the founder & director of Drummergirl (www.drummergirl.com.au) and has been studying West African drumming and percussion for over 17 years. She has studied with some of West Africa's finest exponents of the tradition and has travelled to the countries of Guinea, Senegal and The Gambia to study and absorb West African drumming and culture.
As a facilitator and instructor, Simone is renowned for her charismatic approach and she imparts her knowledge of West African drumming and culture with integrity and buoyant enthusiasm.
WIN for Empowered Women!
WIN Women of Influence Network is a group of empowered women, forming an inspiring and nurturing community, connection and contribution, in a fun, stimulating and supportive environment, where it's all about you (for a change) with like-minded women.

To date, you have prioritised everyone else, likely neglecting yourself. Maybe you believed that was the best decision, and now you realise to help anyone, you MUST make yourself a priority. This will in turn allow you greater capacity and resourcefulness to support others as well as enriching you personal fulfillment.


Themed events with a difference!
Two hours of organised chaos with spontaneity

Enjoy themed activities


Meet new friends

Hear how successful women are living their dreams

Indulge in delicious and delectable food

Pamper yourself by taking "ME time" to just focus on yourself

Stretch yourself by expanding & enriching your paradigms

Fulfil your needs and dreams
WIN Session

Wednesday September 9
7pm-9pm
Diskin Life
181 Victoria Parade Fitzroy
Please bring
A delicious and healthy food (savoury or sweet) plate to share

A sense of openness to listen, participate and contribute

At least one lovely like-minded friend (more welcome)

Ideas to make this your monthly gotta-go-to event
$pon$or$hip
We are looking for financial sponsors, to help subsidise the costs of putting these events on.
Who do you know that will give us funding in exchange for being promoted as a sponsor and supporting this great cause?
They need to be congruent with our philosophy of supporting women to realise their potential, naturally; so, healthy (organic where possible), environmental, sustainable, high quality products and services.
Date and time
Location
Diskin Life
181 Victoria Parade
Fitzroy, VIC 3000
Australia