About this Event
African Australian: Antiracism Symposium delivered by
NELSON MANDELA DAY AUSTRALIA (NMDA).
PURPOSE
Reflections And Actions: African Australians sharing experiences of racism by telling their own stories. Examination of the legislative and regulatory instruments to combat racism. The reviewal is through the prism of Nelson Mandela's legacy of fighting for freedom, social equity, justice and human rights for all on the International Day for the Remembrance of the Slave Trade and Its Abolition 23 August'20.
Date: Saturday 22- Sunday 23rd August 2020
Saturday 22 August 2pm-5pm
– A facilitated free sharing of experiences of racism and reflections on the efficacy of the anti-race discrimination regulatory provisions.
- Voicing Community Views: To brainstorming and sharing of ideas for the formulation of an effective anti-racism strategy and campaign/s
Place: Virtual Zoom Symposium Join
https://us02web.zoom.us/j/89511813764?pwd=ZUhhUWpiNFM2cnNVcm9tblVlQ2lVQT09
Meeting ID: 895 1181 3764
Passcode: 493134
#Black Lives Matter! "No Justice No Peace!"
"No one is born hating another person because of the colour of his skin, or his background, or his religion. People must learn to hate, and if they can learn to hate, they can be taught to love, for love comes more naturally to the human heart than its opposite.." - Nelson Mandela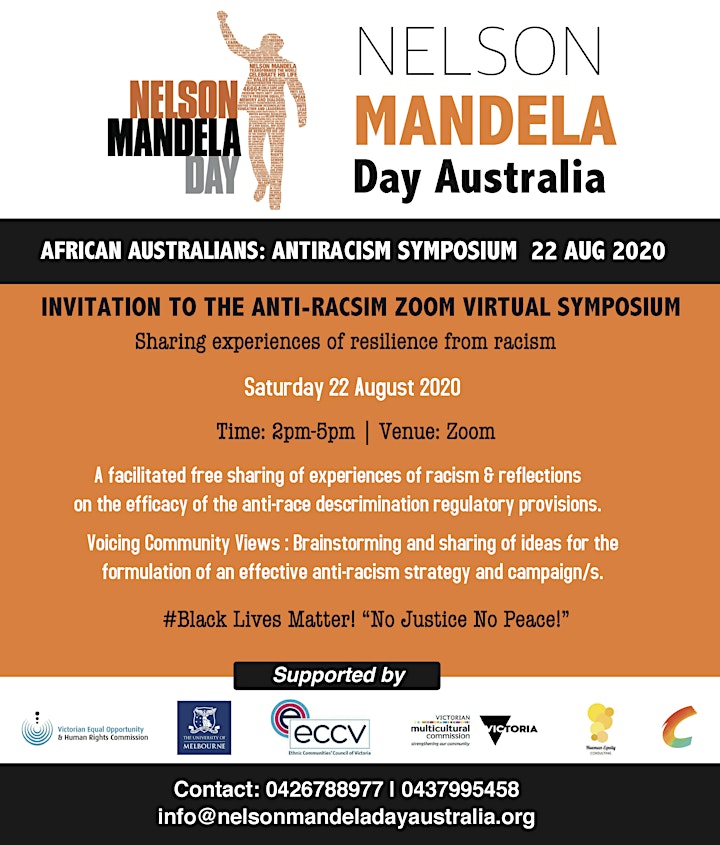 BROAD THEMES
• Confronting racism through the open assessments of the African racial experience in Victoria.
• To share ideas to formulate effective and innovative anti-racism strategies and campaigns.
INTENDED OUTCOMES
• Forged solidarity to mobilise a broad front of African Australians for action against racial prejudice, stereotyping and marginalisation engendered through individual experience of racism, institutional and systemic discrimination;
• An Appraisal of the existing policies, practices, education, campaigns targeting racism;
• Identify effective strategies/skills to respond to racism, and vilification;
• Concerted community action for the three levels of government to combat racism.
#Black Lives Matter! "No Justice No Peace!"
"No one is born hating another person because of the colour of his skin, or his background, or his religion. People must learn to hate, and if they can learn to hate, they can be taught to love, for love comes more naturally to the human heart than its opposite..." - Nelson Mandela