About this Event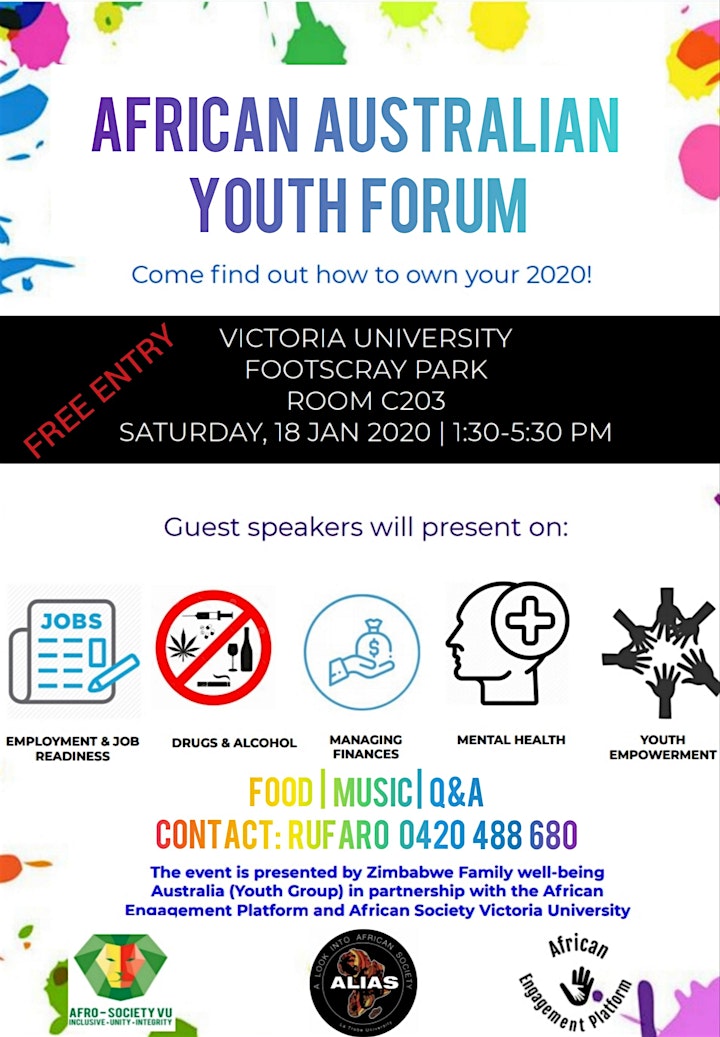 SPEAKERS:
Khayshie Tilak Ramesh
(Victorian Multicultural Commission - Youth Commissioner)
Khayshie is a passionate advocate for the inclusion of youth voices and diverse communities. Khayshie is an active member of her local community in Bendigo, as Youth Mayor and Chair of the City of Greater Bendigo Youth Council. She also co-founded and served as Vice-President of Young People for Refugees, a youth advocacy service in Bendigo. Khayshie is a Board Director of Loddon Campaspe Multicultural Services and ARC Justice; a member of Ambulance Victoria Community Advisory Committee and City of Greater Bendigo Economic Strategy Committee; and was a member of the Victorian Government's Multicultural Youth Network. She is also a Multicultural Ambassador for Bendigo Foodshare. Khayshie was recognised as Young Citizen of the Year in 2017 and was named in the Top 100 Future Leaders. In 2019, Khayshie was awarded the Law Institute of Victoria's Law Student of the Year.
Aban James Fadalla
Aban works with the Entrepreneurs Movement Club of South Eastern Region, which is a youth led organisation, established by seven South Sudanese Australian. EMC aims to connect South Sudanese young people to the community and link them to opportunities to support their further education and employment pathways. Some of their initiatives include the Multicultural Youth Employment Forum, Inaugural African Diaspora Summit, entrepreneurship workshops, soccer tournaments and a homework club. They have engaged over 2,000 young people since 2015. EMC seeks to provide a positive narrative of South Sudanese/African Australian young people amidst negative media portrayal. They encourage participation in education and employment by linking opportunities such as apprenticeships and personal development workshops.
Bode Muse
Bode is a social entrepreneur invested in tackling social inequality and youth crime through education and corporate social responsibility. An MBA candidate at Melbourne Business School, he aims to use business strategies to solve complex social and cultural problems. Bode has worked in government, Corporate and Non Government organisations. He has worked in various organisations including banking, energy, IT and education across Africa, United Kingdom and Australia. He is a member of the Wyndham City Learning Portfolio Committee contributing to the Wyndham Library Strategy 2018-2040, the Youth Plan 2018-2022 and promoting youth civic participation. Bode along with his growing team of eight at Kulture Hive, launched a dedicated youth co-working space to support youth interested in exploring the gig economy as an alternative to traditional employment.
Dinisha Parmar
Dinisha is a third year Doctor of Psychology (Clinical) candidate at Deakin University and provisional psychologist registered with AHPRA. She has experience working with people of varying ages and cultural backgrounds presenting with a diverse range of mental health conditions. Dinisha is currently placed at the Royal Children's Hospital where she assesses, diagnoses and applies evidence-based psychological interventions to children/adolescents. Her research interest also focuses on neurodevelopmental disorders and neuroscience.
Gracious Chidhakwa
Gracious is the founder of Eagle Life, an award winning credit advice company specialising in home loans, investor loans and commercial finance. She is also an astute property investor with a wealth of experience in property investments. An entrepreneur at heart, Gracious is passionate about sharing her success story and empowering fellow African Australians to take the bold leap of faith into becoming entrepreneurs. Gracious is currently a board member of the Deakin University Finance Advisory Board where she advises and provides leadership on finance and related issues.
Keith Bhebhe
Keith is a mental health professional, specialising in forensic mental health, addiction studies, gambling, drug and alcohol and a community leader with 15 years of healthcare experience, in Australia and the United Kingdom. He is currently Clinical Governance Manager Manager , Justice Health. Holds an International Master's Degree in Addiction Studies, Bachelor of Science (Hons) in Mental Health and Diploma in General Adult Nursing. A few recent professional projects include: Self-Harm and Suicide Prevention education program in Corrections services and Methamphetamine 'ICE' education programs for frontline staff. Keith has worked as a Program Manager Forensicare Serious Offender Consultation Service. A program that supports Corrections Vic in management of individuals with history of serious violent and sex offending and serious mental illness/disorder at the end of their prison sentence to reduce risks of re-offending. Keith featured on season 4 Episode 2 on National television program, "You can't ask that" on African Australians
Matthew Gmalifo Mabefam
Matthew is currently a Sessional Academic at the School of Social and Political Sciences at the University of Melbourne. This sessional position at the University of Melbourne allows him to build on his strong teaching record, including research and community engagement projects such as the social integration of African migrants into broader Australian soviet, a project which he co-leads. He has also served as the convener of the African Studies Group at the University of Melbourne for the past two years and is currently consulting for Jesuit Social Services on a research project entitled 'The Men's Project: Engaging African-Australian Men in Australia.' Further, he is currently the community engagement officer for the African Engagement Platform. In these roles he has gained experience, demonstrating outstanding potential, which is reflected in a growing portfolio of teaching activities, community engagement, and research profile.
Olga Barrett
Olga is a Founder and Managing Consultant at CV Wizard Of Oz. CV Wizard of Oz are a team of professional HR Managers and Recruiters who help job seekers and immigrants in Australia & New Zealand in their job search by creating expertly written CV's / Resumes and Cover Letters, LinkedIn Profiles and Selection Criteria Responses. They are not just excellent CV writers, however, industry knowledge allows them to provide extensive Job Search Training and Interview Coaching so that each client is fully prepared to hunt down and land their dream job. Having worked for almost 20 years in corporate recruitment and HR, and after living in 8 different countries across Eastern and Western Europe, APAC and the Middle East, Olga is very knowledge and global in reach and scope.
Shayne Tino
A fashion designer, a model, an artistic director and DJ (among other talents). A trailblazer in his own right, Shayne Tino has worked on modelling campaigns in the USA and Europe. Currently a director of one of the hottest Australian brands, BY HIM - which focuses on made-to-measure formal wear for men and women. He is also the co-founder of a brand new women's brand, RIMAGIND which launched in December 2019. However, like many of us - Shayne is a migrant. His mother worked two jobs: nursing & factory work, whilst she completed her studies. Their family started like most of us, with nothing and built everything from the ground up. Today, Shayne is well-recognised by Australian celebrities and influencers. Come hear him speak about entrepreneurship and his experiences.