AFIN International Film Festival Brisbane - New Farm Cinemas - Award-Nominated Showcase Screening 2
About this Event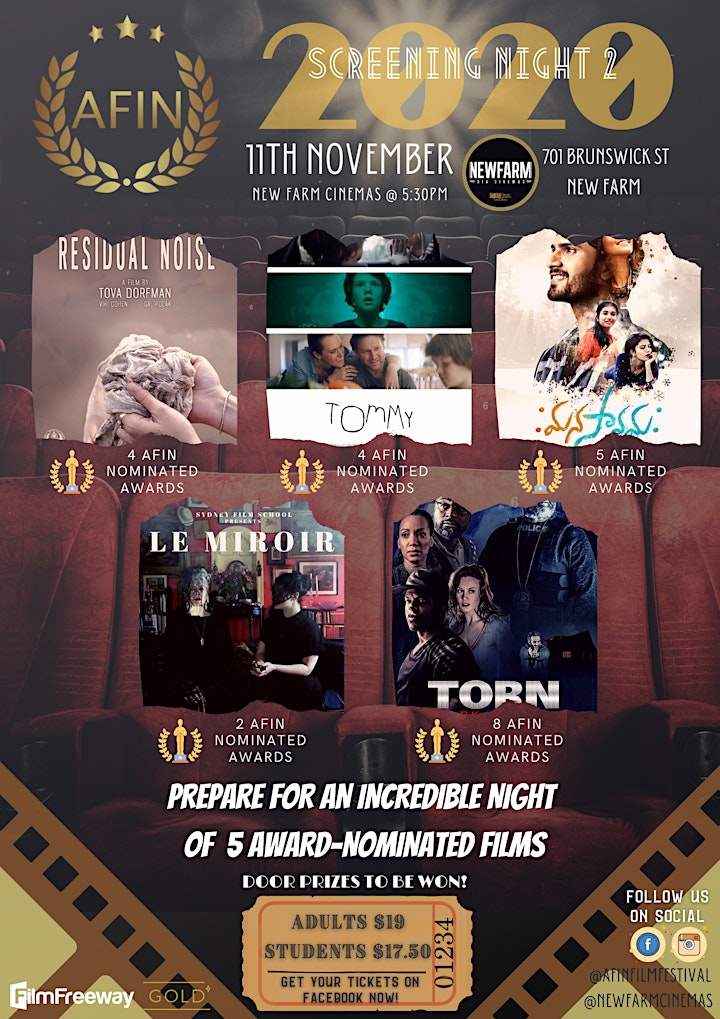 2020 has certainly been a year full of unique challenges, and the COVID-19 Pandemic has hit creative industries such as film particularly hard. But that has not prevented AFIN International Film Festival from curating an incredible line up of films, screenplays and comics for it's 2020 season. AFIN International Film Festival celebrates and showcases excellence in filmmaking and storytelling from emerging and established filmmakers and screenwriters, from every corner of the globe.
We are grateful that here in Brisbane, Australia restrictions are lifting, and we are thrilled to be hosting two screening nights at the beautiful New Farm Cinema showcasing some of the best AFIN nominated films for the year. The festival concludes with a Red Carpet Awards Ceremony at The Triffid, which is an event not to be missed. The awards night is the perfect opportunity to celebrate excellence in film, network, feast, and dance the night away with the live 9 piece Motown band The 8- Tracks.
AFIN INTERNATIONAL FILM FESTIVAL PRESENTS: SCREENING NIGHT 2
This is a COVID-Safe event. Tickets and seats are STRICTLY LIMITED. Don't miss out.
NIGHT 2 SCREENING LINEUP
Note: All film ratings are self-rated by the filmmakers. These films are not yet rated
FILM 1. RESIDUAL NOISE (Short Film) - Israel - 15 Mins (MA15+)
Nominated For : Best Emerging Female Director (Tova Dorfman), Best First-Time Filmmaker (Tova Dorfman), Best Student Film, Best Actress (Viki Cohen)
Key Cast: Viki Cohen, Gal Polak
Trailer: https://youtu.be/ex2eO9SMyTE
Story: "A young woman's life is forever changed as a result of a traumatic event. She loses control of her life, and begins to lose distinction between reality and illusion, until she reaches a breaking point, looking down and trying to decide whether to jump or continue living with her scars."
FILM 2. TOMMY (Short Film - Drama) - Australia - 19 Mins (M)
Nominated For : Best Australian Film, Best Australian Actor (Stephen Degenaro), Best Australian Actress (Simone Ball), Best Young Artist (Ari Newman)
Key Cast : Ari Newman, Simone Ball (Trying), Stephen Degenar (Neighbours), Carissa Mcallen (Nowhere Boys), Alicia Attwood (Method)
Trailer: https://vimeo.com/357156821
Story: "TOMMY is the emotionally-charged story of a young boy and his imaginary friend caught in the middle of a nasty custody battle. He escapes his trauma by entering his dream-like world set inside a submarine, but as the feud between his parents reaches boiling point, both worlds collide."
FILM 3. LE MIROIR (Short Film - Fantasy) - Australia - 16 Mins (PG)
Nominated For : Best Student Film, Best Australian Actress (Rachel Giddens)
Key Cast : Michael Caton (Packed To The Rafters, Blue Heelers), Noah Wiseman, Viviene Powell (Shameless), Rachel Giddens (Orange Is The New Brown)
Story: "Mathilde, a mute French orphan, helps to protect Madame B, the most superstitious lady in the world, from all bad luck. Both have developed their own coping mechanisms to deal with extreme loss. When Mathilde breaks Madame B's most prized possession, a magical mirror, she goes on a journey to fix it. Along the way, she meets 12 year old Tobias who is wise beyond his years and changes her life forever."
FILM 4. MANASANAMAHA (Short Film - Comedy) - India - 16 Mins (G)
Nominated For : Best Short Film, Best Director (Deepak Reddy), Best Actor (Viraj Ashwin), Best Cinematography, Best Film Editing
Key Cast : Viraj Ashwin, Drishika Chander, Valli Raghavender, Prithvi Sharma
Trailer: https://vimeo.com/436158553
Story: "A young man muses on the nature of love, recounting three relationships from his past. The girls in his life resemble three different seasons, namely Chaitra (Spring), Varsha (Monsoon) & Seeta (Winter)."
FILM 6. TORN: DARK BULLETS (Feature Film - Thriller) - Canada - 1h 36 Mins (R18+)
Nominated For : Best Feature Film, Best Director (Dan Rizzuto), Best First-Time Filmmaker (Dan Rizzuto), Best Actor (Sam Vincent), Best Actor (William Stewart), Best Actress (Karen Holness), Best Ensemble Cast, Best Sound
Key Cast : Sam Vincent (Sausage Party), Dexter Bell (Arrow), Willima Stewart, Karen Holness (Lucifer), Doron Bell (The Good Doctor), Sharon Taylor (Supernatural), Jesse Hutch, Tammy Gillis (Van Helsing)
Trailer: https://youtu.be/aRxNmcuOThY
Story: "A raw and unapologetic look into a police shooting, racism, and the connections they share."
FAQs
Are you COVID-19 compliant? Yes, we take the health and safety of our guests and staff extremely seriously. We will be complying with our Industry COVID-Safe Plan including (but not limited to) socially distancing and providing sanitising facilities/stations. We will also be capping the numbers for each section according to the square metre restrictions and capacities of the venue.
What happens at the event close? We encourage attendees to stay afterwards, in New Farm Cinema's open sections, to be able to network and discuss the films screened.
Are there ID or minimum age requirements to enter the event? There are age restrictions in place for certain films. R18+ films cannot be seen by under 18's, and they cannot be in attendance at the time of the screening.
What's the refund policy? We understand that COVID has given us some unpredictable times. If the venue is forced to close due to COVID restrictions imposed by the Government and the event is cancelled as a result, tickets will be refunded. We do not offer refunds for any other reason.
IMPORTANT: PLEASE READ THE BELOW INFORMATION
Due to COVID safe protocols, please DO NOT ATTEND the event if -
• you are experiencing, or have recently experienced any COVID-19 symptoms including cough, fever, sore throat, fatigue or shortness of breath
• you, or a member of your household, has travelled overseas in the 30 days prior to the event
• you, or a member of your household, has travelled to a COVID hotspot in Australia in the 30 days prior to the event
• you have been in close contact with a person who is positive for COVID-19
• you are an active COVID-19 case
To limit the spread of the virus we ask you to please:
• practice physical distancing (1.5m+)
• don't shake hands and avoid any other close physical contact where possible
• cover coughs and sneezes with an elbow or tissue
• avoid touching your face, eyes, nose and mouth
• wash your hands or use hand sanitiser after touching any surfaces, eating or drinking
• understand if you are showing any COVID-19 signs or symptoms onsite, organisers have the right not permit entry to site
NOTICE OF FILMING AND PHOTOGRAPHY
When you enter an AFIN INTERNATIONAL FILM FESTIVAL ("AFIN") event or program, you enter an area where photography, audio, and video recording may occur.
By entering the event premises, you consent to interview(s), photography, audio recording, video recording and its/their release, publication, exhibition, or reproduction to be used for news, web casts, promotional purposes, telecasts, advertising, inclusion on websites, social media, or any other purpose by AFIN and its affiliates and representatives.
Images, photos and/or videos may be used to promote similar AFIN events in the future, highlight the event and exhibit the capabilities of AFIN. You release AFIN, its officers and employees, and each and all persons involved from any liability connected with the taking, recording, digitizing, or publication and use of interviews, photographs, computer images, video and/or or sound recordings.
By entering the event premises, you waive all rights you may have to any claims for payment or royalties in connection with any use, exhibition, streaming, web casting, televising, or other publication of these materials, regardless of the purpose or sponsoring of such use, exhibiting, broadcasting, web casting, or other publication irrespective of whether a fee for admission or sponsorship is charged. You also waive any right to inspect or approve any photo, video, or audio recording taken by AFIN or the person or entity designated to do so by AFIN.
You have been fully informed of your consent, waiver of liability, and release before entering the event.