AFIN International Film Festival 2021 - Awards Gala Brisbane
About this event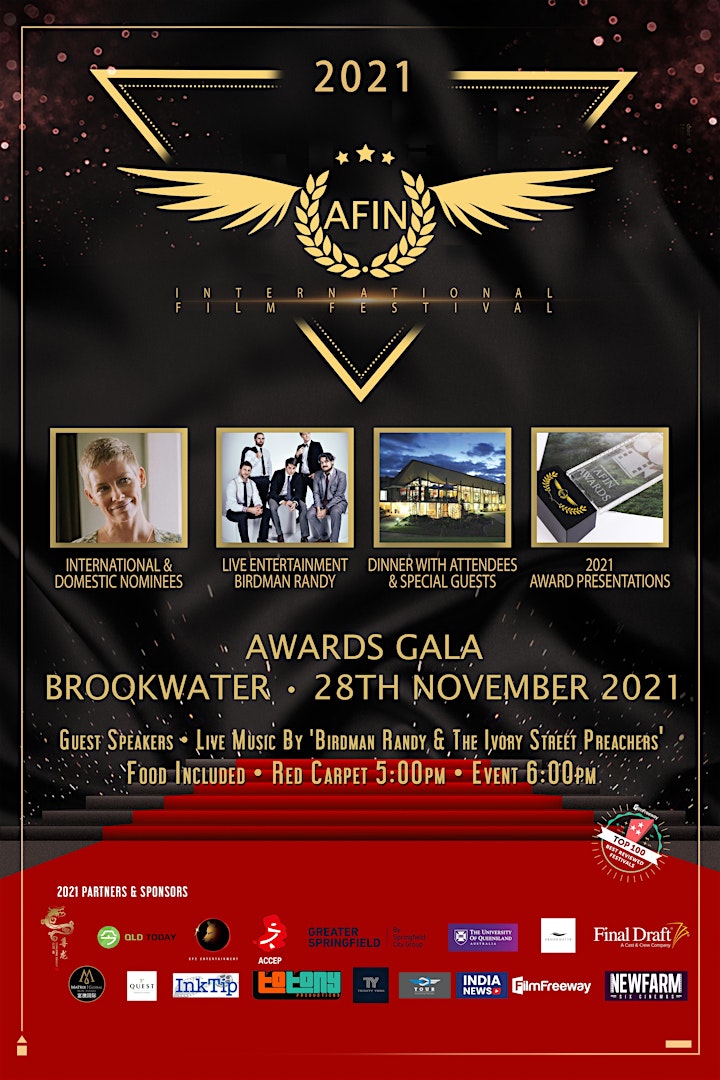 AFIN International Film Festival celebrates and showcases excellence in filmmaking and storytelling from emerging and established filmmakers and screenwriters, diversity and culture, both domestically, and from every corner of the globe.
AFIN is thrilled to be hosting three screening nights at the beautiful New Farm Cinema showcasing some of the best AFIN nominated films for the year, and concluding with this Red Carpet Awards Ceremony at Brookwater Golf & Country Club, which is an event not to be missed. The awards night is the perfect opportunity to celebrate excellence in film, network, feast, and enjoy a night with the live 5 piece band, Birdman Randy & The Ivory Street Preachers.
AFIN INTERNATIONAL FILM FESTIVAL PRESENTS: 2021 AWARDS
Meet filmmakers, actors, and film industry professionals
Be entertained by our MC, multi-talented actress, comedian, and performer, Tracie Filmer
Awards presentations by judges and many special guests
Live entertainment by 5-piece band, "Birdman Randy & The Ivory Street Preachers"
Networking opportunities
Dinner provided
PRE-SALE NOTE: TICKETS ARE PRE-SALE ONLY AND MUST BE BOUGHT PRIOR TO THE EVENT. TICKETS CANNOT BE BOUGHT AT THE DOOR.
This is a red carpet film industry event, and formal event attire is required. Professional photographers will be attending and your red carpet photos are included with your ticket purchase.
FAQs
Are you COVID-19 compliant? Yes, we take the health and safety of our guests and staff extremely seriously. We will be following the Venue's COVID-Safe plan.
What is the difference for VIPs? VIP Tickets provide the best seats in the house, seated close to the band and presentations, as well as sitting with and near special guests.
Can you cater to my food allergies and dietary requirements? We always do our best to cater to your food allergies as long as you include them in the field provided at checkout. We may not, however, be able to cater towards all food preferences e.g. keto, low-carb, low sugar. We have provided this field at check-out for people with food allergies only.
Are there ID or minimum age requirements to enter the event? No, this is a family-friendly event.
What's the refund policy? We understand that COVID has given us some unpredictable times. If the venue is forced to close due to COVID restrictions imposed by the Government and the event is cancelled as a result, tickets will be refunded. We do not offer refunds for any other reason.
IMPORTANT: PLEASE READ THE BELOW INFORMATION
Due to COVID safe protocols, please DO NOT ATTEND the event if -
• you are experiencing, or have recently experienced any COVID-19 symptoms including cough, fever, sore throat, fatigue or shortness of breath
• you, or a member of your household, has travelled overseas in the 30 days prior to the event
• you, or a member of your household, has travelled to a COVID hotspot in Australia in the 30 days prior to the event
• you have been in close contact with a person who is positive for COVID-19
• you are an active COVID-19 case
To limit the spread of the virus we ask you to please:
• practice physical distancing (1.5m+)
• don't shake hands and avoid any other close physical contact where possible
• cover coughs and sneezes with an elbow or tissue
• avoid touching your face, eyes, nose and mouth
• wash your hands or use hand sanitiser after touching any surfaces, eating or drinking
• understand if you are showing any COVID-19 signs or symptoms onsite, organisers have the right not permit entry to site
NOTICE OF FILMING AND PHOTOGRAPHY
When you enter an AFIN INTERNATIONAL FILM FESTIVAL ("AFIN") event or program, you enter an area where photography, audio, and video recording may occur.
By entering the event premises, you consent to interview(s), photography, audio recording, video recording and its/their release, publication, exhibition, or reproduction to be used for news, web casts, promotional purposes, telecasts, advertising, inclusion on websites, social media, or any other purpose by AFIN and its affiliates and representatives.
Images, photos and/or videos may be used to promote similar AFIN events in the future, highlight the event and exhibit the capabilities of AFIN. You release AFIN, its officers and employees, and each and all persons involved from any liability connected with the taking, recording, digitizing, or publication and use of interviews, photographs, computer images, video and/or or sound recordings.
By entering the event premises, you waive all rights you may have to any claims for payment or royalties in connection with any use, exhibition, streaming, web casting, televising, or other publication of these materials, regardless of the purpose or sponsoring of such use, exhibiting, broadcasting, web casting, or other publication irrespective of whether a fee for admission or sponsorship is charged. You also waive any right to inspect or approve any photo, video, or audio recording taken by AFIN or the person or entity designated to do so by AFIN.
You have been fully informed of your consent, waiver of liability, and release before entering the event.
Organiser of AFIN International Film Festival 2021 Awards - Brisbane
GP2 Entertainment are an up-and-coming indie film production company, producing TV concepts, short films, and feature films.
We focus on hard-genres of Fantasy, Science-Fiction, Horror, and Drama. Our aim is to make content that people want to see, is globally distributable, and original.