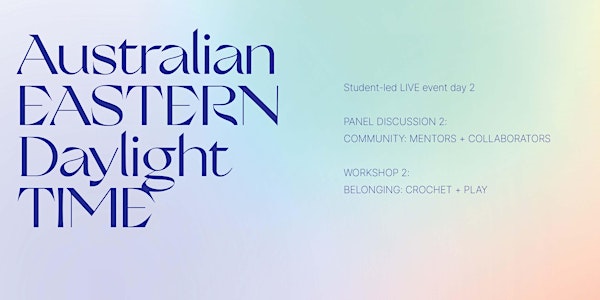 AEDT: Student-led Live Event — DAY 2
Australian Eastern Daylight Time: RMIT Bachelor of Fashion (Design) & Bachelor of Textiles (Design) Graduate Exhibition
About this event
STUDENT-LED LIVE EVENTS — DAY 2
Saturday 27 November 2:00 - 4:00 pm AEDT.
2:00-3:00pm - PANEL DISCUSSION 2: COMMUNITY: MENTORS + COLLABORATORS
Mentors and collaborators come in many forms – they inspire us, they support us, our ideas and skills converge, and connections are made.
Through the sharing of personal experience, this live discussion considers what part collaboration and mentorship have played in the Bachelor of Fashion (Design) and Bachelor of Textile (Design) student experience and project outcomes.
Moderator:
Dr Adele Varcoe, Lecturer, School of Fashion & Textiles — artist and designer who creates transformative experiences that explore the social affects of fashion, dress and clothes.
Participants:
Carys Norwood, Bachelor of Fashion (Design) — Engages in an intuitive practice inspired by intricate self-written narratives, producing outcomes with a child- like approach. Exploring how movement and performance compliment, create and interlink the relationship between the observer and the observed.
Emillie Reader, Bachelor of Textiles (Design) — Exploring waste reduction through handcrafted skill, material knowledge and meaningful connections to objects.
Caitlin Varga, Bachelor of Fashion (Design) —Graduate collection "HERC" was an effort to unify activewear and streetwear, aptly dubbing it "reactive-wear," which showcases bold digital design patterns; through this collection Caitlin collaborated with a myriad of individuals and companies to have her vision realised.
Bridget Gurrie, Bachelor of Fashion (Design) — 'the pieces you left behind' is a collection and textile project that explores personal reflections of experiences. In particular, how these experiences and emotions can manifest internally and externally in the body. Through my work, I have aimed to produce tangible, wearable art pieces in combination with interactive soft sculpture to visually represent my own experiences as well as the collective responses I have received from loved ones.
3:30-4:30pm - WORKSHOP 2: BELONGING: CROCHET + PLAY
Learn how to crochet a bag using only your hands and an old t-shirt!
Facilitators:
Aviva Gandler, Bachelor of Fashion (Design) — Aviva is curious about the world, and excited to explore new ideas and experiences in fashion and making.
Emily Jego-Rolfe, Bachelor of Fashion (Design) — Emily creates joyful fashion for colourful individuals.
What to bring:
— 1-2 old t-shirts that you're willing to cut up
— Fabric scissors
— Your hands
— Good vibes!