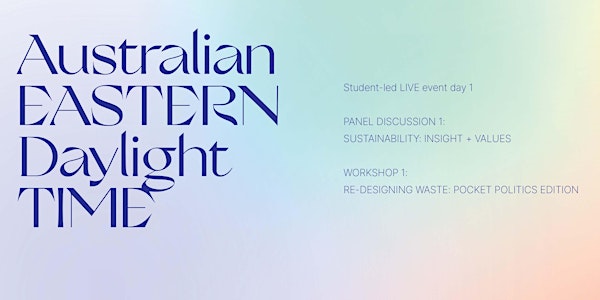 AEDT: Student-led Live Event — DAY 1
Australian Eastern Daylight Time: RMIT Bachelor of Fashion (Design) & Bachelor of Textiles (Design) Graduate Exhibition
About this event
STUDENT-LED LIVE EVENTS — DAY 1
Friday 26 November 2:00 - 4:00 pm AEDT.
2:00-3:00pm - PANEL DISCUSSION 1: SUSTAINABILITY: INSIGHT + VALUES
Designing At The Forefront Of Change: Sustainability and Circular Design
Affecting ethical and environmental change starts at the source. In this panel discussion, students from Fashion and Textile Design come together to discuss their approaches to integrating sustainability and circular design in their work. Tune in to gain insight into the important practices and values of these next-generation designers.
Moderator:
Julia English, PhD Candidate — Examining the Circular Economy and sustainable fashion through the roles of researcher, educator, and practitioner.
Participants:
Rachel Humphreys, Bachelor of Fashion (Design) — Promoting sustainable consumption and the abandonment of disposable fashion through the application of repurposed and upcycled materials.
Madeleine Northey, Bachelor of Textiles (Design) — Reimagining embellishment for a circular fashion system.
Tess Beinssen, Bachelor of Fashion (Design) — Creating sustainable designs through zero waste studio practices, regenerative textile design, and the use of post-consumer materials.
Ellen Hosking, Bachelor of Textiles (Design) — Exploring material innovation through handmade processes that focus on textile composability.
3:30-4:30pm - WORKSHOP 1: RE-DESIGNING WASTE: POCKET POLITICS EDITION
Together we will explore our pockets and the idea of pocket satisfaction. We will share and discuss our most and least favourite pockets from our wardrobes and design an 'intervention' for our problematic pockets. This workshop questions whether there is a universal ideal pocket, or if pocket satisfaction is in fact subjective.
Facilitator:
Melanie Read, Bachelor of Fashion (Design) — Learn a basic hand stitch technique with Future Archive's Melanie Read to create a pocket intervention for a problematic pocket in your wardrobe to promote longevity of garments supporting notions of sustainability and personalization of existing garments.
What to bring:
— An example of your most used and/or loved pocket and least used and/or loved from your wardrobe
— At least ~50cmx30cm of a material you don't mind cutting up, ie. scrap fabric, a tea towel, an old pillowcase, paper, cardboard, or anything else you'd like to work with!
— A needle and thread
— Optional: other materials for joining your fabric together ie. tape, stapler, hole punch and cord, anything else you'd like to work with!
— Scissors
— A device to photograph your outcomes with
Photo: Jessica Grilli @jessicagrilliphoto