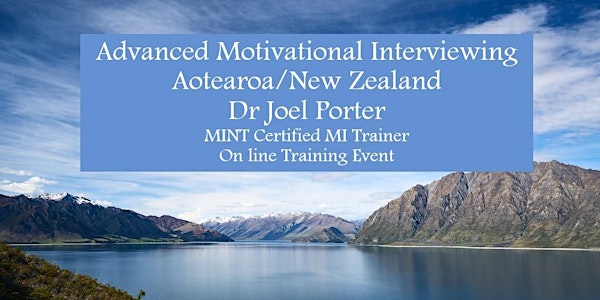 Advanced Motivational Interviewing: Building Skills - Aotearoa/New Zealand
Refund policy
Contact the organiser to request a refund.
Eventbrite's fee is nonrefundable.
This advanced online MI workshop is interactive and highly experiential. It is ideal for curious people with previous training in MI.
About this event
The Workshop
After the initial training in Motivational Interviewing (MI), practitioners are often left to wonder "how do I advance these skills in everyday practice?" or "am I actually doing MI?". Motivational Interviewing is a skill that improves with practice and feedback.
This workshop takes place on Zoom over one day. The workshop aims to help build a deeper understanding and strengthen your core MI skills. Participants will be practice and consolidate their reflective listening skills and ability to interact with change and sustain talk . This course is ideal for practitioners who have completed an introduction to Motivational Interviewing course or workshop and wish to advance their skills in practicing MI.
Importance of MI Spirit
Four Processes of MI
Emphasis on Change Talk
Depth, Strength and Momentum
Working with Sustain Talk and Discord
Search for the Mechanisms Of Action in MI
Motivational Interviewing Treatment Integrity code (MITI) 4.2.1
How to increase proficiency in MI
Working with coded and uncoded transcripts
Reflective practice
Deepening reflections
Fine tuning listening skills
At the conclusion of this training, participants will:
Recognize their strengths, develop skills and confidence as a practitioner
Identify areas for continued development
Have a plan for deliberately practicing MI skills
Have completed an accurate assessment of their own MI skills and ability
Identify strengths as a practitioner and area for growth in MI
The Trainer
Dr Joel Porter is MINT Certified MI trainer and Clinical Psychologist living in Christchurch, New Zealand. He holds an Adjunct Associate Professor role with the University of Canberra, Centre for Applied Psychology. Since 2003, Joel has been a member of the Motivational Interviewing Network. Joel and Steve Rollnick host the free monthly MI & Beyond webinar. For the past 18 years, Joel has been providing MI training in Australia, New Zealand, Southeast Asia, China, Europe and North America.
Joel provides a wide range of cost effective MI workshops (Introduction to Advanced practitioner , MI and Groups, Fidelity Coding) to organisations. Please contact Joel for more information at drjoelporter@gmail.com.
"I wanted to thank you for your work on the day. You were able to finally answer some questions that had been on my mind for a long time. I also appreciated the opportunity to use the MITI." - Workshop Participant (Australia)
"Many thanks for today's space, guidance and knowledge (and breaks!); I've taken away a lot and hope I put in some too. I've been using MI for about 5 years but never measured it and, yep, I learnt a lot (both reassuring and motivating). The visual map of MI I found very helpful and stuck too" - Workshop Participant (United Kingdom)
"Dr Joel Porter demonstrated excellent knowledge of the subject and I enjoyed the interactions with him" - Workshop Participant (Singapore)