Description
What happens for you when your group get's stuck? How do you make the decision what to do next?
Facilitation has become an increasing part in the world of government and business. Skilled facilitators make it seem like there is nothing to it. Yet there is artistry involved in helping groups achieve their goals.
The Essence of Facilitation is the Stage 2 programme of the Zenergy Facilitation Diploma and explores and develops the skills of distinguishing what is missing in the group and guides the facilitator towards the next decision and the next intervention that will help the group moving towards it's purpose.
Would you like to take your facilitation skills deeper and make a bigger impact in the groups that you work with?
Would you like to deepen the connections and engagements in your group?
Would you like to learn how to work with power differences that are present in your groups in a powerful way?
Zenergy Global has worked with new and experienced facilitators for 25 years helping them to build powerful facilitation skills that create the space for the emergence of individual and collective potential.
This is an advanced programme for facilitators who like to take thier facilitation skills to a deeper level.
Programme Overview:
The Essence of Facilitation is a training programme in which participants develop their skills and understanding of facilitation to a deeper level.
This is an experiential workshop which builds on skills acquired in Zenergy Stage 1 "The Art of Facilitation"* and focuses on the key skill of "distinguishing", which includes noticing what is missing in a group's interaction in the moment and finding a way of introducing the missing elements while the group is in action.
Each distinction is first identified both when it is present and when it is missing. The group explores facilitation processes to generate these distinctions.
Who is it for?
This programme is aimed at experienced and practicing facilitators. Ideally you have done the Zenergy Stage 1 programme and if not and you are an experineced facilitator, a trainer will call you and share some of the fundamentals with you prior to the programme.
What is included in the costs?
Text Book in PDF: The Essence of Facilitation by Dale Hunter et al,
Course Manual,
5 days training,
Certificate of 40 hour Attendance
Learning Outcomes:
Distinguish key elements of intentionality, completion, emotional competence, intuition, powerful listening and speaking, safety and intimacy, power and equity.

Implement group processes appropriate to meeting the group purpose and maintain a balance between task and process, and individual and group needs.

Recognise and interrupt patterned behaviour including sabotage.

Attend to distress in self and others.

Demonstrate an ability to recognise and respond to the physical, mental, emotional, intuitive and spiritual levels of being.

Demonstrate awareness of differences in-group energy and to shift the energy levels using appropriate processes.
Professional Certifications:
The Essence of Facilitation is the Stage 2 of the Zenergy Facilitation Diploma. Stage 1 and Stage 2 of the Zenergy Diploma include the International Association of Facilitators Core Competencies for Facilitators that relate to facilitator education. These competencies are required to attain the IAF Certified© Professional Facilitator Accreditation, which is internationally recognised. After the attendance of the Stage 2 programme, participants will receive a Certificate of Attendance for 40 hours of Facilitation Training.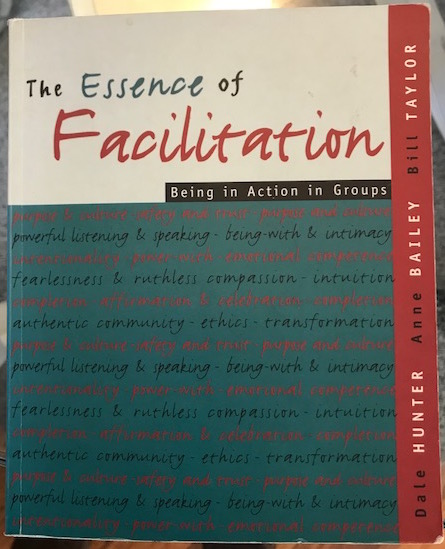 The training is based on the book "The Essence of Facilitation, Being in Action in Groups" by Dr Dale Hunter et al. Stage 2 explores a number of distinctions, including:
Purpose and culture
Safety and trust
Powerful listening and speaking
Intentionality
Emotional competence
Completion
Affirmation and celebration
Authentic community
Approach:
The course will be practical in nature, experiential and interactive, and focused on skill development, rather than a mainly theoretical presentation. It will involve practice of the principles, tools, and techniques that are being covered in the programme.
The workshop and interactions are based on the principles and practice developed by Zenergy over many years of research and practical application. This includes a whole-person collaborative approach as a fundamental.
The workshop will take place in a relaxed environment.
Participants will learn by:
Exploring models, tools, interventions, processes and concepts experientially

Facilitating activities with "in-the-moment" coaching for themselves and the group which encourages maximum learning from the experience

Self-reflection around their experiences and facilitation practice

Giving and receiving feedback (both affirmative and constructive) with their colleagues and the programme facilitators.
For questions:
Call Simone on 0481296728
Email simone@zenergyglobal.com.au
Web: www.zenergyglobal.com.au