Description
Advanced Communication and Interpersonal Skills with Extended DISC
How many times have you been told Treat people the way you would want to be treated". Really the question should be "Do you treat people the way THEY Want to be treated.
Whether it is a relationship, a child, club or work situation, there can be difficulties and challenges working with people who communicate and behave in different ways to you.
People and relationships thrive and more productive work happens when teams and individuals embrace their uniqueness and understanding of others. In this Extended DISC workshop, we will use Extended DISC to identify your preferred communication and working styles great things can happen.
What is Extended DISC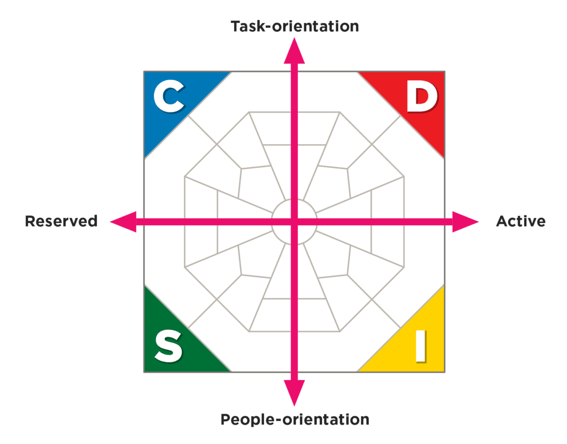 DISC is a self-assessment that measures how an individual prefers to interact with others. DISC creates a common language and self-awareness to better understand ourselves and others.
The DISC model is based on the work of Carl Gustav Jung who created a groundbreaking model for human behavior in his 1921 book, Psychological Types. Dr. Jung recognized that people can be divided into four main styles. In 1928, William Moulton Marston published a book, Emotions of Normal People. He built upon Jung's work and named the four main behavioral styles, D, I, S and C.
Extended DISC can be used to better equip you with skills to modify behavior and become more successful by:
Understanding how people are different
Developing confident self-awareness
Learning to identify the styles of others
Modifying behavior based on the other person's style
Outcomes
Increased understanding of one's own behaviour and communication style
Increased understanding of the ability to recognise and adapt to others behavior and communication style
Understanding of DISC principles and how to apply them in a wide range of scenarios from interpersonal communications, sales, recruitment, management, and coaching
Increased knowledge of ways to build empathy and emotional intelligence through DISC
A toolbox of strategies to genuinely build rapport and trust within relationships
A personal action plan to develop mastery in your communication.
Topics
The topics covered include:
Extended DISC Theory
Introduction to the 4 quadrant model and behavioral traits
Communicating effectively with different styles
Strategies to support trust and build rapport
Discussion on your own personal style
Incorporating Extended DISC profiles into the 9 C's of Communication
You will receive
All participants will receive their own personal DISC assessment, a Certificate of Attendance and if desired a personal action plan.
This Course will benefit
Emerging Leaders who are wanting to grow themselves
Managers
Front Line Supervisors
Coaches who want an understanding of how to incorporate DISC awareness
High-performance teams, new teams, and teams in conflict.