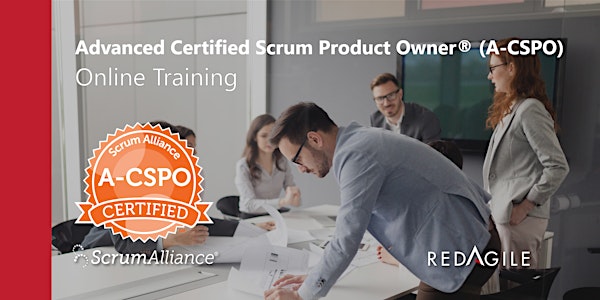 ADVANCED CERTIFIED PRODUCT OWNER®(ACSPO®)21-22 JULY Australia Course Online
Certification in Advanced -Scrum Alliance Product Owner (A-CSPO) in 2 days, by RedAgile - Australia's Leading Scrum Training Organisation
About this event
This Scrum Alliance Advanced Certified Product Owner (A-CSPO) training is a highly interactive, in-depth course, building strongly on the skills and concepts first learned in the Certified Product Owner (CSPO) course.
Led by world class Scrum practitioners, this Live Online RedAgile class provides both practical guidance for adopting Scrum at an advanced level, with proven techniques aimed at significantly improving your role competence and greatly enhancing your value to your organisation.
The Advanced Certified Scrum Product Owner course is your opportunity to consistently deliver the highest possible value.
Show your commitment to the Product Owner role with higher level training
Demonstrate your clear vision in knowing what GOOD looks like
Distinguish yourself through greater professionalism
Enhance your own value within your organisation
The A-CSPO course will teach you how to deliver outstanding products within highly effective Scrum teams.
You'll learn how Vision, Value and Validation are crucial to the Product Owner role
As an A-CSPO you will build the right thing and then you will build it right
With the RedAgile A-CSPO playbook you'll gain enhanced Scrum techniques
You will be capable of expanding your role into value identification, facilitation and coaching
And you will gain the confidence and skills to be an exceptional Product Owner
Anyone may attend the A-CSPO course, however for certification, it is necessary to have one-year experience working as a Product Owner (or equivalent), and, to have previously completed the Certified Product Owner certification course.
The A-CSPO Certification Training Course
A great Product Owner has a complete understanding of the framework, events and artefacts in Scrum. At the highest level a Product Owner will also have the experience, knowledge and confidence to solve more difficult challenges that an effective team and an Agile organisation might experience.
The Advance Certified Product Owner Certification course puts you in the best possible position to advance your career to the next level. The training is focused on higher level coaching and facilitation techniques. In the RedAgile A-CSPO course you will benefit from our years of Scrum experience and knowledge based on real world situations.
This course equips Product Owners the hands-on skills to guide your team and organisation to utilise the full power of the Scrum Framework and Agile ways of working.
The A-CSPO certification is a globally recognised accreditation established by the Scrum Alliance.
Your Trainer is a CST & Certified Agile Leader
RedAgile's team are Australian based Certified Scrum Trainers who have worked in Project Management for decades.
Highly experienced as a hands on Scrum Master, a Product Owner and an Agile Coach, your trainer will share his own experience. These stories and examples of good and bad practice are based on personal experiences from the front lines of work and are core to RedAgile's teaching style.
What you will learn on the Online A-CSPO Course?
The Advanced Certified Product Owner course is your opportunity to claim a higher degree of mastery in Scrum to:
• Manage multiple business initiatives from competing stakeholders
• Clearly order and express Product Backlog items
• Define a clear product vision that ensures your product remains focused on the features your customers and end users will actually use
• Communicate effectively with various stakeholder groups to achieve alignment
• Identify the crucial opportunities and avoid wasting time
• Define and validate business value
• Increase your credibility as a product expert and become recognised as a person who delivers real business results
Benefits of the A-CSPO certification
• Build on your foundational knowledge with enhanced implementation skills
• Distinguish yourself in the global marketplace
• Stand out in your industry as a member of the Scrum Alliance globally recognised community
• Show advanced value to your employer (or potential employer) as a highly trained Agile professional
Training Course Structure
The A-CSPO learning objectives fall into the following categories:
1. Product Owner Core Competencies
2. Advanced Purpose and Strategy
3. Empathising with Customers and Users
4. Advanced Product Assumption Validation
5. Advanced Techniques for Working with the Product Backlog
More details of the course outline can be found on the RedAgile Website - www.redagile.com
Who Can Attend?
Anyone can attend the course, however, to attain the A-CSPO certification you require:
• A Certified Product Owner(CSPO) certification issued by The Scrum Alliance (whether current or expired)
AND
• 1 year of work experience specific to the Product Owner role within the last 5 years. This experience may be gained after attending the course, at which point the full certification may be claimed.
If you do not qualify for the above, take a look at the entry-level Certified Scrum Product Owner course which has no prerequisites and is the step before this course. Also take a look at ways to get more Product Owner experience.
Who Do We Recommend to Attend the Course?
Product Owners or Product Managers who are already Certified Product Owners.
The A-CSPO Certification
Virtual attendance and active participation across the two days will result in the registration for the Advanced Certified Product Owner certificate. Login to your Scrum Alliance account, register your Product Owner experience, and the Scum Alliance will award your certificate.
NOTE: You may take the A-CSPO course at any time after completing your CSPO certification, and, you must have at least 12 months of Product Owner experience logged into your Scrum Alliance profile before you are eligible to receive your A-CSPO certification.
Sign Up For Our Interactive Advanced Certified Scrum Product Owner Training Now.
The Course Takeaways
A full copy of The Scrum Guide
A full set of course slides
The comprehensive course workbook and notes
Complimentary Membership of the Scrum Alliance
Also included with this training: -
The benefit of an Australian based trainer who understands the local business environment.
2 days of high quality LIVE ONLINE instruction from a Scrum Alliance Certified Scrum Trainer, an expert in Scrum and Agile practice
The support of a second trainer throughout the course to maximise the learning outcomes.
Support beyond the course from RedAgile Training.
What are RedAgile LIVE ONLINE course graduates saying.
Jansen L. "The trainer is very knowledgable and resourceful and demonstrated the ability to keep the class interested"
Derrick N. "Lots of useful tips"
Ervinna T. "It is comprehensive yet not overwhelming, good pace too"
Debendra S. "The training includes valuable examples and case studies, the whole team is wonderful"
Taking this course with a Certified Scrum Trainer means you will be acknowledged and recognised by the Scrum Alliance as a Certified Scrum Product Owner after completing the 2 days of training. Attendance and engagement over both days is a requirement
Attending the course earns you PDUs toward the Project Management Institute's PMI-ACP (Agile Certified Practitioner) designation
and
Scrum Educational Units (SEUs) eligible for the Certified Scrum Professional (CSP) of the Scrum Alliance.
The Cost
Book a place for the advance booking fee of $1400 inc GST
Refund Policy
We offer a full refund prior to the 48 hours before the course start date and after that time we offer 10% of the fee or offer a transfer of registration to an alternative class.
If you can no longer attend but wish to transfer your place on the course to another person we are very happy to arrange that at no additional cost.
Disclaimer: RedAgile reserves the right to change venue or cancel any course for reasons including, but not limited to, trainer illness or bad weather. In the event of cancellation, we will offer a transfer to a different course or a full refund.