Advanced Agile Requirements Practices Workshop (Sydney)

Tuesday, 5 August 2014 from 9:00 am to 5:00 pm (AEST)
Event Details
Deliver applications that make a difference
Learn how your team can deliver valuable features faster and more efficiently, using Advanced Agile and Lean Practices to build a better synergy between BAs, developers, and testers. The results are faster delivery, higher quality products, more accurate reporting, satisfied users and lower maintenance costs.
Help your team gain a competitive edge in this on-site workshop.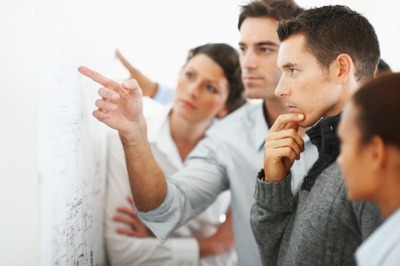 Behaviour Driven Development (BDD) is an approach than helps teams focus on defining and delivering features with demonstrable business value. Teams using BDD think about requirements in terms of "executable specifications", a much more precise and collaborative approach to requirements analysis than more traditional methods.
But BDD is more than just a development technique: in fact, it introduces a whole new dynamic to interactions between team members and stakeholders, a dynamic that increases communication, improves productivity and reduces waste. Through ongoing conversations between business stakeholders and team members, the team discovers and explores the business goals, capabilities and features that the stakeholders need. They then propose technical solutions to deliver these capabilities, using concrete examples and counter-examples to explore and understand these features more fully. The automated tests that validate these solutions provideaccurate real-time reporting about project progress, and go on to provide "living technical documentation" about the product.
This one-day workshop is an intensive introduction to fundamental BDD practices, a vital skill for anyone involved in software development today. It is run as a public course, but can also be delivered as a tailored, on-site workshop. It is aimed at cross-functional teams from all horizons, and will be equally useful to product owners, BAs, testers and developers.
The workshop is focused on assimilating the fundamental principles behind BDD. As well as getting a solid understanding of the theory of BDD, students will be able to put this theory into practice, with students will be divided into multi-functional teams, to simulate the real-world application of these principles. The labs themselves will involve using BDD to collaboratively solve practical exercises, and require no technical or programming skills.
The topics covered during the workshop will include:
Principles of Agile Requirements Gathering
From Business Value to Features
Using Feature Injection to discover features and stories
The art of writing Executable Specifications
Defining good acceptance criteria
Principles of incremental design and agile architecture
Real Options and Deliberate Discovery
Discovering and implementing features
Reporting on progress and status
Functional Coverage - mapping acceptance tests to requirements
Overview of BDD tools for different technologies
Demonstration of real-world BDD practices and tools
To ensure an optimal learning experiences, class sizes are limited. Book early!
When & Where

Saxons
Level 10
10 Barrack Street
Sydney, NSw 2000
Australia

Tuesday, 5 August 2014 from 9:00 am to 5:00 pm (AEST)
Add to my calendar
Organiser
Wakaleo Consulting is a Sydney-based consulting company that provides consulting, training and mentoring services in Agile Development Practices such as Behavior Driven Development Continuous Integration, and Automated Acceptance Testing.