Advanced Agile Masterclass with Alistair Cockburn - Melbourne

Tuesday, 17 February 2015 at 8:30 am

-

Thursday, 19 February 2015 at 4:30 pm (AEDT)
Event Details
About the Advanced Agile Masterclass
Experienced agile practitioners may have mastered many agile methods but still need to know more about:
Why agile practices work

How to adjust practices to situations

How to approach new and surprising situations

How to apply agile practices to non-software projects

How to incorporate results from other fields back

How to tailor the practices to organizational cultures
This discovery-filled course from industry guru Dr. Alistair Cockburn addresses those areas, as well as:
1. Learn why agile works, in software or outside of it
2. Learn how to articulate and deal with the weaknesses in agile development
3. Test yourself and your partners with the Test-Driven Carpaccio exercise
4. Learn to reduce risk and maximize results by viewing design as a Knowledge Acquisition activity
5. Practice backing up your recommendations with solid theory, not just an appeal to authority
6. Learn how to plan and track larger, more complicated projects using Story Mapping or Blitz Planning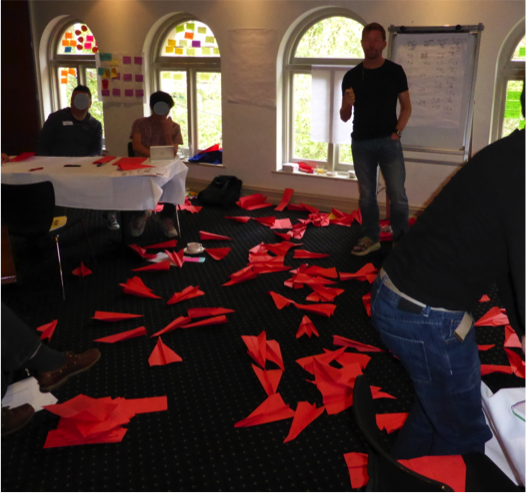 The course challenges agile practitioners to come face-to-face with their abilities, deeply assess their strengths and weaknesses and confront complex situations one after another with other classmates. At the end of the course, participants walk away with a rich, robust set of tools to use to  approach their projects and organizational situations that would lead them to better outcomes.
DURATION
An intense action packed 3-days full of challenging theory, exercises and games 
AUDIENCE
This course is for experienced agile practitioners that are ready for a deep dive into agile methods, and want to reach the next level with the guidance of one of the worlds most experienced agile gurus.
This is not a course for the beginner or the faint of heart or for those seeking an introduction to agile, basics of Scrum, or project management. Expect to do homework, expect to be put through your paces, expect dialog and argument, and have your beliefs challenged.
INSTRUCTOR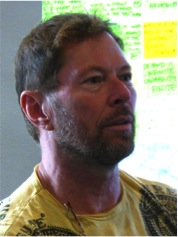 Dr. Alistair Cockburn (pronounced Cō-burn) was voted one of the "All-Time Top 150 i-Technology Heroes" for his work in creating and steering Agile software development. He co-authored the Manifesto for Agile Software Development and the "Declaration of Interdependence," created the first Agile Software Development Conference, co-founded the Agile Project Leadership Network, served on the board of the AgileAlliance, designed the Crystal family of agile methodologies, and co-founded the International Consortium for Agile. Three of his books have won Jolt awards and been listed in "The Top 100 Best Software Books of All Time". He consistently receives high ratings for his presentations and courses. Much of his material is online at http://Alistair.Cockburn.us. 
PREPERATION
No preparation is required, but you will get more from the class if you have read Alistairs books: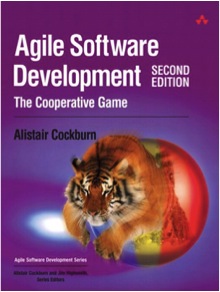 Agile Software Development: The Cooperative Game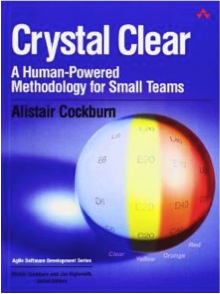 Crystal Clear: A Human-Powered Methodology for Small Teams
FEEDBACK 
"Really great master class with @TotherAlistair"

"Mind exploding like crazy."

"Definitely inspired to up my game!"

"Ego obliterated, mind expanded, much to ponder after the masterclass. Thanks"

 "Alistair is the Chuck Norris of Use Cases. Applying use cases to the project life cycle has re-instilled my faith in project management."

"Alistair provided a non-intimidating environment to allow for mind stretching. I feel like I've been put through a mental wringer but all in a way that can only improve my value for my team." –Nicole Hopkins

"Excellent course… well worth the investment of time and money. I especially appreciated Alistair's depth of knowledge and breadth of experience. I will be watching for other courses offered by him." –Chuck Stoner
"Course goes well beyond novice level in terms of cognitive complexity. Pushes into analytical/critical thinking skills." –Cristina

"In 20+ years of attending courses in software development this has been the best course. Great balance of theory and lab (hands on) work." –John W. Cooley
"I would certainly agree with Alistair's characterization of what he does being the height of voodoo witchery and other eldritch practices, at least to the untrained eye. Stretching the metaphor even further I'd also say that some of those that he coaches are left with a feeling much like what I would imagine a visit to the voodoo shaman would engender – glad that he was there to help, but equally glad that he has taken his rum and chickens elsewhere." –Jonathan

"Fantastic course for practitioners who want to think about what they do and improve their teams. Cuts through the Agile hype to communicate deep insights and truly useful techniques." – Kay Johansen

"This course was simply amazing! Dr. Alistair Cockburn has one of the best minds period. I have so much to learn. This course should be mandatory for all project managers." – J. K.

"I wanted to be challenged – and I was not disappointed – participants got kicked out of their comfort zone before morning tea on day one, by lunchtime you knew there is no going back."
"OMG @TotherAlistair u broke me!! I am seeing holes in everything that we are doing. Hugh improvement opportunities!!" – Supriya
FAQs
Have questions about Advanced Agile Masterclass with Alistair Cockburn - Melbourne?
Contact Tabar Pty Ltd
When & Where

Level 7
455 Bourke Street
Melbourne, VIC 3000
Australia

Tuesday, 17 February 2015 at 8:30 am

-

Thursday, 19 February 2015 at 4:30 pm (AEDT)
Add to my calendar
Organiser
Community based learning experts
We help companies become learning organisations by giving their people the opportunities to learn and network with the best training, events and meetups.
Tabar operates by helping our community reinvent their organisations using agile, lean and systems thinking methods and principles, though Deep Learning Events, such as conferences, training and professional development meetups.
We work with some of the best local experts and bring leading experts to Australia, such as Alistair Cockburn, Jurgen Appelo, and Bas Vodde, who share their ideas and techniques through training and speaking.