Learn the fundamentals of Adobe Creative Cloud, combining elements of Photoshop, Illustrator and InDesign to get the best out of them all.
About this event
Creative Cloud is a group of applications from Adobe for creating marketing materials, designs and communications content. During this comprehensive Introduction course, you will be guided through the fundamentals, exploring the functions of each tool, and learning to use them to create a variety of materials.
You will explore Photoshop, Illustrator and InDesign, utilising the strengths of each, and learning how they can be used together.
This is an introductory level course.
What you get
Class size kept to a maximum of 6 participants.
Qualified, experienced and approachable facilitators.
Training materials and take away practice files.
Lifetime post course support.
We encourage you to bring along your own laptop so you are familiar with its layout and functionality. If you do not have a laptop, we can supply one on the training day.
Adobe Creative Cloud Introduction Course Content
The Creative Cloud
Understanding Workspaces
Understanding Panels
Displaying and Hiding Panels
Working with the Control Panel
Navigating with the Hand Tool
Navigating the Document
Using the Zoom Tool
Essential Techniques
The Selection Tool
Understanding Smart Guides
Moving, Copying & Deleting Objects
Grouping and Ungrouping
Locking and Unlocking Objects
Alignment and Distribution
Applying Colour
Colour Modes
Applying Colour to Objects
Spot vs Process Colour
Managing Swatches
Document Setup
New Document Options
Creating Print & Web Document
Saving Documents
Grids, Guides and Rulers
Drawing with Vectors
Drawing Paths
Tips for Drawing Curves
Editing, Manipulating and Modifying Paths
Adding and Deleting Anchor Points
Splitting Cutting and Erasing Paths
Working with Layers
Building a Multi-Layered Document
Adding Transparency
Moving, Scaling and Rotating Layers
Locking and Protecting Layers
Printing and Saving
Printing from the Program
The Save for Print and Web
Image Compression and Optimisation
Working with Graphics
Different File Formats
Placing Multiple Graphics
Illustrator Essentials
The Illustrator Interface
Exploring Panels & Workspaces
Useful Shortcuts
Organising your Artwork
Introducing Multiple Artboards
Editing the Artboard Size
Artwork Components
Rulers, Guides & Grids
Intuitive Smart Guides
Paths, Point and Handles
Creating Basic Shapes
Using the Shaper Tool
Creating Primitive Shapes
Creating Polygons, Stars, and Spirals
Drawing Lines
Working with Type
Using Type Tools
Using the Character and Paragraph Panel
Creating Outlines from Text
Type on a Path
Photoshop Essentials
The Photoshop Interface
Exploring Panels & Workspaces
Useful Shortcuts
The History Panel
Snapshots
Starting with Images
Creating New Documents
Cropping & Rotating
Changing Image Sizes
Upsampling & Downsampling Images
Working with Selections
Lasso and marquee Tools
Quick Selection and Magic Wand Tools
Correcting Images
Understanding Image Histograms
Using the Levels Command
Retouching Techniques
The Clone Tools
Healing Brush Tools
InDesign Essentials
The InDesign Interface
Exploring Panels & Workspaces
Useful Shortcuts
Laying Out Pages
Creating a New Document
Adjusting Margins & Columns
Using Rulers, Grids, and Guides
Working with Text
Placing text
Selecting and editing text
Handling missing fonts
Character Level Formatting
Paragraph Level Formatting
Placing Text in InDesign
Threading and Unthreading frames
The Auto-Fit text function
Flowing text through frames
Working with Graphics
Placing Multiple Graphics
Wrapping Text Around Images
Understanding Fitting Options
If you need to book a course after the ticket sales have closed, please get in touch and we'll do our best to accommodate you.
See here for terms and conditions.
Organiser of Adobe Creative Cloud Introduction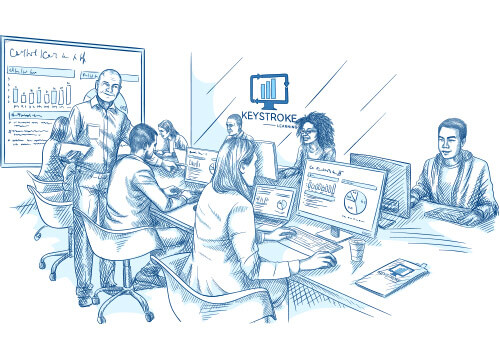 At Keystroke Learning our goal is simple, to provide an unforgettable learning experience. Our speciality is customised half day computer courses ranging from beginners through to advanced levels. We work with Microsoft Office and Adobe Creative Cloud applications, as well as the latest rapid development eLearning software. We focus primarily on skills that can be immediately applied in your workplace. As well as providing traditional training, we have developed innovative services such as Self-Paced Assisted Learning and Live Online Training.