Learn how to really use Adobe Acrobat to create quality PDFs, aid navigation for users, and use robust collaboration to improve workflow.
About this event
Most of us are familiar with reading PDF documents using the free Adobe Reader, but Acrobat allows you to create, manage, organise and manipulate PDF files.
Learn the best ways to use this incredibly versatile, but largely misunderstood application. Create PDF documents from multiple sources before combining, modifying, collaborating and adding bookmarks, plus a whole lot more.
This is an introductory level course.
What you get
Class size kept to a maximum of 6 participants.
Qualified, experienced and approachable facilitators.
Training materials and take away practice files.
Lifetime post course support.
We encourage you to bring along your own laptop so you are familiar with its layout and functionality. If you do not have a laptop, we can supply one on the training day
Adobe Acrobat Introduction Course Content
Acrobat Orientation
The Acrobat Interface
Using Menus and Toolbars
Using the Panels Area
Using the Navigation Pane
Viewing and Printing PDFs
Navigating PDFs
Using Navigation Tools
Changing Views
Using the Zoom Tools
Multiple Documents
Printing a PDF
Creating PDFs
Using the PDF Printer Driver
Acrobat PDF Maker
From Microsoft Office Files
From Windows Explorer
From Web Pages
Creating a Postscript File
Using Distiller
Using Batch Mode
From Clipboard
Creating PDFs from a Scanner
Combining Documents
Merging Multiple Files
Creating a PDF Portfolio
Working with a Portfolio
Modifying PDFs
Inserting and Deleting Pages
Extracting Content
Replacing Pages
Cropping Pages
Moving and Rotating Pages
Renumbering Pages
Adding Headers and Footers
Adding Watermarks
Editing Text
Placing Images
Reducing File Size
Bookmarks
Creating Bookmarks
Editing Bookmark Destinations
Nesting Bookmarks
Changing the Appearance of Bookmarks
Bookmark Actions
Links
Creating Links
Duplicating Links
Editing Links
Creating Destination Links
Creating Links to Another PDF
Working Collaboratively
Adding Sticky Notes
Using the Annotation Tools
Inserting Digital Identity Stamps
Initiating an Email Review
Returning a Reviewed PDF
Summarising Comments
Searching PDF Documents
Finding Words
Searching Multiple PDFs
Advanced Search
Securing your Documents
Adding Permissions Passwords
If you need to book a course after the ticket sales have closed, please get in touch and we'll do our best to accommodate you.
See here for terms and conditions.
Organiser of Adobe Acrobat Introduction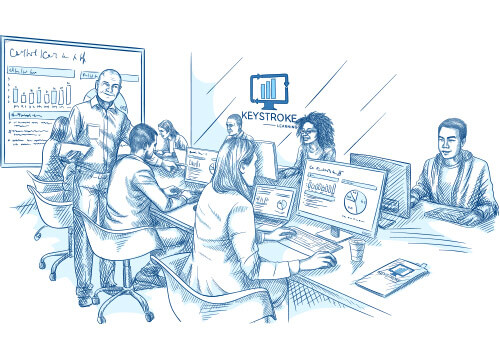 At Keystroke Learning our goal is simple, to provide an unforgettable learning experience. Our speciality is customised half day computer courses ranging from beginners through to advanced levels. We work with Microsoft Office and Adobe Creative Cloud applications, as well as the latest rapid development eLearning software. We focus primarily on skills that can be immediately applied in your workplace. As well as providing traditional training, we have developed innovative services such as Self-Paced Assisted Learning and Live Online Training.