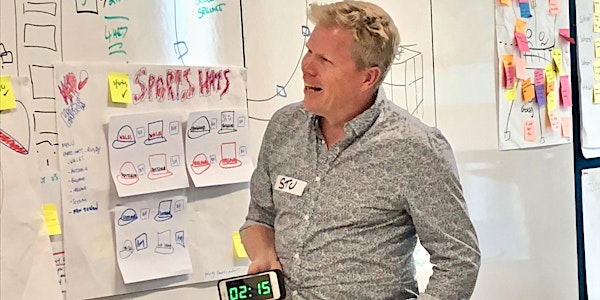 ADELAIDE Certified ScrumMaster(CSM) Scrum Training REDAGILE 11-12 November
Sales Have Ended
Ticket sales have ended
Ticket sales for this course has now ended - please check out our other courses at www.redAgile.com.
Event Information
Location
Rydges Adelaide
1
South Terrace Adelaide
Adelaide, South Australia 5000
Australia
Refund policy
Refunds up to 7 days before event
Sales Have Ended
Ticket sales have ended
Ticket sales for this course has now ended - please check out our other courses at www.redAgile.com.
Description














Take the Course, Pass The Test & become a Certified ScrumMaster® (CSM)®
GUARANTEED TO RUN
The Certified ScrumMaster Course
Join this highly interactive, dynamic and rewarding class to fulfil your professional and personal development ambitions. The course explores the Scrum framework in detail, from the foundations and theory to the practical application of Scrum. The learning includes the tips, tricks and traps picked up by the hugely experienced trainer through 20+ years of working in project management teams. The learning covers all the Team Roles, Scrum Events, and the Artefacts. On returning to work you will immediately be a highly effective Scrum Team member.
The training seamlessly blends the theory of Scrum with practical learning through a series of exercises, games and simulations, discussion, posters and slides. But core to the learning is the most solid possible grounding in the application of Scrum based on the trainer's own experience. The proven outcomes for this course makes us 100% confident that you will return to work with all the practical skills needed to match your new qualification as a Certified ScrumMaster.
Full membership of the Scrum Alliance is included in the course fee, and you can take the Scrum Alliance® CSM test in the classroom at the end of the final day. That means you will leave the training in possession of the Certified ScrumMaster certificate.
You will then hold an invaluable and recognised qualification in Scrum that will boost your professional standing and prospects. This certificate is equally valuable for beginners, those working in non-software Scrum and Agile roles and for managers and executives who interact with Scrum teams and who want to learn the language and to understand the framework.
The Trainer
The Trainer - Stuart Mitchell, CST®, CTC®, Certified Agile Leader®, CSP®, CSPO®, CSM
Learning with Stuart Mitchell who is a Certified Scrum Trainer (CST), guarantees that you gain all of the key knowledge and skills used by one of the very best Agile practitioners. That's the most effective way to make sure projects are implemented effectively and it maximises your impact at work.
On this course there is also the benefit of two trainers in the room, so there is double the support and information flow for everyone.
Stuart Mitchell is a highly accomplished Scrum practitioner who has worked with some of the biggest organisations in the world. He has also been a Project Manager and has particular empathy for those making the transition to a new role in Agile and Scrum due to a deep and personal understanding of the challenges of adapting to the Scrum Framework.
He is an award winning Agile project manager, a Certified Training Coach and a Certified Agile Leader. Stories and examples of good and bad practice from Stuart's personal experiences from the front lines of work are core to his teaching. He has been providing a range of training for over 10 years.
Who Should Attend
You may be brand new to Agile, you may already have a bit of knowledge under your belt, and you may already be working in a Scrum Team. Whatever your current position, you will have come to an understanding that an Agile working environment brings huge benefits in terms of quality, productivity and time to market. This course is the next step, as it establishes a solid foundation in knowing what best practice looks like which leads to highly successful outcomes for any Agile project or initiative.
The course is ideal for anyone looking to start out in Scrum and Agile, and it's effectively essential for established practitioners looking to move on to the next level, with formal training to back up invaluable hands on experience. With a CSM certificate earned through this Scrum Alliance endorsed training, you will hold an established qualification that will boost your professional standing and prospects. It's equally excellent for those working in non-software Scrum and Agile roles and for managers and executives who interact with Scrum teams and who want to learn the language and to understand the framework.
Sign Up For Our Interactive Certified Scrum Master Training Now.
The Course Takeaways
A full copy of The Scrum Guide
A full set of course slides
The comprehensive course workbook and notes
Complimentary Membership of the Scrum Alliance
Also included with this training: -
2 days of high quality from a Scrum Alliance Certified Scrum Trainer, an expert in Scrum and Agile practice.

The support of a second trainer in the room throughout the course to maximise the learning outcomes.

A guarantee of a limit on the number of people in the room as we believe huge classes are an obstacle to learning.

Refreshments throughout the day, morning and afternoon tea, and a gourmet buffet lunch.

The fee for the CSM online test, which can be taken in the training room on Day 2.

Support after the course from RedAgile Training.
Taking this course with a Certified Scrum Trainer means you will be acknowledged and recognised by the Scrum Alliance as a Certified ScrumMaster after passing the exam
Scrum Alliance SEUs: –
Attending the course earns you PDUs toward the Project Management Institute's PMI-ACP (Agile Certified Practitioner) designation and Scrum Educational Units (SEUs) eligible for the Certified Scrum Professional (CSP) of the Scrum Alliance.
The Cost
Book a place on this course EARLY for $1,300 (plus GST)
Full Price for this training $1,700 (plus GST)
There is no need to bring any equipment or materials with you, as everything will be provided.
The Agenda
This course combines the theory and practical skills needed to pass the CSM exam and to apply all that new knowledge effectively when you get back to work. After graduating from this training everyone will know what it feels like to be part of a working Scrum Team.
The topics covered :-
Understanding Agile
Lean and AgilePrincipals
The Scrum Framework
The Theory of Empirical Processes
Scrum Roles
The Scrum MasterOverview
The Product Owner
Cross Functional And Self Organised Teams o Creating Effective Teams
Product Backlog Fundamentals
Product Vision
Creating a Product Backlog
Product Backlog Management
Definition of Ready and Done(DoD)
Estimating
Sprint Planning
Prioritisation and the Sprint Goal o Sprint Planning
Managing the Sprint Backlog
Sprint Execution
Sprint Retrospective
Sprint Review
The Sprint
Potentially Shippable Product o Technical Debt
Abnormal Termination
Progress Tracking
Scrum Events
The Daily Scrum
Sprint Review
Sprint Retrospective
Service to The Organisation
The SM as Agile Facilitator
The SM as Agile Coach
Value of Engineering Practices
Hands-On Scenario
Simulation of working in a Scrum Team experience.
Refund Policy
We offer a full refund up to 7 days prior to the course start date and after that time we offer 10% of the fee or offer a transfer of registration to an alternative class.
If you can no longer attend but wish to transfer your place on the course to another person we are very happy to arrange that at no additional cost.
Disclaimer: RedAgile reserves the right to change venue or cancel any course for reasons including, but not limited to, trainer illness or bad weather. In the event of cancellation, we will offer a transfer to a different course or a full refund.


Date and time
Location
Rydges Adelaide
1
South Terrace Adelaide
Adelaide, South Australia 5000
Australia
Refund policy
Refunds up to 7 days before event