Sales Have Ended
Registrations are closed
Ticket sales for this event are now closed. Find out more about the Acts of Kindness program here; https://mvcc.vic.gov.au/kindness/
Sales Have Ended
Registrations are closed
Ticket sales for this event are now closed. Find out more about the Acts of Kindness program here; https://mvcc.vic.gov.au/kindness/
About this Event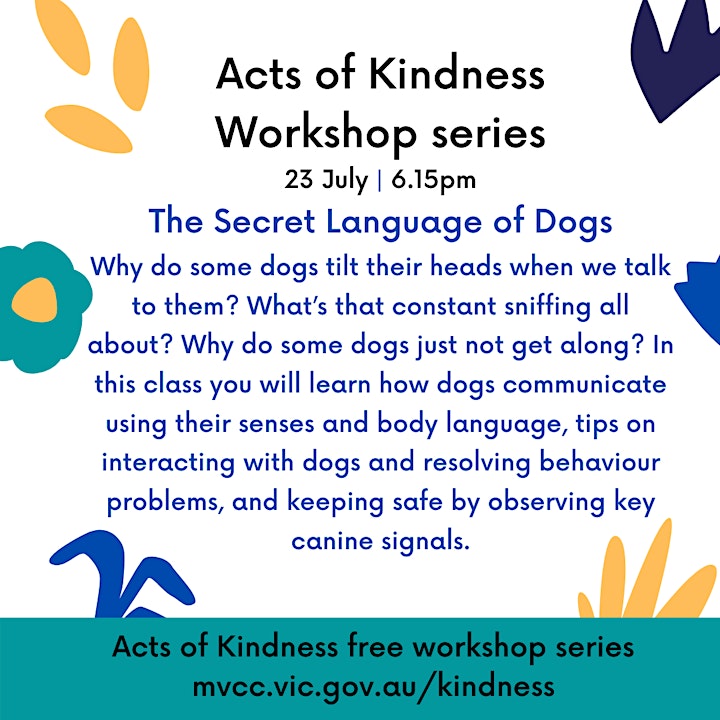 What's it all about?
Why do some dogs tilt their heads when we talk to them? What's that constant sniffing all about? Why does my dog yawn when I take its photo? Why do some dogs just not get along?
Dogs and humans have been living and working together for thousands of years. The relationships we build with dogs can be hugely beneficial to the wellbeing of both species. It can also be a source of stress, frustration and misunderstanding. Dogs are everywhere and we often think if something is familiar we must inherently understand it. This workshop will examine the myths around dog behaviour and teach you to see things from a canine point of view. It's a fascinating world of scents, tail wags, woofs and play.
What will we cover?
During this workshop you will:
learn about the history and changing role of dogs in our world
discover how dogs communicate using their senses and body language
gain tips about how you can interact with dogs and resolve behaviour problems using modern and scientifically supported methods
understand how to keep dogs and humans safe by observing key canine signals
What will you need?
Paper and pen if you'd like to take notes